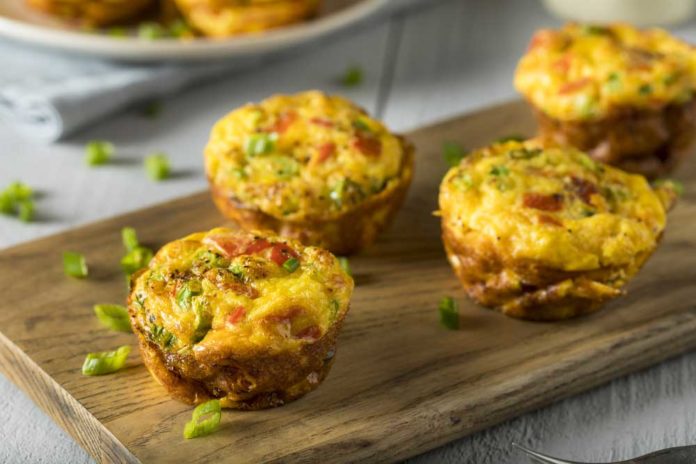 Breakfast for Dinner Recipes and Ideas
1. Breakfast Tacos
From traditional diner to peaches n' cream, healthy breakfast taco recipes are headed to a dinner table near! If desiring more variation, find a detailed guide on how to make delicious breakfast tacos here.
2. Breakfast Frittata
This bistroMD frittata recipe is a gluten-free option, along with being high in protein and veggie-packed. Pair with favorite fruit, including apple slices, peach halves, or fresh berries.
3. Black Bean Egg White Omelet
This black bean egg white omelet is bursting with both fiber and protein! Top with fresh salsa, green scallions, avocado, and other favorite toppings.
4. Stuffed French Toast with Berry Compote
Sweet and savory, this stuffed French toast recipe features a berry compote and turkey sausage. The bistroMD recipe will keep health goals in check without leaving you feeling deprived of delicious food!
5. Cinnamon Apple Pancakes
Well-balanced and delicious, this cinnamon apple pancake recipe is low in carb and while offering protein and fiber.
6. Carrot Pancakes with Salted Yogurt
Eating your veggies at dinner just got easier… But these carrot pancakes are not sweet like most traditional flapjacks, and are uniquely savory in flavor. And the flavorful plot thickens, as they are topped with spicy greens and a salted yogurt.
7. Steak, Eggs, and Potatoes
Heat up the grill for this healthy breakfast dinner idea! Pair these glorious grilled potatoes with this steak and egg recipe, modifying portions as needed. Finish off the dish with a dollop of plain Greek yogurt and freshly chopped scallions.
8. Breakfast Burger
Burgers can be for breakfast, and "brinner," (breakfast for dinner) too! Layer this breakfast burger recipe onto kale as described or on a toasted English muffin. Serve with one of these sweet potato fry recipes.
9. Chicken Sausage, Squash, and Fennel Hash
This breakfast for dinner hash recipe features fresh flavors and is packed with protein, fiber, potassium, and vitamin C.
10. Southwest Tofu Scramble
Need a recipe that is vegetarian-friendly? Look no further than this simple, southwest tofu scramble! Ingredients can be variable, including the addition of spinach, tomatoes, and mushrooms.
11. Brown Rice Bowl with Fried Egg and Avocado
Filled with fiber, protein, and healthy fat, this brown rice bowl with fried egg and avocado recipe is a nutritious breakfast for dinner idea. Pair with steamed or roasted veggies for added fiber and nutrients.
12. Sweet Corn Cake Eggs Benedict
Although traditional eggs benedict is a desirable breakfast staple, this sweet corn variation is sure to please! And topped with a creamy avocado hollandaise, the sweet corn cake eggs benedict is overflowing with guilt free temptation.
13. Chicken and Waffles
The coupling of chicken and waffles lives on! But rather than drenching that precious lean protein in oil, healthify that sweet and savory dish with this lightened up chicken and waffles recipe.
14. Brunch-Style Portobello Mushrooms
This unique brinner idea is similar to breakfast pizza, but flavors are harnessed in portobellos! Find the brunch-style portobello mushroom recipe here.
15. Breakfast (Dessert) Pizza
Craving dessert, pizza, and breakfast? This healthy granola breakfast pizza recipe offers them all! Feel free to modify ingredients, including adding bananas, apples, and pecans.