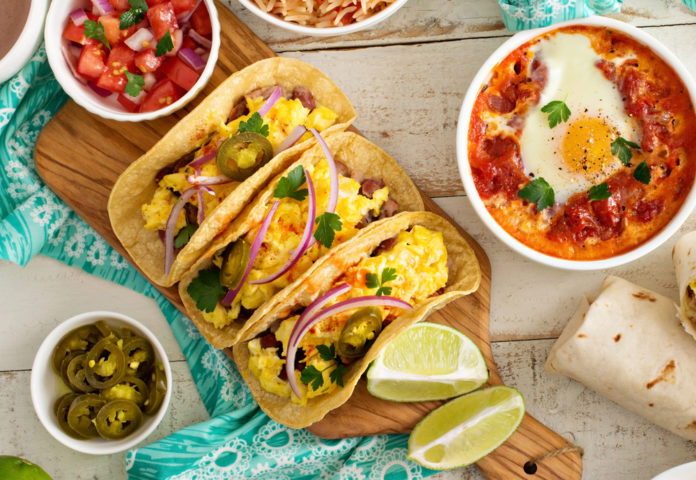 How to Make Delicious Breakfast Tacos
Select Taco Shells
The taco shell simply acts as the foundation to harness all the chosen flavors. Purchase shells based on preference, including whole grain, corn, and flour tortillas which may also come in soft or hard variations. If the shell is soft, carefully charbroil until the tortilla has grill marks for added character and if feeling a little extra zealous, try making your own tortilla shells!
Pick Proteins
To keep hunger held over until lunchtime hours, breakfast tacos should offer satiating protein. Although traditional breakfast proteins include egg, bacon, and sausage, cubed chicken, shrimp, beef, bean varieties and quinoa are also valuable options.
Add Veggies
Along with protein, fiber helps increase satiety. Adding colorful veggies not only boosts fiber content, but transforms the breakfast taco into a nutrient powerhouse! Intensify the tacos with sautéed peppers and onions, tomatoes, spinach, potatoes and hash browns, or roasted squash.
Complement with Garnishes
The toppings do not stop with the veggies… Enhance the flavor by garnishing with shredded cheese, salsa, hot sauce, Greek yogurt, avocado, nuts and seeds, fruit, and fresh herbs, including parsley, cilantro, basil, and chives.
The breakfast taco variations can be endless! Feel free to tryout flavors based on personal preference. And on one weekend morning, create a build-your-own breakfast taco bar to experiment with different ingredients. Invite close friends, family, or neighbors to join in on the fiesta!
How to Make Potato and Egg Tacos
Start the breakfast taco recipe by preparing a potato hash and cook until golden brown or desired crispiness.
While the hash is finishing up, char flour tortillas as described here, being extremely cautious to not burn them.
When the potatoes have reached desired crispiness, transfer from the skillet into the charred tortillas.
In the same skillet, crack open and scramble eggs. When the whites are completely cooked through and the yolks have reached desired doneness, sprinkle cheddar cheese atop and steam until melted. Season with salt and pepper to taste.
Add cheesy egg mixture into the potato-filled charred tortillas. Dollop with plain Greek yogurt and chopped green onion. Serve with a side of salsa, a cup of fresh fruit, or sautéed veggies!
Want more delicious breakfast taco recipes? Find eight more healthy inspirations here!