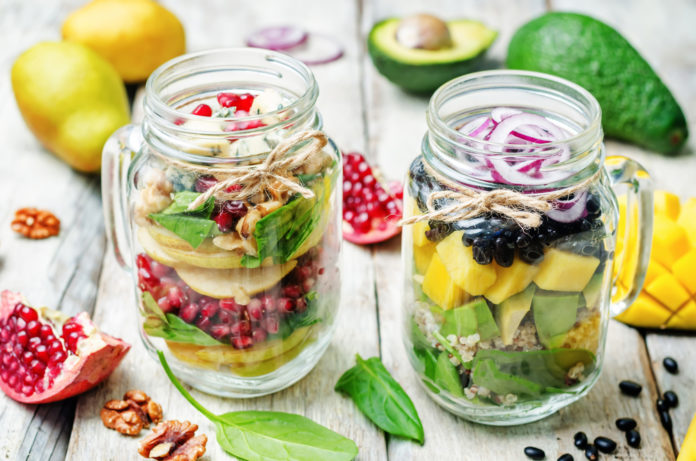 Highlighting the concept of "Fail to plan, plan to fail," nutrition experts continually advocate for meal prepping. The practice has been promoted and encouraged to defeat the temptation of a quick drive thru run following a long workday, a time when preparing a nutritious meal is often placed on the backburner. Meal prep for weight loss, while gaining more "you" time on the daily clock, with these 15 simple combinations!
Simple, Healthy Meal Prep Ideas
Breakfast
Smoothies
Although smoothies are rather simple in a time crunch, make-ahead smoothie packs can save not only additional time, but offers your spoiling produce a second chance at life. Per one individual Ziploc bag, freeze a cup of fruit and a cup or two of greens of choice. The morning of, blend together a cup of liquid, frozen smoothie pack, and dry ingredients of preference. Find nutritious, flavorful smoothie recipes here.
Crockpot Oats
Like smoothies, quick oats are a simple breakfast staple. But with these crockpot oat ideas, your next bowl will sure to be nutritionally adequate and fuel your busy day. And by offering various warm and chilled options, there is a bowl for everyone!
Breakfast Burritos
Breakfast burritos are a grab n' go breakfast but may be nutritionally equivalent as a loaded plate with copious amounts of bacon and sausage. Clean up the ingredients, while upping the nutrients, with the recipe described here – feel free to tweak ingredients. Make a batch before the week, wrap individually in a paper towel, and freeze in a large Ziploc bag. When ready to use, take one out, warm in the microwave for approximately 60 to 90 seconds (or until warm), and enjoy.
Chia Seed Pudding
This chia seed pudding, gives a unique spin to a traditional yogurt parfait. Layer with the berry mixture as desired, but also feel ambitious to add your own personal spin, including banana and peanut butter or apple slices and cinnamon.
Blueberry Muffins
Muffins are recognized as a convenient breakfast option, but are too often loaded with unnecessary sugar and fat. Instead of resorting to the prepackaged muffin during your morning gas station run, prepare these healthier-for-you blueberry muffins to fuel your day!
Lunch
Mason Jar Salads
Salads are a known meal option to up the nutritional ante. While they also may come with dull opinions, these 15 delicious and healthy mason jar salad ideas are boasting with nutrients and flavor to keep both taste buds and waistlines satisfied!
Tuna Salad
For this protein-packed lunch, start by draining two cans of tuna soaked in water. In a large bowl, mix a half-cup of plain Greek yogurt, one smashed avocado, a couple stalks of sliced celery and half of a chopped onion. Season with garlic and onion powder, salt, and pepper as desired and squeeze fresh lemon juice atop. Store in an airtight container in the fridge, keeping it chilled until ready to scoop out for lunchtime! Serve with whole grain crackers or toast, or sliced cucumbers, carrots, and bell peppers.
California Wraps
On a whole grain tortilla, spread a thin layer of mashed avocado and dress with grilled chicken, crumbled turkey bacon, and fresh spinach and sliced jalapeno. Wraps are an excellent option to make beforehand, grab, and go! The tortilla is a blank canvas that can harness various flavors, so wrap up ingredients based on personal preferences.
Dinner
Steak Fajitas
With the assistance of a Crockpot, these steak fajitas require small effort but big reward. Fold mixture into tortillas or spoon onto a bowl of rice or quinoa and if there are leftovers, pair with a quick egg in the morning hours! Find more high-protein Crockpot recipes here.
Chicken Tortilla Stew
Especially on a long, cool day, coming home to a warm bowl of chicken tortilla may seem too good to be true. But with this chicken tortilla stew recipe, you can prepare ahead of time and refrigerate or freeze until ready to use. Warm thoroughly in the microwave or on stovetop within minutes and garnish with a dollop of plain Greek yogurt, sliced avocado, salsa, shredded cheese, and fresh cilantro! 
Stir-Fry
Meal prep for weight loss with a protein-packed, nutrient-rich stir fry. It can tailor to a wide variety of personal preferences, including the accommodation of a vegetarian lifestyle, by eliminating chicken and incorporating edamame, tofu, and/or tempeh.
Pizza
Rather than resorting to a ready-prepared frozen pizza or calling the pizza delivery guy, prepare this whole wheat pizza crust in batches and freeze. So when ready for pizza night, the only thing left is topping it off and baking! Get inspired with these healthier pizza swaps.
Snacks
Peanut Butter Granola Bars
Although commonly perceived as a nutritious snack, granola bars may contain just as much sugar as a candy bar. But with these peanut butter granola bars, you can guarantee a healthful snack while running on-the-go!
Trail Mix
Even with the rich nutrients from dried fruits and healthy fats from nuts and seeds, not all trail mixes are treated the same. Some varieties are essentially not much better than grabbing a granola bar, which may be loaded with unnecessary added sugar and salt as mentioned above. Learn how to build a healthy, convenient trail mix here. And in the addition to using quality ingredients, it is important to remain mindful of the portions consumed, as nuts are calorically-dense and supply an average of 180 calories per small handful.
Applesauce
Whether a bag of apples was on sale or your latest bunch is starting to go brown, preparing a large batch of applesauce not only offers a rich aroma to the kitchen, but excites and satisfies the taste buds with its natural sweetness. And with these three homemade applesauce recipes, your health goals will not fall far from the apple tree!