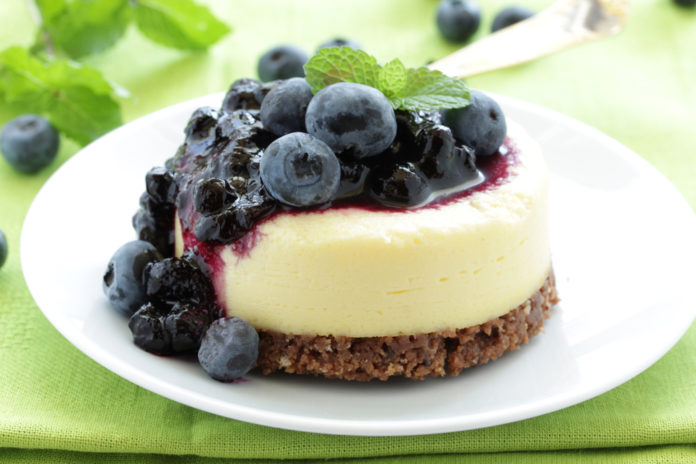 Blueberry muffins meets cheesecake in Balance by bistroMD's healthy blueberry cheesecake recipe! Prepared in muffin tins, portions keep balanced and divided for all to enjoy. And unlike most traditional cheesecakes, protein is ample thanks to the addition of Greek yogurt. Creamy and guilt-free, you will not want to pass this one up!
Healthy Blueberry Cheesecake Recipe
Nutritional Breakdown (per one cheesecake)
Yield: 6 cheesecake bites
Calories: 158 cals
Protein: 7 grams
NET Carbohydrate: 12 grams
Ingredients
For the crust:
3 full-sized graham crackers
¼ cup slivered almonds
1 tablespoon coconut oil, melted
For the filling:
5-ounces low-fat cream cheese, softened
5-ounces plain Greek yogurt
1 egg
1 tablespoon honey
½ teaspoon vanilla extract
1 cup fresh blueberries
Directions
Preheat oven to 350 degrees Fahrenheit and line muffin tin with 6 paper liners.
In a food processor, blend together the crust ingredients until crumbly.
Spoon about 1 tablespoon of crust mixture into muffin liners, pressing down to flatten.
For the filling, beat cream cheese until smooth in a large bowl. Add Greek yogurt, egg, honey, and vanilla extract and mix until well-incorporated.
Add in blueberries and gently mix until slightly beaten.
Pour mixture into liners, approximately halfway, and bake for 20 to 25 minutes or until the center has set.
Remove from oven, cool at room temperature, then chill at least an hour in the fridge.
Peel cheesecakes from the liner, garnish with fresh blueberries, and serve!