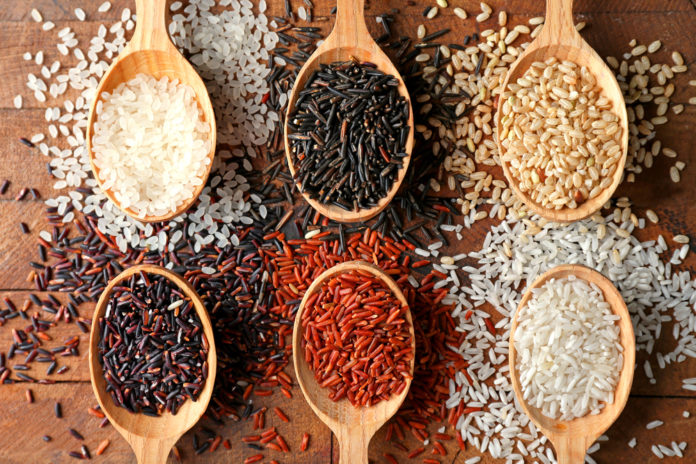 Dating back to 2500 B.C. to its beginning in China, symbolizing fertility in India, and plating on numerous tables across the globe, the use of rice is both traditional and contemporary. Balance by bistroMD is scooping out tasty options to enjoy those notorious grains!
Classifying Rice Varieties
With all the various kinds of rice out there, rice becomes simplified and classified based on size, including short-, medium, and long-grain rice blends:
Short-Grain
The shortest of them all, short-grain rice can be remembered as "plump and clump," offering a plump grain that is soft and tender and known to stick together and clump.
Medium-Grain
Medium-grain rice is approximately two to three times longer than it is wide, and produces tender and slightly chewy grains that stick together following its preparation.
Long-Grain
The various types of long-grain rice are true to its name, being long in length and nearly four to five times longer than its width. Related to their firm, dry texture, they are noted best for pilafs and salads.
8 Different Types of Rice
1. Arborio
Described as small and oval-shaped, arborio rice is a short-grained type baring a pearly white exterior. The natural starchiness allows water to absorb without becoming mushy, making it the primary contender for risotto preparation, ultimately contributing to its desirable creaminess. Learn how to make the traditional rice dish here.
2. Basmati Rice
Mostly known in Indian cuisine, basmati rice is a long, slender rice offering a distinctive spicy fragrance and flavor. It is also important to wash prior to boiling, as it removes the starch and offers its characteristic individual grains. Enjoy basmati rice spiced with cilantro, garlic, parsley, cumin, coriander, onion, and black pepper in Balance by bistroMD's chicken tikka masala!
3. Black Rice
Matching its name, this type of rice displays a black color and tends to turn deep purple when cooked. Black rice is mostly used for making porridge, bread, and this unique mango barramundi recipe. Barramundi, a sustainably sourced sea bass, is paired with a sweet mango and toasted coconut salsa, all served with savory black rice and sesame sugar snap peas.
4. Brown Rice
Coming in short, medium, and long-grain variations, brown rice is extremely versatile. Brown rice is paired with a number of dishes, including this chicken and Andouille sausage jambalaya with seasoned long-grain brown rice bedding chicken and Andouille sausage tossed in a flavorful jambalaya sauce, making for the perfect, classic creole dish. Continue your voyage to the bayou with etouffee, a spicy, Cajun-inspired stew made with shrimp, fresh chunky okra, and a savory tomato sauce. The flavors of Cajun continue in this chicken paella with andouille sausage dish, featuring saffron rice, tomatoes, greens peas, onions, red and green bell peppers, combined perfectly with chicken and andouille chicken sausage.
5. Glutinous Rice
Its name is quite deceptive, as glutinous rice is absent of gluten much like all rice varieties. But also known as sticky rice, its matching texture is especially sticky when cooked, baring a "glue-like" consistency. Sushi rice is also a glutinous white rice used in sushi preparation, as its sticky texture helps rolls keep shape. Learn how to prepare the perfect sushi rice here.
6. Jasmine Rice
Out of the long-grain variations, jasmine rice may be one of the stickiest. It offers a moist and soft texture when cooked, along with a slightly sweet flavor. Steamed jasmine rice is commonly used in soups and stir-fries, particularly paired with grilled, fried, or braised food items. Served with jasmine rice and roasted carrots, Balance's Thai coconut chicken recipe tops tender diced chicken with a creamy, sweet coconut sauce.
7. Red Rice
Like brown, white, and black rice, red rice is also true to its name. Its red color is acquired by its anthocyanin content, a pigment found in red, blue, and purple plants, and has shown to protect the body from a number of diseases. The nutty flavor of red rice pairs well with pork, chicken, beef, and this tilapia with orange parsley sauce!
8. Wild Rice
While wild rice is the only type native to North America, it is actually a type of aquatic grass. But despite the exposed truth, wild rice offers a nutty flavor and chewy texture and can be enjoyed in this grilled salmon with lemon Dijon dressing, chicken marsala (insert link to come), or chicken stuffed with wild rice recipe!