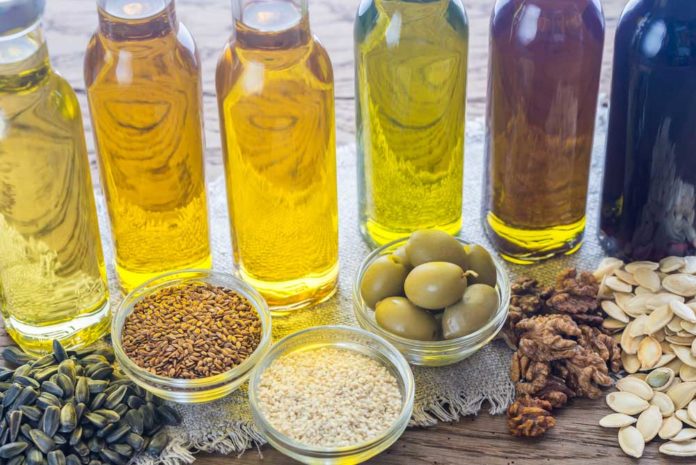 Swapping out butter with oils has been a suggestive, healthful approach for some time now, as an extensive list of oils offers healthful fats that have shown to be beneficial in heart health and diabetes management. Along with health benefits, they provide full-bodied flavors to numerous food varieties. Say goodbye to that expired tub of butter with these eight new ways to switch up your cooking oil!
8 New Ways to Switch Up Your Cooking Oil
Drizzle It On
Some oils do not handle the high temperature during most cooking methods. However, the robust flavors of the oils below are excellent additions to salads, steamed veggies, and into sauces.
1. Flaxseed Oil
A type of polyunsaturated fatty acid, flaxseed oil is often used for medicinal purposes. The consumption of flaxseed oil is suggested to treat a wide variety of conditions including rheumatoid arthritis and high cholesterol as well as constipation and weight loss. The light flavor can even be added to oats or smoothies for added nutrients.
2. Sesame Oil
Accustomed in Asian cuisines, sesame oil is starting to become more extensively used and popularized in the U.S. It has been suggested to manage anxiety and depression related to its tyrosine (an amino acid) content. Use sesame oil to dress oriental-inspired dishes such as chicken and beef stir fries.
3. Walnut Oil
Though walnut oil is not the most ideal to cook with, its use should definitely not be avoided. It offers a rich, nutty flavor that can add flavor depths to a wide-variety of food products, especially with foods that pair with walnuts – even atop of desserts!
Valuable Cooking Oils
The following cooking oils demonstrate the capability to withstand heat. Try these oils in your next warm dish:
4. Olive Oil
The popularity of olive oil continues to rise. Its flavor is versatile while its nutritional profile makes it one of the best oils to cook with and an admired replacement to butter and salad dressings.
5. Coconut Oil
Offer richness to baked, roasted, or fried foods! Though coconut oil is considered a saturated fat, keeping its use in moderated amounts may actually lead to slight weight loss. Coconut oil can even be included in piecrusts while still exhibiting a flaky crust!
Deepen and Enrich Flavor
Though the oils listed above offer robust flavors on their own, try these tasty ways to enrich and deepen flavor!
6. Fresh Herbs
Intensify the flavors of oil with fresh herbs from the market or grown from your own garden! If fresh herbs are unavailable, dried herbs will also work. Commonly used herbs (fresh or dried) include parsley, basil, and oregano but feel free to experiment and tailor to your personal liking!
7. Citrus
Squeezing fresh orange, lemon, and lime offers a sense of freshness to oil. Additionally, adding the zest can further infuse the product. It is important, though, to avoid the pith's (the white, protective layer) addition, as it may create a bitter product. Citrus oils pair exceptionally well with fresh fish and even grilled fruits!
8. Flavor Combos
Combine numbers six and seven to create a truly flavorful oil! Marrying fresh herbs and citrus amplifies taste without adding significant calories. Use atop of fruit salad or fish and poultry. And like all tasty ways to switch up cooking oils, do not be afraid to experiment with flavors!