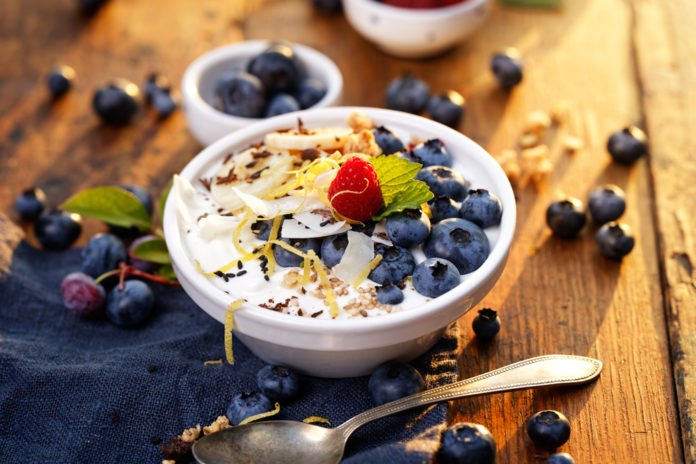 Although #MeatlessMonday has a nice ring to it, it has actually been around since World War I. Meatless Monday is a non-profit initiative of the Monday Campaigns, Inc. to encourage individuals to go meatless at the beginning of the week, as adopting plant-based sources has been suggested to foster a healthy weight, reduce the risk of chronic diseases, and minimize carbon footprints. And with these meatless Monday breakfast recipes, going without meat at the beginning of the week will be simple and natural!
9 Meatless Monday Breakfast Recipes
1. Quinoa Pancakes
A heaping plate of pancakes is sometimes hard to be bargained with. However, pancakes are often nothing more than a plateful of carbs and sugar, leaving you less than satisfied well before lunchtime hours. But when preparing with protein-packed quinoa, satiety will be lifted without compromising the cakes' desirability. Find the recipe to quinoa pancakes here and top with favorite toppings, including Greek yogurt, nut butter, honey, pure maple syrup, blueberries, and banana slices.
2. Black Bean Egg White Omelet
This black bean egg white omelet from bistroMD is ample in both protein and fiber. Prepare and pair with the suggested fresh salsa, the nutrients and flavors will be bursting at the seams!
3. Greek Yogurt Parfaits
Greek yogurt is packed with protein, making its intake a valuable breakfast option particularly on #MeatlessMonday. Simply layer Greek yogurt, fresh fruits, and nuts and seeds in a bowl or a sealable container to take to go. Additionally, assemble the parfait the night before for those anticipated busy and chaotic mornings!
4. PB & J Smoothie
Transform that childhood classic into a sippable, high-protein smoothie! In a blender, mix 8-ounces of unsweetened almond milk, ½ cup plain Greek yogurt, ½ a frozen banana, ½ cup of frozen strawberries, a tablespoon of peanut butter, and a large handful of spinach until smooth, pour, and sip. Find more smoothie inspirations here!
5. Whole Grain Breakfast Bowl
Swap out that artificially colored, sugar-packed cereal with a nutrient-dense and satisfying whole grain breakfast bowl! Craft bowls utilizing various whole grains, fresh fruits, nuts and seeds, and other favorite toppings. Ideas include this breakfast grain bowl containing blueberries, hazelnuts, and lemon or this overnight bulgur bowl!
6. Breakfast Tacos
#MeatlessMonday is about to "meat" #TacoTuesday! Start by sautéing a cup of sliced bell peppers and onions until soft. Spray the pan with a nonstick spray and scramble in two eggs. Fill two small corn shells or a large whole grain tortilla with the egg mixture and top with fresh salsa, cubed avocado, and a dollop of plain Greek yogurt. Breakfast tacos can be extremely versatile, so feel free to experiment with other meatless toppings, including beans, quinoa, and preferred fruits and veggies.
7. Chia Seed Pudding
Chia seeds may be small, but boy are they mighty! From their high fiber content to their offering of omega-3 fatty acids, the use of chia seeds is a healthful ingredient during all times of the day. This chia seed pudding recipe can be a meatless Monday breakfast or even a nutritious dessert! Top with fresh berries or banana slices and mix in a half-cup of Greek yogurt for added protein.
8. Baked Eggs in Avocado
This low-carb Meatless Monday breakfast option boasts in healthy fats and protein thanks to the unionization of egg and avocado. For this baked egg in an avocado recipe, ixnay the bacon on #MeatlessMonday (it can always make an appearance on the other six days of the week)!
9. Farmers Market Quiche
Plan ahead for this #MeatlessMonday breakfast recipe by hitting up your local farmers' market the weekend prior. This filling and nutrient-rich farmers' market quiche displays assorted tomatoes, zucchinis, onions, and fresh basil, but feel free to swap out and add other favorite in-season veggies and herbs!