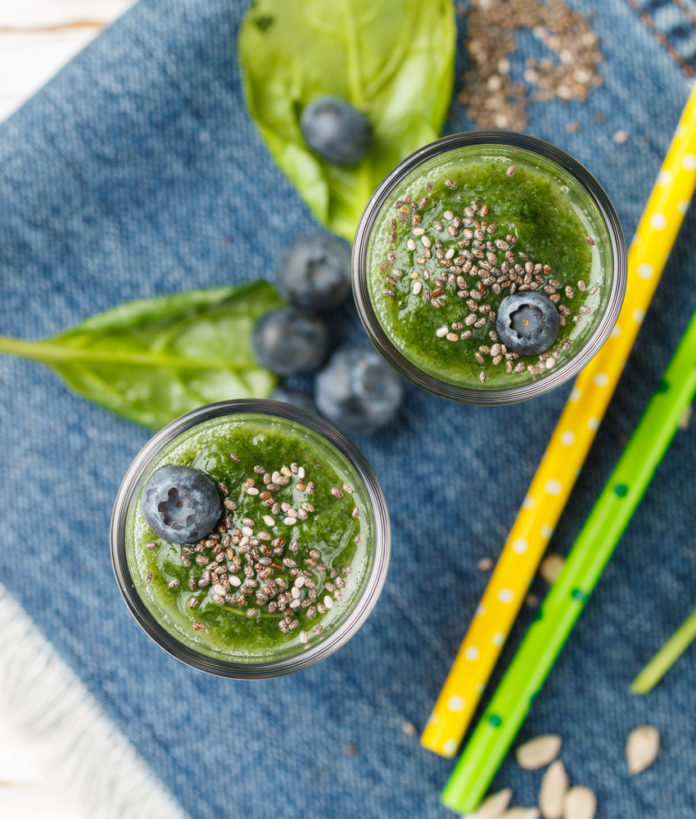 Smoothies are simple, delicious and great for you, just remember to skip the added sugars and fillers. Full of nutrients for the body, these ingredients for a super smoothie make crafting your own recipe easier than ever!
If you're bored with your current smoothie, try rotating some of these ideas in your smoothie to boost nutritional intake or start from scratch a create a whole new super smoothie recipe!
17 Ingredients to Make Super Smoothies
1. Avocados
Commonly used to top toast, avocado puts the smooth in smoothies! And not to mention, avocadoes are a unique fruit that supplies healthy fat rather than carbohydrate, along with providing a healthy dose of potassium, fiber, folate, and vitamins K, B5, B6, and E.
How Much?
With avocadoes being calorically rich, a ¼ or ½ an avocado is suitable to grant a smooth texture whilst keeping calories in check.
2. Protein Powder
The use of protein powder withholds the dignity of a smoothie, as it offers the protein your body needs to keep satisfied throughout the morning hours. And not to mention, its contribution makes it a valuable post-workout recovery treat!
How Much?
Add the recommended serving or number of scoops indicated on your personal container.
3. Greek Yogurt
Going Greek with your smoothies packs ample protein and calcium. In fact, a cup of Greek yogurt supplies approximately 20 grams of protein and almost 25 percent of total daily calcium needs!
But to keep added sugars in check, resort for a plain, non-sweetened yogurt. But do not fret! Some of he additional (fruity) ingredients to make a smoothie will offer a natural sweetness without packing on the sugar.
How Much?
Particularly if using Greek yogurt as your primary protein source, add in a cup. But if using other forms of protein, a ½ cup or so is ample!
4. Cottage Cheese
While cottage cheese might not be a hip superfood, there is no denying the creamy dairy product boasts healthful nutrients. Adding cottage cheese to smoothies offers a generous amount of protein and calcium, along with creaminess that many anticipate in a smoothie.
How Much?
Similar to the recommendations of Greek yogurt, use a ½ or one cup dependent on additional protein sources added.
5. Frozen Peas
Before you turn your cheek too quickly, hear us out! Using frozen peas is a budget-friendly protein and fiber source to include in your superfood smoothie rotation. Still not convinced? Peas give this strawberry banana smoothie recipe a try for a power-packed morning!
How Much?
Using a half cup of peas is not only tasteless, but provides about 3 grams of protein and fiber each!
6. Frozen Bananas
Frozen banana chunks provide an exceptionally creamy smoothie and grants a natural sweetness. Peel and cut ripe bananas and keep on hand in the freezer! 
How Much?
A half or whole banana's worth of frozen chunks is often adequate enough to boast a creamy texture.
7. Frozen Blueberries
Frozen blueberries offer light sweetness with heavy antioxidant power! And not to mention, especially compared to other seedy berries, blueberries reduces the the worry of seeds caught between teeth. (Now that is something to smile about!)
How Much?
Blend up a ½ cup of blueberries, which is considered to be a serving of fruit.
8. Acai Pulp
Speaking of berries… Whereas berries are common antioxidant-rich fruits, acai berries are thought to have more antioxidants than the average.
But since acai berries are unavailable for purchase in the U.S., pouches of acai puree are frequently found in natural food markets or Amazon.
Before mixing acai puree into your next superfood smoothie, break it up into manageable pieces to make it easier on the blender. Simply wrap the packet in a kitchen towel and hit with a meat mallet until broken up into small chunks.
How Much?
Acai pouches tend to come in individually-portioned pouches, though 3.5-ounces is commonly designated as a serving.

9. Pumpkin
From pumpkin pie to the pumpkin spiced latte, as if the beloved fall favorite had any more reasons for its use… But pumpkin can naturally sweeten smoothies and rev up its fiber content, keeping you feeling satisfied and fuller for longer!
How Much?
Scoop up ¼ or ½ cup of pumpkin puree.
10. Chia Seeds
Chia seeds are an ultimate superfood smoothie addition, as they supplement fiber, omega-3 fatty acids, and other nutrients at a tasteless cost.
As a pro tip: After blending the smoothie, allow to set in the freezer for about 10 minutes before drinking. The seeds act as a thickening agent and will produce a thick, creamy smoothie!
How Much?
A little goes a long way and a mere tablespoon is just enough!
11. Hemp Seeds
Hemp seeds are a complete protein, loaded with healthy fats and fiber, and offer a wide variety of nutrients similar to chia seeds.
How Much?
Unlike chia seeds, hemp seeds to do not swell, so go for two tablespoons for added nutrients.
12. Leafy Greens
Throwing in a few handfuls of kale or spinach amplifies the nutritional content without overpowering the flavor. Using frozen leafy greens can also produce a more chilling, less subtle flavor in your next superfood smoothie recipe.
How Much?
This is completely up to the smoothie maker's discretion, though at least aim for a handful or two!
13. Peanut Butter
Adding peanut butter not only grants healthy fats, but enriches the flavor of the smoothie. Also feel free to use other nut butters, including almond and cashew varieties.
How Much?
Peanut butter is calorically-dense and a tablespoon is adequate enough to contribute flavor and nutrients without completely overflowing the smoothie with calories.
14. Cinnamon
Cinnamon seasons smoothies with a sweet, yet spicy flavor without packing on calories and balances various flavors. The superfood has even been shown to support weight loss, manage blood sugars, lower cholesterol, control muscle spasms and gas.
How Much?
A teaspoon is adequate, but use to suit your personal flavor preference.
15. Cacao Powder
Cacao gifts the chocolately flavor we crave and the antioxidant power our bodies long for! Some evidence even suggests the compounds supplied from cacao powder may lower the risk of various forms of cancer, reduce stress levels, and boost mood. (But who wouldn't be happy relishing on chocolate?)
Nonetheless, cacao powder pairs well with other superfood smoothie ingredients, including banana, berries, peanut butter, cinnamon, and coffee (read on). 
How Much?
A tablespoon tends to be sufficient enough to boast a chocolaty flavor, though feel free to add more or less to taste.
16. Coffee
As if there was just another reason to love that morning cup of joe… Adding coffee to your next smoothie instant coffee into smoothies is an alternative way to sip up that bold flavor!
How Much?
Well, it depends… Either use an instant coffee packet, a cooled cup of brewed coffee, or pre-prepared coffee ice cubes.
17. Green Tea
Don't love the flavor of coffee? Opt for green tea! The tea is rich in polyphenols, which are powerful antioxidants in a wide variety of plant-based foods and shown to reduce the risks of cardiovascular disease, certain cancers, and brain deterioration and weakening.
How Much?
Steep up a 6 to 8-ounce bag and allow to completely chill. Also like coffee, you can freeze the green tea for ice cubes.