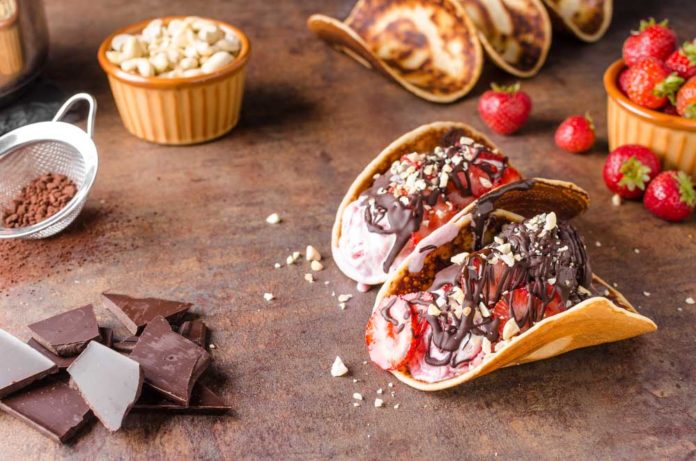 To offset the savory taste of those crunchy tacos, that sweet tooth may be hankering for dessert. And when going to satisfy that craving, you may be anticipating a trip through the ice cream aisle or reaching into the cookie jar, not necessarily indulging on more tacos… But with these eight dessert tacos, you are about to give your #TacoTuesday (and every other day) added depth and a whole new meaning!
8 Dessert Tacos for #TacoTuesday
1. Choco Taco
Start by making this avocado-based "ice cream," mixing in cocoa powder and freezing until use. Prepare the chocolate version of the waffle cone taco shell, fill with avocado ice cream, and top with shaved dark chocolate pieces and fresh raspberries! If you do not have a pizzelle maker, simply dust of your waffle maker or feel free to use a frozen waffle, but thawing before use.
2. Nutty Monkey Taco
Start by making the waffle shell (described in the Choco Taco above) then lightly dip into melted dark chocolate. While the chocolate is still melted, sprinkle on crushed peanuts and allow the shell to harden. Fill taco with bananas, yogurt, and a drizzle of peanut butter.
3. Banana Split Taco
Start by baking a "stand and stuff" flour tortilla shell in a 350-degree oven for approximately three minutes or just until lightly golden. The shell essentially acts as an edible ice cream bowl, with the ability to harness your favorite flavors of a banana split! Simply half a banana and add favorite ice cream or yogurt between the banana halves. Add strawberry slices, pineapple chunks, shredded coconut, whipped cream, and chopped nuts!
4. Fried Ice Cream Taco
Well, maybe not fried… But these dessert tacos sure do resemble the taste of traditional fried ice cream! Preheat the oven to 375-degrees Fahrenheit, drape corn tortillas over baking rack, and bake for approximately 7 to 10 minutes. While the shells are still warm, sprinkle cinnamon then fill with vanilla bean ice cream. Drizzle with honey, caramel, or chocolate sauce as desired and garnish with whipped cream and a cherry.
5. Strawberry Cheesecake Taco
In a mixing bowl, whisk together 4-ounces softened Greek yogurt cream cheese, ¼ cup granulated sugar, and one teaspoon of vanilla extract. Once smooth, fold in ½ cup of bite-sized pieces of fresh strawberries. Fill strawberry cheesecake mixture in taco shell indicated in number 3 (fried ice cream tacos) and garnish with crushed graham cracker. Swap out strawberries with cherries as desired for a decadent cherry cheesecake flavor!
6. Cookie Dough Taco
Transform standard cookies into dessert taco shells! The cookie batter is also versatile, so feel free to add chocolate chips, cocoa powder, or extra cinnamon tailored to your liking. Build a fun topping bar for a create-your-own dessert taco night, offering various toppings such as fresh fruit, yogurt, mini chocolate chips, and crushed nuts.
7. Tropical Paradise Taco
Take a quick trip to tropical flavortown! Using the cookie dough taco shell recipe above in #6, zest and squeeze fresh lemon in the batter. Fill cooked shell with the tastes of paradise, including fresh mandarin, pineapple, banana, and strawberry, and drizzle atop this three-ingredient healthy fruit sauce.
8. Pumpkin Pie Taco
Pumpkin continues to make a name for itself. Pumpkin spiced latte, pumpkin pie, and now… Pumpkin tacos! These pumpkin pie mini tacos are a unique spin on the traditional Thanksgiving dessert suitable for all seasons!