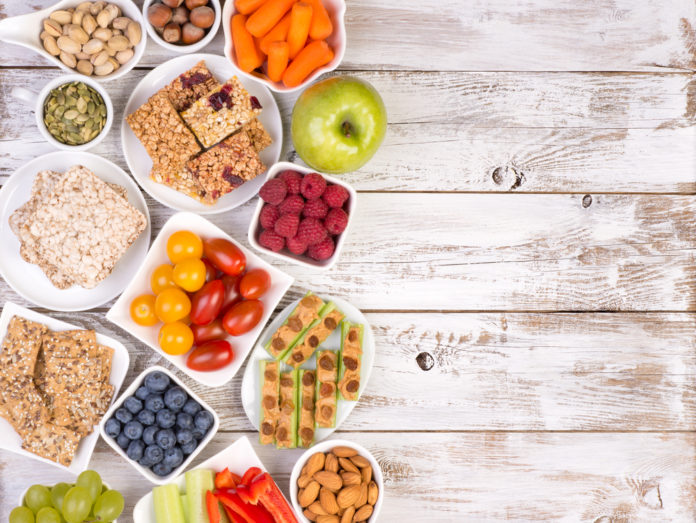 45 Best Low-Calorie Snacks
1. Apple Slices with Almond Butter
Slice up a medium-sized apple and smear on a tablespoon of almond butter for 185 calories.
2. Applesauce
Prepare one (or all) of these naturally flavored, homemade applesauce recipes, including tangy and spicy variations!
3. Baked Apple
Prepare this cinnamon baked apple recipe and delegate a portion whenever snack attack bombards you.
4. Banana Bites
Use up ripened bananas by preparing frozen banana bites! Simply cut bananas into coined-sized pieces and sandwich peanut butter in between or dip into dark chocolate.
You can also top with a light sprinkle of crushed peanuts or shredded coconut, along with a dusting of cocoa powder and cinnamon.
5. Beef Jerky
Beef up your midafternoon snack with an ounce of jerky for 120 calories and 9 grams of protein!
6. Berries n' Cream
Simply top a cup of your favorite berries with a dollop of whipped cream for a simple, satisfying low-calorie snack.
7. Buffalo Chicken Celery Sticks
Rather than skipping out on those buffalo chicken wings altogether, feed into their temptation with this buffalo chicken dip and dip with celery stalks for a healthy, low-calorie snack.
8. Cheese and Crackers
Pair a part-skim string cheese with a few whole grain crackers for a quick, low-calorie snack packed with protein and calcium.
9. Chia Seed Pudding
Whip up a batch of this vanilla chia seed pudding and gain 15 grams of protein for a mere 180 calories per ¾ cup serving! 
10. Chocolate Milk
Slurp down a cold 8-ounce glass of fat-free chocolate milk for 130 calories.
11. Cinnamon Oranges
Make your next orange extra apeeling by first whisking together an equal ratio a teaspoon each of orange and lemon juice. Pour the mixture over the slices of one orange and garnish with ground cinnamon.
12. Coconut Bites
This healthy snack is naturally sweetened with honey and combines the exotic, divine flavors of coconut and vanilla into one cohesive bite.
13. Cottage Cheese and Peach Slices
Scoop out ½ cup cottage cheese and serve with a cup of sliced, fresh peaches for 170 calories.
14. Crispy Chickpeas
Cook a 15-ounce can of drained chickpeas in an ovenproof skillet with two tablespoons olive oil for two minutes. Season with salt and pepper to taste and bake at 425°F for 20 to 25 minutes.
15. Cucumber Slices and Hummus
You can slice up a whole cucumber and dip into two tablespoons of your favorite hummus for approximately 100 calories!
16. Dark Chocolate
Indulge (without the guilt) on an ounce, or approximately three small squares, of dark chocolate for under 200 calories.
17. Edamame
Crunch on a cup of lightly salted edamame for about 190 calories.
18. Edamole
Dip ¼ cup of sliced bell peppers into ¼ cup of edamole for an approximate 200 calories.
19. Energy Bites
Rather than snacking on a sugar and oil-laden granola bar, prepare these portioned energy balls that are free of unnecessary ingredients and loaded with nutrients and flavor.
20. English Muffin Pizza
What's better than pizza for a snack? A low-calorie pizza!
Spread tomato sauce onto an English muffin half, add an ounce of mozzarella cheese, and sprinkle with oregano and parsley. Bake in an 375°F oven until cheese is lightly golden, or approximately 10 minutes.
21. Frozen Yogurt Blueberries
Prepare these frozen yogurt blueberries and indulge on the entire batch for less than 140 calories! 
22. Frozen Grapes
Cool off and snack on by freezing up a cup of your favorite grape variety. 
23. Greek Yogurt and Fruit
Packed with protein, snack on a cup of plain Greek yogurt. Add natural sweetness with ½ cup of fresh peaches, strawberries, pineapples, or other favorite fruits.
24. Ham Pinwheels
Smear a whole grain tortilla with a thin layer of cream cheese. Top with sliced ham and chives, roll tightly, and cut into ½ inch pieces.
25. Hardboiled Eggs
Crack open two hardboiled eggs for 140 calories and a whopping 12 grams of protein!
26. Honey Drizzled Grapefruit
For a low-calorie, naturally-sweetened treat, broil up this honey drizzled grapefruit!
27. Jicama Sticks
Peel a jicama and cut into long strips. Toss with lime juice and sprinkle with chopped cilantro, chili powder, and salt and pepper to taste.
28. Kale Chips
Craving chips but not the calories that come with it? Swap out that chip bag with a bunch of kale!
Simply preheat oven to 350°F and line baking sheet with parchment paper. Remove the kale leaves from the stems, tear into bite-sized pieces, and wash and dry thoroughly. Drizzle kale with olive oil and sprinkle with seasoning salt and other favorite seasonings. Bake for 10 to 15 minutes, or until edges are browned.
29. Lemon Fruit Dip
Naturally-sweetened and using just a few common ingredients, mix up this lemon fruit dip and serve with your favorite fresh fruit, including a small banana or ½ cup of pineapple chunks.
30. Mediterranean Crispbread
Take a quick flavor trip to the Mediterranean! Top a crispbread with feta cheese crumbles and diced tomatoes and cucumbers. Lightly drizzle with olive oil and season with fresh cracked pepper and chopped dill.
31. Mexican-Style Rice Cakes
Top two rice cakes with ¼ cup of avocado slices, a tablespoon of salsa or hot sauce for 160 calories. 
32. Mini Chicken and Waffles
But not the deep-fried version… Healthify and downgrade that generally large comfort meal and top a couple toasted mini waffles with a cubed chicken strip and lightly drizzle with honey.
33. PB & J Crackers
Downsize that schoolyard favorite by spreading peanut butter on saltine, topping with thin strawberry slices, and topping each with another saltine. 
34. Peach, Raspberry, and Basil Smoothie
All for 260 calories and a whopping 33 grams of protein, sip on the refreshing flavors of this peach, raspberry, and basil smoothie! 
35. Pistachios
Filled with healthy fats, go for 25 pistachio kernels for approximately 200 calories. 
36. Popcorn
Popcorn undoubtedly makes the healthy snacks list, as three large cups of the air-popped kernels packs a mere 90 calories!
Just be sure to avoid the added butter and salt and offer natural flavor with favorite seasonings and herbs.
37. Popsicles
But not the kinds purchased from a convenience store loaded with sugars in various forms, artificial color dyes, and other unnecessary ingredients…
Relish in the attraction of popsicles with these naturally-sweetened, homemade yogurt popsicles!
38. Pumpkin Seeds
Roast ¼ cup of pumpkin seeds for 180 calories.
39. Shrimp Cocktail
Fancy up your snack repertoire by steaming 10 large shrimps and dipping into a tablespoon of cocktail sauce. (All for approximately 100 calories!)
40. Smoked Salmon and Avocado Cucumbers
Prized with healthy fat, protein, and fiber, and not the calories, eat like a king (or queen) with this smoked salmon and avocado cucumbers recipe.
41. Stuffed Olives
Fill that hunger pang with these flavor-explosive stuffed olives for a quick and easy snack.
42. Sweet Potato Chips
Loaded with fiber, vitamin A, and healthy fat, these sweet potato chips are a sure way to kick that snack craving without an ounce of guilt. 
43. Tuna Salad
Lighten up your next tuna salad by mixing a small can of tuna with a tablespoon each of plain Greek yogurt and pickle relish. Add salt and pepper to taste and feel free to bulk up the salad with finely chopped carrots and celery.
44. Turkey Roll-Ups
Wrap an ounce of turkey around a stick of string cheese for 125 calories.
Pro tip: When selecting any deli meat, purchase straight from the butcher to avoid high-sodium content found in most packaged meats.
45. Watermelon Pizza
A watermelon pizza is one of the best low calorie snacks to keep you hydrated and satisfied. Feel free to adjust the "toppings" per preference and slice up to share with others!