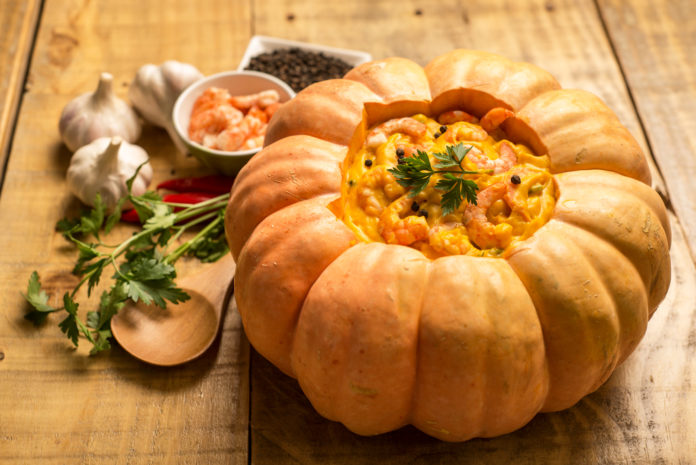 Nutrition Per Serving
Yield: 4 servings (approximately 1 cup curry + ½ cup rice)
Calories: 408
Protein: 33 grams
NET Carbohydrate: 32 grams
Ingredients
1 tablespoon coconut oil
1 onion, chopped
1 bell pepper, chopped
1 tablespoon minced garlic
1, 15-ounce can pumpkin puree
1 cup vegetable broth
1 cup unsweetened coconut milk
2 teaspoons curry powder
½ teaspoon ground ginger
1 teaspoon turmeric
1 teaspoon cayenne pepper
1-pound shrimp, peeled and deveined
2 cups cooked rice
1 lime
Instructions
Heat coconut oil in a large saucepan over medium heat. Add onion and bell pepper and sauté until soft, or approximately six to eight minutes.
Add minced garlic and sauté for an additional minute.
Add and frequently stir pumpkin puree until it thickens and turns a golden color, or about 10 minutes.
Add vegetable broth, coconut milk, curry powder, ginger, turmeric, and cayenne pepper and simmer for 20 minutes.
Add in the shrimp and simmer until just cooked, displaying a slightly opaque flesh and pink exterior.
Portion out 4 servings of rice (½ cup each), squeeze lime juice atop, add salt and pepper to taste, and serve!
Recipe Tips and Ideas
If you do not like shrimp or have a shellfish allergy, swap it out for chicken.
For a vegetarian-friendly alternative, use protein-packed chickpeas or tofu.
Feel free to exchange and add other favorite veggies, including butternut squash, sweet potato, broccoli, and mushrooms.
Trade traditional rice for an alternative grain, including quinoa and barley.