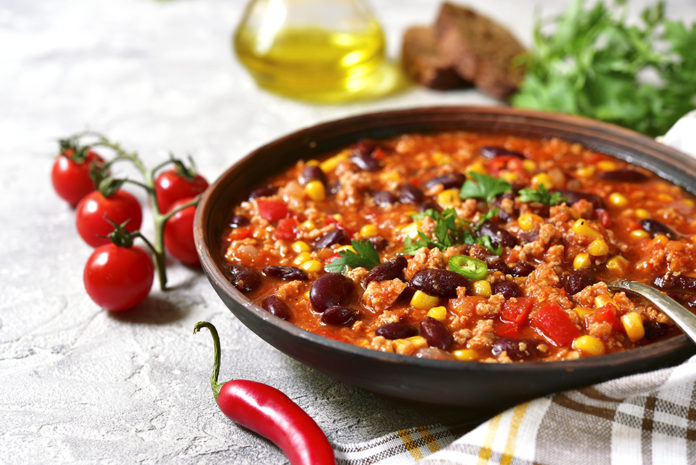 16 Simple One-Pot Dinners
1. Traditional Chili
Notorious for its creation in a single pot, this chili recipe is ready to cozy up with in a mere 30 minutes! Dollop with sour cream, a sprinkle of cheese, hot sauce, and chopped scallions.
2. Gnocchi with Sundried Tomatoes and White Beans
This one-pan meal is a vegetarian-friendly and unique alternative to traditional chili. The gnocchi is pan-fried and complemented with sundried tomatoes, white beans, mushrooms, and parmesan cheese sure to satisfy your taste buds.
3. Quinoa Corn Chowder
This quinoa corn chowder is hyped as thick, creamy, and hearty, all while supplying protein and fiber.
4. Chicken Fajitas
Spice up your week with chicken fajitas! Feel free to also swap out chicken with sirloin or pork, along with beans and other veggies for a vegetarian-friendly alternative. Serve with tortillas, rice, quinoa, and other favorite Mexican-inspired sides.
5. Sweet Potato Enchilada Skillet Casserole
While traditional enchiladas are sometimes hard to beat, this sweet potato enchilada skillet casserole is sure to satisfy!
6. Peanut Chicken
Create this delicious Asian chicken dinner ready to eat in less than an hour. And cleanup is a breeze with just one pan to clean!
7. Pizza Casserole
While calling in for a pizza delivery might be simple, so is this one-pot meal. The recipe combines all the essentials loved about pizza and transforms them into a cohesive casserole dish.
8. Pastas
One-pot and countless varieties, these healthy pasta meals are nutritious and delicious. From Italian sausage and kale to braised cauliflower and squash penne pastas, there is a flavor option to satisfy all!
9. Chicken Tagine
Balanced with artichoke hearts and peas, this chicken tagine recipe offers a complex Moroccan flare prepared by taking simple steps.
10. Poached Cod in Tomato Broth
Leave all the tackle and bait behind and go fish with this one-pan dinner recipe. Swap out cod with seasonal and favorite fish varieties as desired.
11. Super Sloppy Joes
Sometimes dinner does not have to be so eloquent… Break out the paper towels for this super sloppy joe recipe! Pair with a steamed or roasted veggie for a protein and fiber-packed dinner option.
12. Chicken and Dumplings
This semi-homemade chicken and dumpling recipe not only delivers the comfort of the traditional dish, but does so without strenuous effort and numerable hours spent in the kitchen. In fact, dinner is served in a quick 30 minutes!
13. Pork and Tomatillo Stew
This spicy Mexican-style stew grants you comfort and convenience when wanted, along with nutrients the body always need. Manipulate heat level as tolerated.
14. Shrimp Saganaki
Go Greek with this shrimp saganaki recipe! But do not let the unfamiliarity of the name turn you away, as the dish simply requires just one pot and common ingredients.
15. Chorizo Breakfast Hash
Breakfast for dinner, anyone? This chorizo breakfast hash is loaded with fresh veggies, topped with baked eggs, and complemented with a Sriracha honey lime sour cream!
16. Spring Tuscan Quinoa Bake
Touted as "healthy comfort food," this spring Tuscan quinoa bake features extravagant nutrients and flavors prepared in just a single pan!