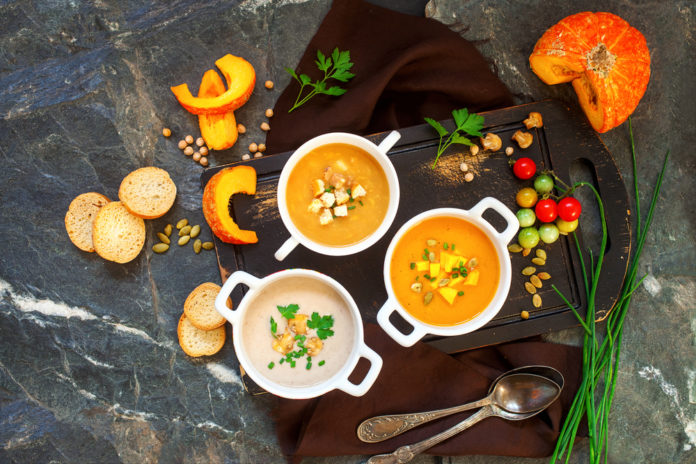 13 High-Protein Soup Recipes
1. Chicken Noodle Soup
Kicking off the high protein soup list… No other than the infamous chicken noodle soup! But rather than resorting to the can, prepare this low-carb and low-sodium option, bursting with flavor and ample protein.
2. Thai Chicken Noodle Soup
While it may be hard to compete with the OG chicken noodle soup, this unique recipe is with bargaining for! Put a twist on that traditional favorite with this Thai chicken noodle soup recipe.
3. Vegetable Beef Soup
Using flank steak and fresh veggies and herbs, this vegetable beef soup is sure to contribute to your gain tank while satisfying those taste buds. Manipulate and add favorite veggies as desired.
4. Hatch Green Chili and Pork Stew
BistroMD's mouthwatering hatch green chile and pork stew recipe will bring a little spice and a lot of protein (30 grams to be exact) to your next meal. It is crafted with the perfect combinations and flavored with hominy, tomatoes, green bell peppers, masa flour, cilantro and of course, Hatch Green Chile.
5. Vegetarian Black Bean Soup
Not only is vegetarian black bean soup packed with protein, but easy and quick to prepare. While it already contains 15 grams of protein per serving, add a protein punch by swapping out the optional sour cream with plain Greek yogurt.
6. Ham and White Bean Soup
Being starchy and filling, ham and beans is one of the most touted and recognized comfort foods. But beyond its starch content, the ham and beans provide significant protein, contributing to its satisfying factor and making it the ultimate way to use leftover ham. Find out how to make a simple ham and white bean soup here, featuring carrot, onion, tomato, mint, thyme, and no other than the ham and beans!
7. Chicken Tortilla Stew
Loaded with hints and spices from south of the border, cure your cravings and try this zesty chicken tortilla stew. It is is made to perfection and crafted with just the right amount of spice and protein (22 grams) to keep you full and energized!
8. Cioppino Soup
Also recognized as seafood stew, this Cioppino soup features fish and shrimp combined with fresh tomatoes in a wine sauce. (Pair with a glass of red wine for good measure as desired.)
9. Curried Red Lentil Sweet Potato Stew
Like beans, lentils are a cherished plant-based protein and acts like one of the main stars in this curried red lentil sweet potato stew.
10. Pesto Chicken Soup
Love the flavors of pesto pasta but not all the added carbs that come up with it? Swap out your pasta fork with a soup spoon and prepare this pesto chicken soup. With a mere five ingredients, including the two protein contributors themselves (chicken and cannellini beans), it is quick and easy to make for a nutritious, yet delicious dinner option.
11. Pizza Soup
Rather than slicing up a pizza slice… Pour up a bowl of this low-carb crockpot pizza soup! Adjust and add ingredients per liking, including preferences of ground beef or simply going meatless.
12. Italian Sausage Soup with Tortellini and Kale
Packed with healthy greens, hearty tortellini, oh, and 28 grams of protein… This Italian sausage soup with tortellini kale recipe is dinner made easy and prepared in a quick 30 minutes! For a vegetarian option, swap out the sausage with garbanzo or cannellini beans.
13. Superfood Quinoa Soup
If you wondered how this superfood quinoa soup got its name… Quinoa (obviously), kale, broccoli, cabbage, lemon, parsley and bay leaves, need we say more? This soup is also suggested as a good way to clean out the fridge and sneak in those veggies, so feel free to add at your own personal discretion!
Skip the Kitchen!
Looking for something even easier? Balance by bistroMD is a doctor-designed meal delivery program that provides you with the balanced nutrition your body needs. Don't worry about the shopping, prepping or cooking – Balance by bistroMD delivers delicious chef-prepared entrees right to your door. Shop our nutritionally balanced soup entrees here.