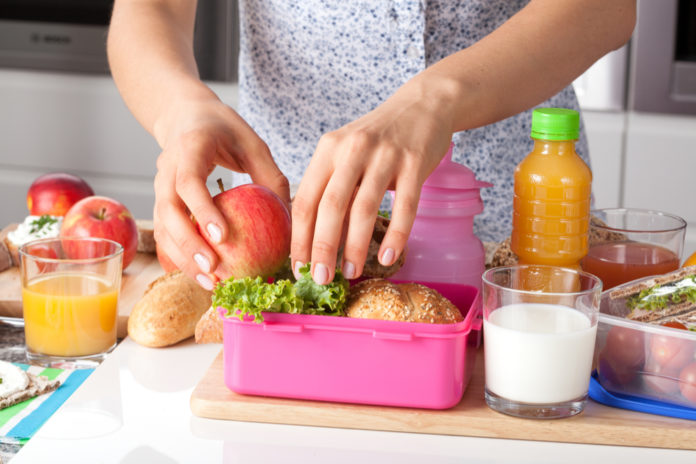 14 Lunch Ideas for Kids
1. Gourmet PB & J
Okay, sometimes it is just hard to beat the classics… But to healthify that favorite PB & J, build it with more wholesome ingredients. Opt for a natural peanut butter without any added sugars and oils, looking for a product indicating only peanuts and perhaps a little salt on the ingredient label. Also select a jelly without added sugars or fresh blueberries, strawberries, or blackberries. Smear and smash between two slices of whole grain or sprouted bread.
2. Turkey Rollups
Reinvigorate that often traded turkey sandwich with turkey rollups! And with rollups being highly versatile, feel free to swap and add meats and toppings to satisfy your child's preferences and taste buds. Serve with a fresh fruit cup and a serving of pretzels.
3. BLT Skewers
Deconstruct a standard BLT and transform into fun skewers! Pack with this one of these healthier-for-you potato salad recipes, orange slices, and a pickle spear. Other provided skewer varieties include peanut butter and jelly, cherry shortcake, and antipasto.
4. Chicken Waldorf Sandwich
This chicken Waldorf sandwich is packed with protein and other valuable nutrients, sure to keep your child satisfied and energized to last the rest of their school day. As a pro tip, the recipe suggests packing the salad unassembled, with the bread kept separate in a sandwich bag. Additionally, feel free to ixnay the bread and dip favorite veggies into the chicken salad.
5. Chickpea Salad Sandwich
But if trying to reduce or limit animal meats, prepare and pack up this vegetarian chickpea salad sandwich! The creaminess and tanginess of the chickpea salad is perfectly balanced with a sweet, crunchy apple slaw.
6. Cold Noodle Salads
If your kids do not welcome a traditional green, leafy salad just yet, this cold noodle salad is nothing short of enticing! The salad is also adaptable to various flavors, including beef, mushrooms, and carrots.
7. Mason Jar Salads
If cold noodles are not your child's cup of tea, boast in the convenience and flavors of these fun mason jar salads! Appetizing varieties include a pizza pasta shaker, alphabet pasta shaker, and BLT pasta salad. And don't forget to throw in a double chocolate chia protein bite to cure that sweet tooth!
8. Hummus Plate
This lunch idea may seem more like packing for the winery, but it is totally kid-friendly. (We will leave the wine drinking to you, parents!) Prepare a homemade hummus, including these traditional and creamy garlic lentil varieties, and pair with veggies and pita slices for dipping. Pack with cheese cubes, grapes, and a few slices of hard salami.
9. Breakfast for Lunch
While wraps, salads, and soups are noted lunch items, let's not discount the fun of having breakfast during midday hours! Start by preparing these naturally-sweetened, grain-free pancakes that are high in protein and fiber to keep your kid satisfied following lunch. And while cold scrambled eggs may not sound too appetizing, pair with a hardboiled egg instead!
10. Take-to-School Taco Bar
Bring a little taco excitement to your child's lunch hour! This take-to-school taco bar features roast beef, guac, and, though feel free to pack other toppings your child enjoys.
11. Quesadillas
While a toasty, warm tortilla is often plated at the dinner table, do not let a chilled quesadilla scurry it away from a lunchbox! Prepare their favorite version the night before and pair with salsa, this edamole recipe, carrot sticks, and fresh mango!
12. Bento Box
Get the kids in the kitchen by preparing this vegetable maki sushi. Pack with edamame, cucumber slices, and fresh dragon fruit.
13. Muffin-Tin Pizza Rolls
Hang up the phone to the pizza delivery man and prepare these muffin-tin pizza rolls! And even chilled and leftover, they are sure to please! Enjoy with this protein-packed southwestern Greek yogurt dip and sliced veggies.
14. Veggie and Bean Quinoa Bites
These veggie and bean quinoa bites compile a plethora of nutrients into one cohesive bite! They are a convenient and fun lunch idea for kids, while also satisfying the midday hunger.