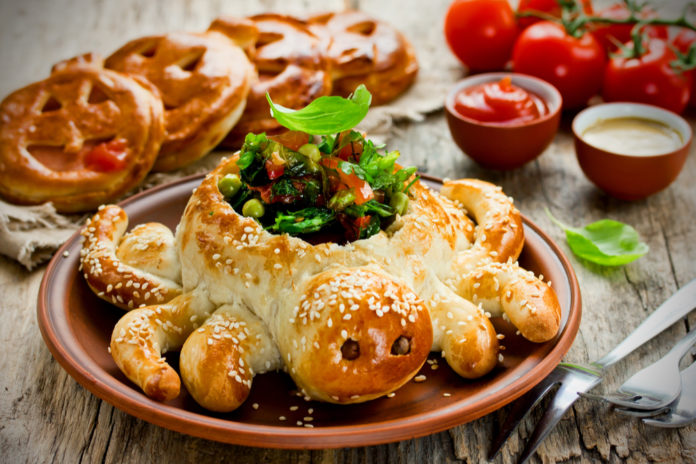 Spooky Halloween Recipes
1. Spiders On a Log
Only needing celery sticks, peanut butter, and plastic spiders, this Halloween finger food is a simple twist on that afterschool classic!
2. Skeleton Crudité
One of the best ways to get children to eat their veggies is by offering them in fun shapes and pictures. And no bones about it, this skeleton crudité is sure to tempt even the pickiest of eaters!
3. Spooky Cheese Platter
Simply use Halloween-inspired cookie cutters to shape cheese slices. Place on a large platter and serve with crackers, olives, and grapes.
4. Halloween Brain Dip
Cauliflower is hollowed out and filled with avocado dip to mimic a realistic brain in this fun Halloween recipe!
5. Spider Web Dip
Get tangled up in this spider web dip! Along with the recommendation of serving with colored corn chips, dip with jicama, bell peppers, and other favorite veggies.
6. The Perfect Fall Cheeseball
Not only is this cheeseball the perfect fall-inspired recipe, but simple to create and delicious for all to enjoy!
7. Stuffed Mushroom Eyeballs
These mushroom eyeballs are not only eye-appealing, but stuffed with a garlicky tofu ricotta for a simple, yet decadent Halloween finger food.
8. Bloodshot Deviled Eyeballs
But if mushrooms are not your child's cup of tea… Prepare these bloodshot deviled eyeballs, prepared as a creamy batch of deviled eggs with just a few simple additions.
9. Mummy Meatloaf
Meatloaf meets cupcake meets mummy in this Halloween finger food recipe. Feel free to alter the meatloaf recipe to liking, including swapping out ground beef and pork with ground turkey and adding in various veggies.
10. Jack O' Lantern Fruit Cups
Get into the Halloween spirit a healthier way by creating and displaying these Jack O' Lantern fruit cups! They are also extremely versatile, allowing children (and adults) to fill with favorite mixed fruits and combinations.
11. Candy Corn Popsicles
Candy corn is not much more than sugar and corn syrup, making them far from nutritionally sweet. But these candy corn popsicles combine the fresh flavors of coconut, pineapple, and mango for a healthier Halloween spin!
12. Caramel Popcorn
Rather than purchasing caramel popcorn filled with refined sugars, prepare one of these six naturally-sweetened recipes, including caramel apple and choco caramel variations.
13. Snickers
A nutritious candy bar? Now that word pairing does not coexist all too often! bistroMD harmonizes the fall flavors of pumpkin and nutritional qualities in this healthy pumpkin Snickers recipe.
14. Twix
When it comes to that store-bought Twix candy bar, sugar, fat, and cholesterol is truly "all in the mix." But by preparing at home, you can bite into a healthified Twix bar this Halloween and fall season!
15. Almond Joy
But if you find more "joy" in that chocolate coconut bar… Look no further than this homemade Almond Joy recipe!