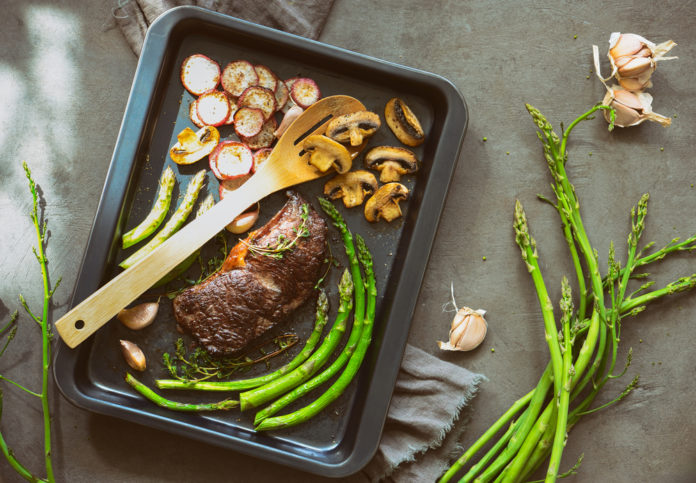 Easy One-Sheet Pan Meal Ideas
Sheet Pan Steak, Eggs, and Potatoes
Who says steak and potatoes is only served for dinner? By simply adding a few eggs, transform that dinnertime favorite into a hearty breakfast! This one-sheet pan meal is perfect for hosting or feeding the whole family.
Fruit and Veggie Sheet (Pan)cakes
If you desire sweeter flavors in the morning hours, look no further than this fruit and veggie sheet pan(cake)! Unlike most pancakes, this healthy breakfast option bursts with nutrients thanks to the addition of zucchini and carrots. Although the recipe calls for bananas, strawberries, and blueberries, exchange and add other pancake toppings, including apples, peaches, and blackberries. Lightly drizzle with pure maple syrup or honey and dollop with Greek yogurt for added protein.
Sheet Pan Fajitas
These sheet pan fajitas feature chicken, but can be substituted with beef or shrimp. To serve, scoop mixture into taco shells or cabbage leaves or pile onto a mix of greens for a fajita salad. Top with favorite Mexican flavors, including pico de gallo, guacamole, hot sauce, and cilantro.
Sheet Pan Chicken Parmesan
While most chicken parmesan recipes are "fried to perfection," this sheet pan dinner is baked to nutritional excellence! Serve atop whole grain pasta or spiralized veggie noodles or simply pair with a veggie roasting on the same pan.
One-Pan Lemon Garlic Shrimp and Asparagus
The powerful duo of lemon and garlic harmonize shrimp and asparagus on just one sheet pan! Though this cookie sheet recipe features asparagus, feel free to add or swap veggies, including broccoli and zucchini. Complement the lean protein and non-starchy veggies with a complex carb, such as brown rice or whole grain pasta for added fiber and nutrients.
One-Pan Salmon and Veggie Bake
If short on time and even shorter on dinner ideas, look to this one-pan salmon and veggie bake! The pairing of the protein and healthy fats of salmon
Roasted Turkey with Potatoes
Although the flavors of Thanksgiving are always anticipated, the kitchen cleanup may be far from desirable. But with this sheet pan dinner, dishes are minimal while the taste of turkey, potatoes, and carrots is maximized!
Whole-Wheat Cherry Tomato and Zucchini Pan Pizza
Rather than calling in for a pizza delivery, prepare this whole-wheat cherry tomato and zucchini pan pizza! Toppings can easily be modified to accommodate personal preferences, including the adding or swapping of pesto sauce, shredded chicken, sausage, and other pizza choices.
Sheet Pan Korean Chicken
Fill the kitchen with Korean aromas by preparing this sheet pan dinner! With juicy chicken and plenty of crispy, tender veggies, your taste buds are sure to be pleased. Pair with brown rice or quinoa as desired.
Healthy Chocolate Chip Cookies
Last but not least (and perhaps the most notorious cookie sheet recipe)… Chocolate chip cookies! While these healthier chocolate chip cookies are absent of butter, white flour, or any refined white sugar, they continue to burst in flavor! Dunk into milk or crumble atop vanilla bean ice cream!