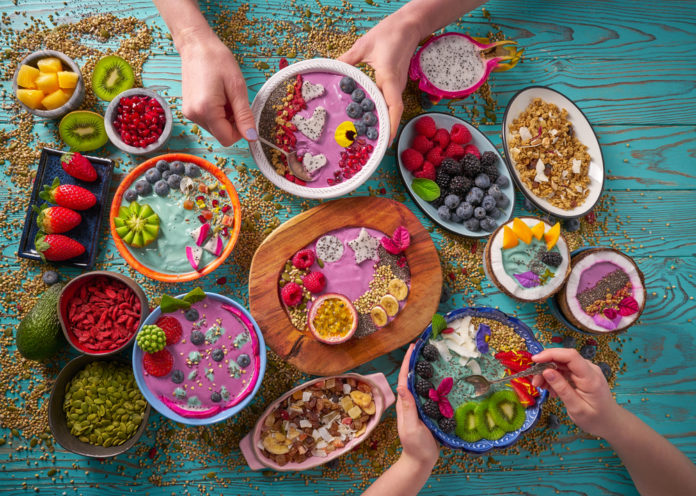 Pronounced ah-sah-EE, acai is a dark purple berry originating in South Africa and overflowing the bowls across America. And touted as a superfood, acai makes a nutritious and homemade alternative to most cartons of ice cream reached for in the freezer section. So grab your favorite bowl and spoon and say "ahh" to these acai frozen yogurt recipes! 
Your Quick Acai Frozen Yogurt Recipe
Ingredients:
3 ½ ounces of acai puree*
½ cup plain Greek yogurt
¼ cup almond milk
½ cup frozen blueberries
1 frozen banana, cut into 1" cubes
1 Tbsp honey
*Fresh acai berries are unavailable for purchase in the U.S., though frozen pouches of acai puree are often found in natural food markets or Amazon.
Instructions:
Before using the acai puree, break it up into manageable pieces to make it easier on the blender. Wrapping the packet in a kitchen towel and punching with a meat mallet can help break up into chunks.
Combine acai puree, Greek yogurt, almond milk, blueberries, banana, and honey into a blender. Puree until smooth, adding more milk as needed to produce a desired, creamy consistency. Yep, it really is that quick and simple!
9 Acai Berry Frozen Yogurt Variations to Try
Beyond the vibrancy of the acai yogurt base, one of the best parts of the frozen yogurt recipe is its adaptability to embrace numerous flavors and toppings. Give these variations a try for your next acai frozen yogurt bowl:
1. Acai Berry Cherry Chocolate
To the base recipe, mix in a ½ cup of frozen pitted cherries and a tablespoon of raw cocoa powder. Top with fresh cherries, cocoa nibs, and chopped nuts. 
2. Put the Lime in the Coconut
(Then you shake it all up!) Simply squeeze in the juice of a fresh lime into the base mixture and exchange the almond milk for coconut milk. Blend until smooth then top with shredded coconut, a sprig of fresh mint, and a light drizzle of agave.
3. Berry Out of this World
Berry is the name of the game for this acai frozen yogurt recipe! Along with the blueberries, add frozen raspberries, strawberries, blackberries, and other picks. Top with… (You guessed it!) chopped, fresh berries and a sprinkle of favorite nuts. 
4. Mango Tango
Take a quick to the tropics by swapping out the frozen blueberries above with frozen mango and pineapple chunks. Mix, pour, and garnish with fresh mango and shredded coconut.
5. Fall Hard for Acai
Fall even harder in love with acai frozen yogurt by combining the berry with favorite fall flavors! Swap the blueberries with a ¼ cup of pumpkin puree and blend. Top with crunchy pumpkin seeds, chopped apples, and a dash of cinnamon and nutmeg.
6. Nutty Monkey
Go nuts for this acai berry frozen yogurt by adding sliced bananas, a dollop of peanut butter, chopped peanuts, and a drizzle of honey.
7. Creamy Vanilla Acai Protein Bowl
Whereas yogurt offers protein within itself, amp up the overall content with your favorite vanilla protein powder and the use of soymilk. Simply add a scoop or serving of the powder to the mixture and top with banana chunks, blueberries, and hemp seeds.
8. Green Machine
As if these acai berry frozen yogurt bowls were not nutritious enough… Oomph that nutritional content with a few handfuls of spinach. Getting in those greens has never been easier, quicker, or tastier!
9. Raspberry Acai Frozen Yogurt Bark
But the frozen yogurt does not have to be fully dedicated to a bowl and spoon… Keep this raspberry acai frozen yogurt bark (brought to you by Carnation Breakfast Essentials®) stashed in your freezer when you need a cool pick-me-up on those hot summer days.