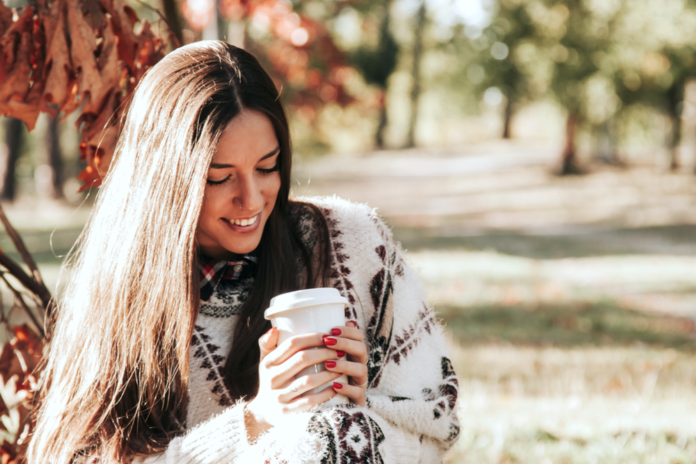 Starbucks still reigns as a shining star for coffee drinkers despite thousands of small owned, local coffee shops trying to rightfully steal the spotlight.
Nonetheless, Starbucks does a great job of promoting seasonal drinks to sip and enjoy. These include the returning pumpkin spice latte, pumpkin cream cold brew, and the Starbucks new drink… An apple crisp macchiato.
Fall-Inspired Starbucks Drinks to Order
Ranked in no particular order, check out some of the most popular Starbucks drinks fall in love with in Autumn!
Iced Coffee with Milk
Come fall, Starbucks is generally synonymous with all things pumpkin spice flavor. Fair enough.
Yet, those early days of Autumn may still be warm enough to enjoy a fan favorite iced coffee with milk. Depending on the type of milk one gets, this drink ranges from 80 to 240 calories, with a grande coconut milk being the least and a Trenti whole milk being the most.
Calories are not the end all be all, but awareness is certainly important especially when frequenting a drink. Choosing plant-based (oat, soy, coconut, or almond milk) or skim milk, omitting flavored syrups, and skipping the whip are easy ways to manage overall calories and enjoy guilt-free.
Nonetheless, iced coffee (particularly with soy or cow milk) is considered an appropriate, nutritional beverage that offers some caffeine, protein, carbohydrate, and fat. If skimping on breakfast, this is a great choice to bridge the nutritional gap.
Caffe Americano
Quite possibly the most lackluster option on the menu, a caffe Americano is simply a good ole' cup of joe with nothing added. Therefore, it harnesses the benefits of coffee and coffee alone.
Studies actually show that those who regularly drink coffee have a much lower risk of several chronic diseases. The caveat "in appropriate portions" should be added after "who regularly drinks coffee".
Still, the health benefits of coffee include:
Can improve energy levels
Supports burning fat
Improve physical performance
Contains riboflavin, pantothenic acid, manganese, potassium, magnesium, niacin
May lower risk of type II diabetes, Alzheimer's, Parkinson's, dementia, certain cancers, heart disease, stroke and liver dysfunction
Acts as a mood enhancer for those with depressive symptoms
Very high in

antioxidants
Caffe Latte
A warmed combination of those first two drinks, a caffe latte is coffee and frothed milk. The milk choice provides all the calories, with a tall sized coconut milk offering the least and a Venta whole milk providing the most. The popular tall, non-fat latte rings in at 100 calories, a very appropriate amount for a caloric drink.
A caffe latte is a cozy, warming drink that offers a punch of caffeine with some frothy milk to tame the bitterness. It tends to be a favorite among those who like the flavor of coffee but find the actual drink a bit too bitter. If drinking often, avoid the flavored syrups and whipped topping that can add anywhere from 100 to 200 unnecessary calories.
Flat White
Among the list of flavored options, this is one of the better choices. It is technically an espresso beverage made with two ristretto shots and a layer of steamed milk. The ristretto shot is said to provide a sweeter but more intense coffee flavor, once again tamed by the addition of milk.
Although traditionally made with whole milk, one can choose any of the available milk options at Starbucks. Just keep in mind that dairy milk tends to froth and steam best. However, the plant-based options are around 60-200 kcals whereas the dairy milk options are 100 to 400 calories depending on the size. A flat white is a staple Starbucks fall drink to enjoy on a mildly cool day for extra coziness.
Skinny Cinnamon Dolce Latte
A lesser-known warm drink option, the skinny cinnamon dolce latte ranks superior when it comes to flavor and may just top the best hot drink at Starbucks list for its health properties. Simply a latte with cinnamon flavor, it is not overly high in calories and the addition of cinnamon offers nutritional value.
Cinnamon is a functional spice in that studies show it can help balance blood sugar, especially when added to a carbohydrate-rich food or drink. Of course, cinnamon-flavored syrup is not likely as nutritious as regular cinnamon, so healthify it further by adding extra cinnamon. Because cinnamon is a common companion to pumpkin spice, this is a stellar option to enjoy come fall.
Chai Tea Latte
Although it seems most Americans will remain team coffee over tea for the foreseeable future, tea provides a plethora of health benefits. Most notably, tea is a potent source of antioxidants like catechins and theaflavins. Antioxidants fight inflammation and greatly reduce the risk of chronic diseases.
Chai tea has the added benefit of being spicy in flavor. A blend of nutmeg, cinnamon, and cloves are to thank for that. This drink is also lower in calories compared to other choices and can provide calcium if dairy milk is chosen or some protein if a plant-based option is the decision.
Light Espresso Frappuccino
Part of their secret menu unbeknownst to many, this frap is much lower in energy and sugar than the others. It is basically a cold brew latte turned icy. Clocking in at 80 to 160 calories depending on the size, this is a solid choice for those warm outlier Autumn days.
While typically made with skim milk, a plant-based milk option is available as well. This can be an especially tasty treat for those who appreciate the coffee smell but find regular coffee too pungent in flavor.
Skinny Hot Chocolate
For those who want to skip the caffeine, a skinny hot chocolate can quench the itch for a warm, cozy drink. All-natural hot cocoa made with cacao powder and nutrient-dense milk is wonderfully healthy, offering antioxidants and a slightly bitter taste. Unfortunately, most of the hot chocolate in cafes is made with refined cacao and plenty of added sugar.
Still, Starbucks's skinny hot chocolate drink fares well compared to the other non-caffeinated drinks in terms of sugar and calories and is a kid-friendly option. Enjoy this as a special fall treat a few times throughout the season for welcomed nostalgia.
And for the extra special occasion, add a pump of pumpkin spice!
Vanilla Steamer
Even though Starbucks caramel drinks top the most popular flavor list, vanilla ranks a close second. Another caffeine-free option, a steamer is simply warmed milk and can be catered to different froth levels and flavor options. However, vanilla is one of the favorite options, adding just a hint of vanilla sweetness to milk.
As already mentioned, dairy milk warms up the best, but a plant-based option such as coconut milk would be just as scrumptious. This drink is great for kiddos who want to mimic mom or dad with their fancy warm drink but who likely do not need added caffeine.
It is generally a good idea to demote caffeine intake for kids and adolescents. Caffeine can disrupt sleep, cause irritability and disrupt hormones when really overdone.
Pumpkin Pie Frappuccino
Finally, no fall Starbucks drink list is complete without something pumpkin-flavored! Although most people are already well aware of the infamous pumpkin spice latte that leads to hour-long waits in line on the first day of availability in September each year…
Thus, the pumpkin pie frappuccino is being highlighted instead! Another drink on their secret menu is only available in October and November, it is a treat to be enjoyed once a year. With no shortage of calories or sugar, savor the delicacy very occasionally.
If the barista is not fully aware of their secret menu, order it by asking for this:
Order pumpkin spice frap
Add cinnamon dolce syrup
Blend in whipped cream
Top with cinnamon dolce sprinkles
Other Points
Starbucks is known for their seasonal coffee and drink choices, but fall is perhaps the most exciting thanks to pumpkin spice and everything nice! Some are more healthful than others, but awareness is really key. Get ready to fall in love with fall's best offerings.
If curious, here are other points to increase awareness about Starbucks drinks:
Whip adds 60 calories
Any drink can be made lower calorie by getting non-fat or plant-based milk
There is a short size that is smaller than tall (convenient for kiddos)
Frappuccinos are the highest calorie drinks and have the most added sugar
There are flavors of frappuccinos and coffee drinks that are not available on the listed menu like Oprah Cinnamon Chai Creme Frappuccino
1 pump flavored syrup is 20-30 calories (drinks typically come with 4-5)
Caramel drizzle is 15 calories
Protein and fiber powder is available to add (30 calories)
Really, from warm salted caramel mocha to a nitro cold brew, Starbuck has countless options. Now THAT is worth falling in love with this autumn (and any season for that matter)!
References:
Gunnars K. 13 Health Benefits of Coffee, Based on Science. Healthline. Published. September 20, 2018. www.healthline.com/nutrition/top-13-evidence-based-health-benefits-of-coffee#TOC_TITLE_HDR_14.
Starbucks Coffee Company Beverage Nutrition Information. https://globalassets.starbucks.com/assets/94fbcc2ab1e24359850fa1870fc988bc.pdf.