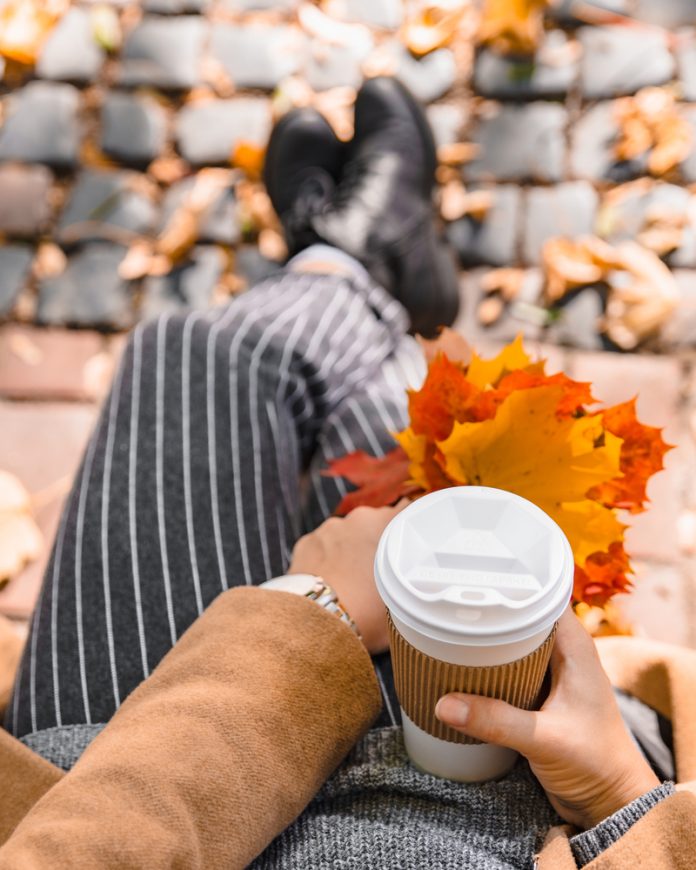 What's not to love about fall Starbucks drinks? While the flavored fall season specialties appeal to many, some claim that the worst thing about the Starbucks fall menu is the calorie count. Here's how to order the best fall drinks at Starbucks with a healthy twist.
Read on for your new favorite Starbucks fall drinks, including tips for keeping your fall favorites on the healthy side. All calorie, size, and ingredient information comes from the Starbucks menu.
Pumpkin Spice And Everything Nice
Starbucks fall drinks have become so famous that "PSL" is widely recognized shorthand for pumpkin spice latte. Here are some favorites that include pumpkin spice on the fall menu.
Pumpkin Spice Latte
An obvious but often overlooked way to decrease calories is to simply order a smaller size. Going from a 16 fl oz (Grande) to an 8 fl oz (Short) order cuts calories by about half.
You can also opt for nut milk or oat milk, and ask the barista to forgo the pumpkin spice topping and whipped cream on top. This popular drink also comes in an iced variety.
Pumpkin Spice Crème
There's nothing like a smooth, creamy sip. However, when "crème" is in the name, there's likely extra calories in the drink.
If you are partial to the cream, try lowering calories by asking for a smaller size (Tall or Short) and only two pumps of Pumpkin Sauce.
Pumpkin Spice Frappuccino
The Pumpkin Spice Frappuccino is a deliciously blended drink. However, its largest size (the 24 fl oz Venti) clocks in at around a fourth of the daily average calorie allotment with 510 calories in a cup. Simply switching to a Tall (12 fl oz) can keep you under 300 calories, and taking off the pumpkin spice topping and whipped cream will shave off some more.
Similar tips work for lowering the calorie count of the Pumpkin Spice Crème Frappuccino, too.
Pumpkin Cream Cold Brew
With a reasonable number of calories, the pumpkin cream cold brew has only 250 calories in a Grande (16 fl oz). It comes flavored with vanilla syrup, and you can easily ask for Sugar-Free Vanilla Syrup instead.
Since this drink is cold, it is great for getting in an autumn mood when the weather is still somewhat warm.
Sweeten Starbucks Fall Drinks With Cinnamon
Cinnamon is a deliciously warm spice that makes a great companion to many other fall flavors. From teas to coffees, cinnamon can add a sweet taste without adding too many calories.
Cinnamon Dolce Latte
This fall-time favorite has sweet notes of cinnamon due to Starbucks' cinnamon dolce syrup. Choosing the Tall size (12 fl oz) keeps the drink under 300 calories.
Plus, you can opt for cinnamon to be sprinkled on top in lieu of the cinnamon dolce sprinkles. In place of whipped cream, ask the barista to add a bit of extra milk instead to make it creamier.
Chai Tea Latte
Perhaps one of the healthiest picks on the Starbucks menu, a 16 fl oz (Grande) Chai Tea Latte only contains 240 calories. While chai tea can be enjoyed year-round, chai tea lattes are a hallmark of fall drinks.
Flavored with warm spices like cardamom, ginger, cloves, and cinnamon, you simply can't go wrong with a chai tea latte.
Chai Crème Frappuccino
Ordering a Tall (12 fl oz) of the Chai Crème Frappuccino keeps calories under 250. According to your preference, you can substitute whole milk for nonfat milk, almond milk, coconut milk, oat milk, or soy milk.
To reduce calories even further, as for no whipped cream (just cinnamon powder) on top.
An Apple A Day, The Starbucks Way
Apple picking is a favorite fall activity of many. To enjoy this fruit on-the-go, pick one of the following beverages for seasonal sipping.
Caramel Apple Spice
Another seasonal spiced drink is the Caramel Apple Spice. Although it has a base of steamed apple juice and cinnamon syrup, sugary additions swiftly raise the number of calories. To make it healthier, order a small size (the Short, at 8 fl oz, contains just 220 calories).
You can also ask for a splash of milk to make it creamier instead of adding whipped cream and caramel drizzle.
Apple Crisp Oatmilk Frappuccino
Also sprinkled with cinnamon, the Apple Crisp Oatmilk Frappuccino contains a mix of apple, cinnamon, and oat-enhanced flavors. Create a lower-calorie coffee by ordering in a smaller size and leaving out the spiced apple drizzle. These same tips can also apply to the Apple Crisp Oatmilk Crème Frappuccino.
Apple Crisp Oatmilk Macchiato
This drink practically screams fall with its delectable mix of seasonal flavor. The Grande (16 fl oz) contains 320 calories, but you can decrease that count by asking for just one to two pumps of Apple Brown Sugar flavor instead of three.
Additionally, leave off the spiced apple drizzle topping and ask for a sprinkle of cinnamon instead.
Steamed Apple Juice
Steamed apple juice is often an underrated Starbucks menu addition. Even in the largest size (a 20 fl oz Venti), this drink stays under 300 calories and is sure to warm up any fall day. Made from 100% juice not from concentrate, it's great for adults and kids alike.
Caramel Apple Spice
Caramel Apple Spice is essentially steamed apple juice with cinnamon syrup, whipped cream, and caramel sauce drizzle on top. To keep calories under 250 order a Short (8 fl oz).
You can also ask the barista to put only one pump of cinnamon dolce syrup in, and to leave off either the caramel drizzle or whipped cream.
In Summary On Starbucks Fall Favorites Made Healthier
Starbucks rolled out its seasonal fall menu on August 30, and there are plenty of pumpkin-spiced favorites to choose from. In general, you can keep calories lower and opt for healthier options by simply choosing a smaller size (i.e. Tall or Short).
Also, forgo sugar-sweetened toppings like whipped cream and syrup for warm seasonings like cinnamon and an extra splash of milk.