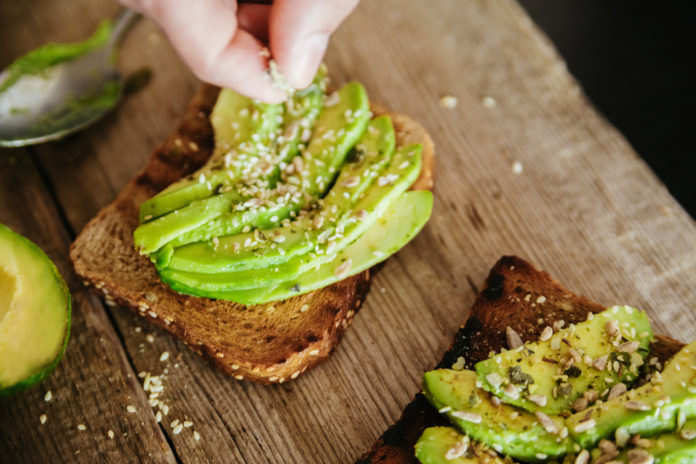 22 Recipes for Avocado-Lovers 
1. Avocado Toast
There is no denying avocado toast has soared in popularity, but did you know Americans are spending almost $900,000 on the toast on a monthly basis? From a simple avocado spread recipe to colorful garnishes, try out these avocado toast recipes that will instantly upgrade your life without breaking the bank.
2. Avocado Egg
An avocado egg is the perfect way to start the day! Slice an avocado in half and take out the large pit and crack an egg into the created dip. Bake in a 375°F oven for approximately five to seven minutes, or until the egg whites are cooked and the yolk is at a desired firmness. Sprinkle atop with green onions, diced tomatoes, and a dollop of plain Greek yogurt. Drizzle with hot sauce if craving a little spice!
3. Fig Pizza
This easy recipe with avocado is a healthy breakfast pizza to get you out of bed. Simply toast a piece of pita bread, smear with ripe avocado, layer with fig, dress with arugula and drizzle with balsamic vinegar. Add chopped walnuts or pecans for extra crunch!
4. Blueberry Avocado Muffins
Greenify one of those breakfast favorites with this blueberry avocado muffin recipe! Not only does the avocado provide a subtle green color, but grants healthy fats and moistness to the muffins.
5. Steak and Avocado Breakfast Burritos
Treat yourself like a king (or queen) that you are by whipping up these steak and avocado breakfast burritos!
6. Avocado and Mint Smoothie
Avocadoes put the smooth into smoothie! Featuring the fresh flavors of mint and cilantro, do not miss out on this healthy recipe with avocado!
7. Super Green Smoothie Bowl
This super green smoothie bowl is the healthiest and easiest way to transform a sippable smoothie into spoonable meal! You can also customize toppings to accommodate your personal preferences, including chopped apples, banana slices, and cinnamon.
8. Avocado Salad Dressing
Rather than drenching those nutritious greens with sugar and additive-laden dressings purchased from the store, prepare this homemade, creamy avocado salad dressing bursting with nutrients and flavors from fresh ingredients.
9. Cucumber Avocado Salad
Stay cool as a cucumber with this healthy recipe with avocado! Pair the cucumber avocado salad with freshly grilled salmon or chicken for a well-balanced meal packed with protein, healthy fat, and fiber. 
10. Fresh Tomato Avocado Salsa
If you love those foods on football Sunday but hate the extra calories and fat, bistroMD has provided an easy avocado recipe that puts a different play on the typical chips and dip.
11. Chilled Avocado Soup
Rather than cozying up on the couch to a warm bowl of soup, cool off with this chilled avocado soup recipe, offering a desirable creaminess without the need for cream or milk!
12. Fried Avocado Tacos
Crispy, crunchy, and packed with flavor, do not sleep on these fried avocado tacos for your next #TacoTuesday. 
13. Stovetop Avocado Mac and Cheese
Cozy up to one of the most comforting avocado recipes for dinner… This stovetop avocado mac and cheese recipe!
14. Avocado Chicken Salad
In a small bowl, mix together 4 ounces of shredded chicken, ½ an avocado, ¼ cup of both mayo and plain Greek yogurt, a squeeze of lime juice, and light sprinkle of garlic and onion powders, salt and pepper to taste. Allow to set in the fridge for at least 20 minutes and enjoy as is, spread onto whole grain crackers, layer on a bed of lettuce, or dip with favorite veggie slices.
15. Tuna Stuffed Avocado
Want an easy recipe with avocado? Look no further than a tuna stuffed avocado stuffed with healthy fats! Simply half an avocado and scoop out some of the center to make a "bowl." Put the scooped avocado in a bowl with a can of drained tuna, mix a 5-ounce can of wild albacore tuna with a small avocado, diced carrots and celery, a tablespoon of lemon juice, and salt and pepper to taste. Scoop tuna mixture back into avocado and enjoy!
16. Avocado Stuffed Burger
Or rather than stuffing the avocado itself, stuff avocado into a burger! This avocado stuffed burger is the perfect avocado recipe to kick off grilling season. 
17. BLAT
Although a traditional BLT is hard to bargain with, adding avocado offers a level of creaminess and is a total game changer to a classic! 
18. Charred Corn and Avocado Pizza
Revamp your next pizza night in with this charred corn and avocado pizza recipe, jam-packed with flavors from charred corn, avocado, poblano peppers, cilantro, Cotija cheese, fresh lime juice… Need we say more?
19. Avocado Bacon Zoodles
Speaking of bacon… This avocado bacon zoodles recipe is rich in flavor and nutrients, all without great worry of packing on the carbs from most pastas.
20. Chocolate Mousse
If needing a dessert free of gluten, egg, dairy, refined sugar, along with standing as a low-carb, vegan-friendly, and paleo option… Look no further than this avocado chocolate mousse! Oh, and did we mention it can be made in a blender in a quick two minutes?
21. Avocado Ice Cream
Unlike most ice creams loaded with sugar, this unique avocado ice cream is a dairy-free, vegetarian option that offers smoothness and creaminess without all the added sugars and unwanted ingredients tied to traditional ice creams. All you need is a few common ingredients and your favorite ice cream bowl!
22. Coconut Avocado Popsicles
Beat the heat with these portable coconut avocado popsicles! Not only are they simple to make, but are completely versatile. For instance, feel free to add fresh blueberries or swap the honey for agave.