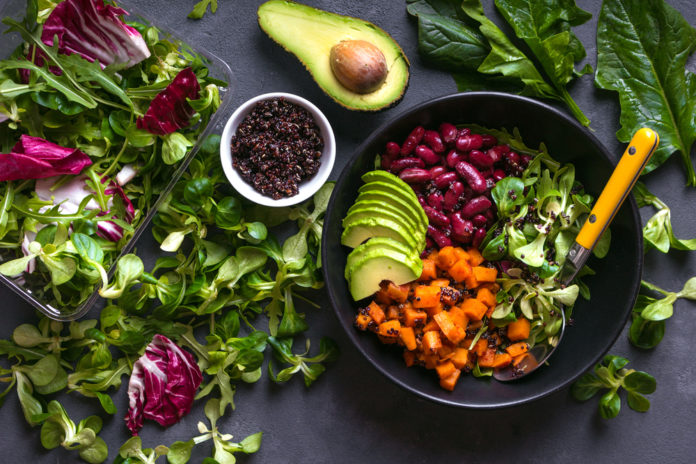 Boost Veggie Intake with These 11 Cozy, Vegan Dishes
1. Tofu Scramble
Eggs and omelets are an eggcellent way to sneak in veggies, though eggs are not-so-vegan-friendly. But this tofu scramble is a veggie-filled breakfast of (vegan) champions! Pair with sprouted toast or fruit or fill into a tortilla for an on-the-go breakfast burrito.
2. Hearty Winter Vegetable Soup
Warm up with this hearty vegan vegetable soup! The soup is bursting with a plethora of winter veggies, including leeks, carrots, celery stalks, Yukon gold potatoes, and a bunch of kale to supply the body with nutrients it needs to stay healthy during the cooler months.
3. Spinach and Mushroom Risotto
Being rich and satisfying, you will want nothing more than to cozy up to a bowl of this spinach and mushroom risotto flavored with fresh lemon thyme, garlic, onion, white wine, and vegetable broth. Pair with a glass of red wine for good measure.
4. Mexican Couscous
Couscous: So nice they named it twice! But what's even nicer? Just how convenient and nutritious making this one-pot Mexican couscous can be! Top with salsa, hot sauce, and avocado slices as desired.
5. Fettuccine Alfredo
While most fettuccines use heavy creams, this lightened-up variation offers anticipated creaminess with vegan-friendly ingredients. Oh, and did we mention it is prepared in just a single pot? (Hello, easy kitchen clean-up!)
6. Pizza
Who doesn't like to snug up to pizza? But instead of speed dialing the pizza delivery man for the third time this week, prepare a veggie-packed, vegan-friendly pizza in your home. Start by preparing this simple pizza dough recipe, adding preferred pizza sauce, and topping with a beaucoup of favorite veggies, including mushrooms, sundried tomatoes, olives, peppers, jalapenos, onions, and whatever else your taste buds are craving. Now we'll take a pizza that!
7. Vegan Chili
Chili screams cozy and is the perfect dish to increase your daily vegetable intake! So not only is this vegetarian chili bursting with plant-based protein, but overflowing with fiber, vitamins, and minerals from red onions, bell peppers, tomatoes, and carrots.
8. Ginger Veggie Stir-Fry
Rather than calling for takeout, heat up the kitchen and comfy up to this ginger veggie stir-fry. While it already features broccoli, snow peas, carrots, and green beans, feel free to swap or add mushrooms, cauliflower, celery, bell peppers, bok choy, and squash. Now that is a delicious veggie boost!
9. Macaroni and Peas
While traditional mac and cheese is not so vegan-friendly, this mac and peas recipe can be appreciated by all! And to boost veggie intake, throw in cauliflower, broccoli, carrots, celery, onion, spinach, and kale.
10. Wild Rice-Stuffed Butternut Squash
This vegan-friendly dish features a favorite winter veggie… Butternut squash! But that's just the beginning, as it is stuffed with the warm flavors of pure maple syrup, ground cinnamon, cayenne pepper, and curry powder, all mixed with wild rice and dried cherries.
11. Curried Pumpkin and Chickpea Burgers
MOOOOve over, beef! This burger recipe features yellow pumpkin and chickpeas and bursts with flavor from antioxidant-packed turmeric, cumin, coriander, and curry powder. Layer up with onion, tomato, pickle, greens, and other favorite burger toppings.