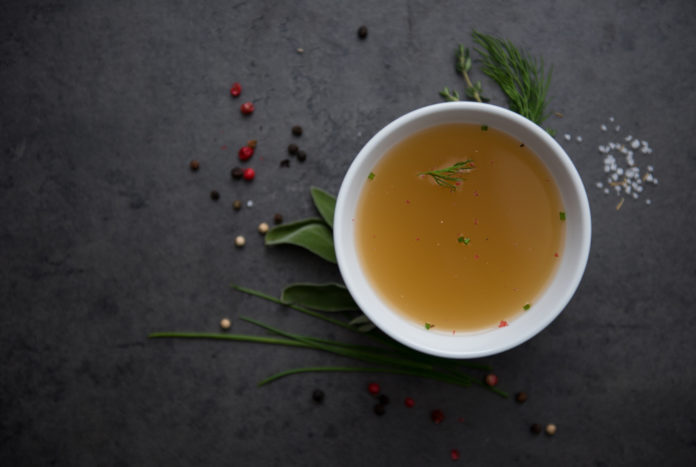 Beef Bone Broth Recipe 
Ingredients:
4 pounds mixed beef bones, including oxtail, neck bones, knuckles, and short ribs
2 medium unpeeled carrots
1 medium onion
1 garlic head
12 cups of water
2 celery stalks, cut into 2-inch pieces
2 bay leaves
2 Tbsp black peppercorns
1 Tbsp cider vinegar
Instructions:
Preheat oven to 400°F. Place beef bones on a baking sheet and roast for approximately 30 minutes.
While the bones are roasting, roughly chop the carrots, onion, and garlic.
Flip the bones following the 30 minutes and add the carrots, onion, and garlic to the baking sheet. Roast for an additional 30 minutes, or until ingredients are deep brown in color.
Fill a large, 6-quart stockpot with 12 cups of water. Add celery, bay leaves, peppercorns, and vinegar. Scrape the roasted bones, vegetables, and any juices into the pot. Add more water if necessary to cover bones and vegetables.
Bring to a boil over high heat, reduce and simmer gently, skimming the fat that rises to the surface occasionally.
Simmer for 24-48 hours (the long and slow simmering is very important to release beneficial minerals from the bone and produce collagen from the joints, ultimately contributing to these

bone broth health benefits

)!
After being patient, remove from heat and allow to slightly cool off before handling.
Discard solids and strain remainder into a large bowl through a colander.
Enjoy right away or let stock cool to room temperature, cover, and chill.
Use within a week or freeze up to three months (if it will last that long)!