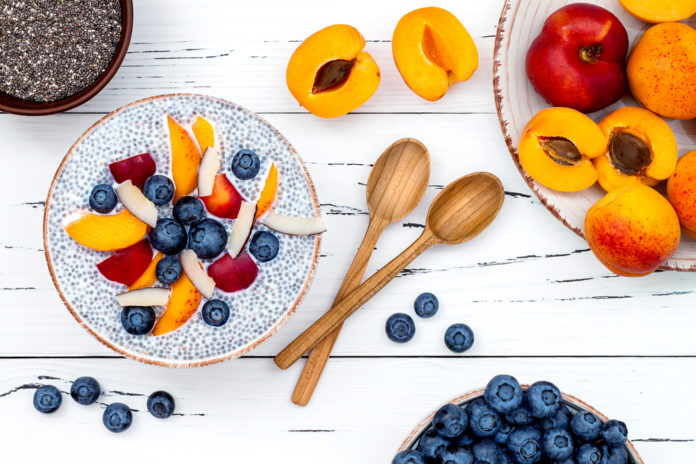 Brunch allows late weekend snoozers or busy bees a little leeway time, as it remains patiently waiting to be created and enjoyed. And with these nine sweet and savory healthy brunch bowl variations, breakfast's rising cousin is sure to shine!
9 Healthy Brunch Bowls
Savory
1. Traditional Country Bowl
First, let's go back-to-basics with a traditional country brunch bowl! Start by preparing the central base with this healthified biscuits and gravy recipe – split biscuits in half, cut into smaller pieces, or leave in its whole form, whichever you prefer. Top with crispy hash browns, a sunny side-up egg, crumbled bacon, a light sprinkle of cheddar cheese, and garnish with sliced green onions.
2. Steak and Eggs Bowl
Utilizing the recipe in the bowl above, prepare the hash browns. Cook beef sirloin to preferred doneness and layer hash browns with the steak, sunny side-up egg, and roasted red peppers. Season with salt and pepper to taste and freshly chopped green onions.
3. Californian Bowl
Start building your bowl with cauliflower rice, adding salt and pepper to taste. Top with a soft-boiled or hard-boiled egg as preferred, black beans, sliced avocados, and plain Greek yogurt. Squeeze fresh lime atop and garnish with fresh parsley and cilantro.
4. Farmers Market Bowl
Whether fresh from the farmer's market or imitating its offerings, create a healthy brunch bowl with roasted, seasonal veggies and other common market ingredients, including farm-fresh eggs and salad greens. An example farmer's market bowl may consist of roasted zucchini, onion, bell pepper, and egg topped on bulgur wheat and dressed with salad greens and a homemade balsamic vinaigrette dressing.
5. Asian Quinoa Bowl
Swap common white rice with protein-packed quinoa in an Asian-inspired bowl. Mix quinoa with freshly grated carrot, edamame, and red bell pepper and top with a soft-boiled egg. Drizzle lightly with honey, Thai hot sauce, ginger, and low sodium soy sauce as desired.
Sweet
6. Chia Seed Pudding Bowl
For the chia seed pudding base, mix ¼ cup chia seeds with one cup of desired milk (dairy, almond, coconut, soy, etc.), cinnamon, and honey to sweeten in a small, sealed container and let chia mixture to set in the refrigerator overnight. Upon brunch time, place chia seed pudding into a medium-sized bowl and top with desired toppings. Healthy brunch bowl combinations include tropical (coconut, pineapple, and macadamia nuts), oatmeal cookie (sprinkle of oats and cocoa nibs or raisins), and pumpkin pie (pumpkin puree, nutmeg, cinnamon, and allspice).
7. Banana Split Bowl
Prepare the base layer by mixing ½ cup plain Greek yogurt, ½ a banana (frozen), ¼ teaspoon of vanilla extract, and dash of cinnamon in a food blender or processor. Once smooth, pour into a bowl and top with sliced bananas, strawberries, and pineapple. Lightly drizzle with dark chocolate syrup, shredded coconut, and chopped peanuts. Feel free to switch and swap ingredients to best accommodate personal preferences!
8. Strawberry Shortcake Bowl
Though deconstructed, this strawberry shortcake brunch bowl is built with flavor. For the base layer, chop these whole wheat oatmeal pancakes into bite-sized pieces and top with sliced strawberries, a dollop of fresh whipped cream, and a sprig of fresh mint. But the healthy brunch bowl does not stop with strawberry! Create a peaches or bananas n' cream bowl by swapping out strawberries with fresh peaches or sliced bananas.
9. Nutty Monkey Bowl
Melt and mix together a ½ cup cooked brown rice, one tablespoon of peanut butter and cocoa powder, and a light drizzle of honey or preferred natural sweetener. In your favorite brunch bowl, layer the peanut butter rice, sliced bananas, shredded coconut, and crushed peanuts.