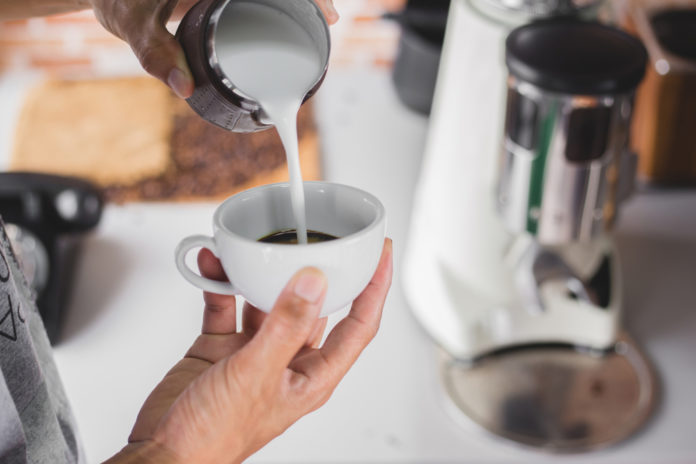 12 Non-Dairy Creamers to Try
1. Coffee-Mate®
With Coffee-mate® a reputable and trusted name in coffee, of course it extends its products to those needing a non-dairy creamer! Under their Natural Bliss line, Coffee-mate® offers almond and coconut milk varieties coming in flavors such as vanilla, caramel, hazelnut, and sweet crème.
2. Silk® Dairy-Free Soy Creamer
Silk® brand offers the OG dairy alternative: Soy! (From non-GMO soybeans, to be exact). The non-dairy creamer provides a smooth consistency and natural sweetness, including coming in original, vanilla, and hazelnut flavors.
3. Silk® Almond Creamer
In addition to soy-based creamers, Silk offers dairy-free coffee creamers prepared from almonds. Choose from vanilla, sweet and creamy, caramel, and hazelnut varieties (or try them all)! 
4. Organic Valley®
"Organic Valley soy creamers add a delicate flavor to your coffee or cappuccino, and that's thanks to our insistence on sourcing only organic soybeans," touts the official Organic Valley webpage. Coffee-goers and non-dairy users can sip on original and French vanilla flavors.
5. SoyGo Soy Creamer
Coming in individual packets, SoyGo Soy Creamer is for soy and coffee lovers on-the-go! Each packet is made with the finest Organic Gold 1000 soy powder, supplies one gram of fiber and one gram of protein, and contains no GMOs, lactose, or artificial ingredients.
6. So Delicious® Coconut Milk Coffee Creamer, Barista Style
Promoted as a "a delicious alternative to traditional creamers," enhance your next cup of coffee and play barista with So Delicious® Coconut Milk Coffee Creamer. The non-dairy creamer comes in both original and French vanilla assortments.
7. So Delicious® Almond Milk Coffee Creamer
So Delicious® also shares the love to almonds. Their Almond Milk Coffee Creamers come in caramel, hazelnut, and French vanilla varieties.
8. MimicCreme Almond & Cashew Cream for Coffee
As if the name didn't give away… MimicCreme Almond & Cashew Cream for Coffee is crafted with a wholesome blend of almond and cashew to mimic dairy-based cream. The non-dairy creamer is also gluten-free and vegan-friendly, nutrient-dense, and completely shelf-stable. 
9. Califia Farms® Better Half Coffee Creamer
Califia Farms® Better Half Coffee Creamer is a desirable blend of almond milk and coconut cream, ultimately granting its smooth and creamy consistency for your next cup of coffee. Along with being dairy-free, Califia Farms® is a vegan coffee creamer and free of soy, gluten, carrageenan, and GMOs if desired or needed.  
10. Laird Superfood Creamer™
Laird Turmeric Superfood Creamer™ will take your cup of coffee to the next level. Simply use for extra flavor and depth of cream or transform that cup of joe into Golden Milk, which has shown to benefit heart, digestive, and mental health. (Also do not miss out on this simple turmeric milk recipe!)
11. Homemade Coconut Coffee Creamer
Speaking of homemade… Rather than running to the store or ordering online, you can make a dairy-free coffee creamer in the comfort of your own home. And using three simple ingredients and five quick minutes, preparing this homemade non-dairy coconut coffee creamer could not get any easier (or tastier)!
12. Canned Full-Fat Coconut Milk
For a stand-alone, simple dairy-free and vegan coffee creamer, canned full-fat coconut milk is your go-to guy. Simply brew up a cup of joe, pour into a blender, and mix with a tablespoon of coconut milk for a frothy, creamy morning jolt.