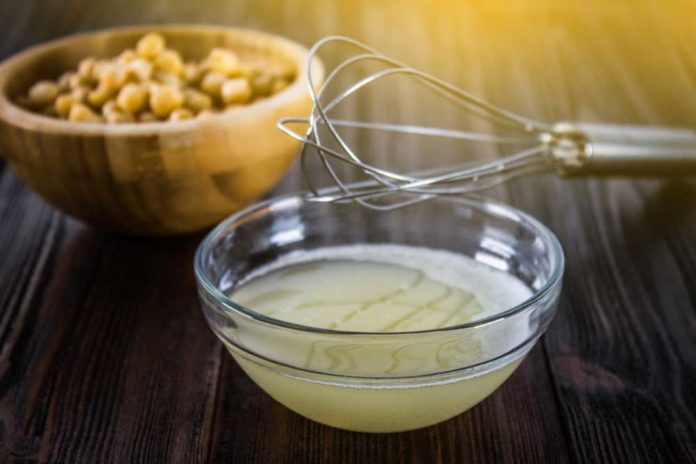 11 Fun Ways to Use Aquafaba in A Vegan Diet
1. Omelet
Aquafaba is an eggcellent vegan egg white substitute, making it appropriate for a breakfast essential… This vegan omelet features asparagus and spinach, though the "egg" can also harness other favorite ingredients and flavors.
2. Frittata
Serve up friends and family with this breakfast or brunch showstopper! The vegan-friendly frittata is elegant while being nutrient-packed, all without the use eggs or milk.
3. Mayo
Sir Kensington, a New York condiment company, introduced the first commercial product containing aquafaba: A vegan mayo called Fabanaise. But in addition to purchasing vegan mayo at the store on online, it can be produced in the comfort of your own kitchen! Find the easy vegan mayo recipe here.
4. Cheddar Cheese
With cheese casually topping or being included in a number of recipes, it may be difficult to deviate away from it. But vegans and those living with lactose intolerance or a dairy allergy can enjoy the flavors of cheese with this aquafaba cheddar recipe. Along with topping pizza or adding onto a sandwich with Fabanaise, these zucchini tots a fun way to use the vegan-friendly cheese.
5. Vegan Butter
While vegan-friendly butter substitutes exist on store shelves, producing it at home is simple and quick (there are no ifs, ands, or but(ter)s about it)! In just about 60 seconds, this vegan butter comes to life, all with the help of coconut oil, canola oil, aquafaba, and other common household ingredients.
6. Mint Chocolate Chip Meringue Cookies
Aquafaba is a valuable meringue powder substitute to displace egg whites, and this mint chocolate chip meringue cookie recipe proves just that!
7. Vegan Pavlova
Aquafaba is commonly used to whip up pavlova, a type of meringue cake featuring a delicate, crisp crust and a sweet marshmallow center or topping. But rather than the need of egg whites, the use of aquafaba in this recipe mimics the texture to produce a vegan-friendly alternative. Since the recipe is high in sugar, it is important to enjoy the pavlova in appropriate portioned sizes.
8. Macaroons
Using a mere six ingredients, these vegan macaroons make baking easy. The coconutty, naturally-sweetened macaroons are the perfect plant-based dessert!
9. Coffee Ice Cream
The use of aquafaba not only produces this dairy-free and vegan-friendly coffee ice cream, but provides an extremely fluffy sweet treat without the need for eggs or dairy. The coffee can also be dismissed to match personal preferences, including fresh strawberries, cocoa powder, chopped nuts, and other ice cream favorites!
10. S'mores Cupcakes
This cupcake recipe will have you begging for s'more… With aquafaba producing a vegan marshmallow fluff, all can enjoy the flavors of that camping staple!
11. Chocolate Mousse
This three-ingredient chocolate mousse transforms aquafaba, raw chocolate, and coconut nectar into one decadent, low-calorie dessert! Top with fresh berries for added natural sweetness.