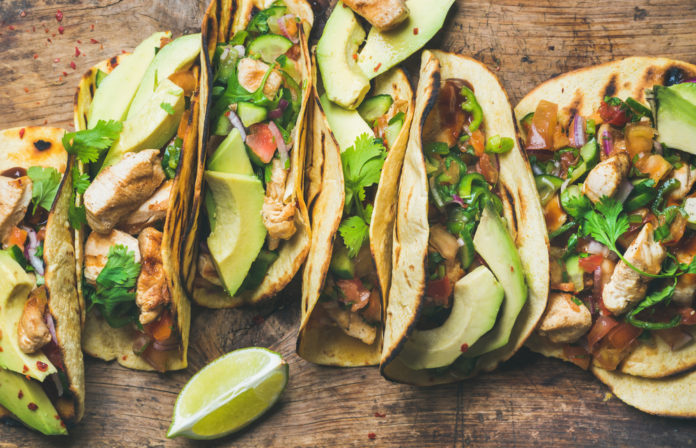 11 Different Ways to Cook Chicken
1. Prepared as an Appetizer
While chicken is mostly known for its main lead in entrees, it can also be appreciated as an appetizer! From buffalo chicken and seven layer dips to popcorn chicken and chicken wings, you do not want to miss out on these 11 tasty chicken appetizer recipes!
2. Whole and Roasted
One of the most inviting methods to offer chicken is by serving it whole and intact with a bed of roasted veggies! In conjunction to preparing this whole chicken recipe, add cubed sweet potatoes, onion slices, carrots, and other favorite veggies.
3. Glazed, Sauced, and Marinated
The use of glazes, sauces, and marinades is a simple way to offer flavor to chicken, though they tend to be loaded with sugar and oils. But rather than purchasing such products from the store, healthify their ingredient label by preparing at home. In addition to these honey glazed chicken and BBQ chicken recipes, try one of these 20 healthy chicken marinades for grilling season!
4. Stuffed
From being stuffed with creamy cheeses and ham for chicken cordon blue, to wild rice, to cranberry apple, chicken can be butterflied and stuffed with numerous fun flavors!
5. Prepared as Meatballs
Meatballs can be much more than beef-based to top traditional spaghetti noodles… Filled with feta and parmesan cheese, basil, and fennel, this bistroMD original recipe is sure to please. The meatballs can be served as a chicken appetizer, atop light spaghetti squash noodles, or prepared into a heartier meatball sub.
6. Thrown into Salads, Soups, Stews
Throwing assorted types of chicken in soups is a simple way to add protein and bulk. Relish on the flavors of these nine healthy chicken salads, this quick chicken noodle soup or bistroMD's chicken tortilla stew recipe.
7. Tossed with Pasta
With pasta primarily being rich in carb and starch, it needs an addition to offset the density… That is where chicken comes in! Enjoy as a healthier-for-you chicken parmesan or this bistroMD grilled chicken pesto recipe.
8. Topped onto Pizza
The lean meat offers a healthy swap to traditional fat-laden and highly processed pepperoni and sausage. Pizza flavors can also be as creative or unique as preferred, including a simple (yet delicious) chicken pizza, barbeque chicken pizza, and peach and gorgonzola chicken pizza that are described here.
9. Crunchy Chicken Nuggets
One of the most beloved ways to cook chicken is as you remember it to be in your childhood: Chicken nuggets! But rather than purchasing processed so-called "white meat" straight from the freezer section, prepare these healthy baked chicken nuggets in the comfort of your own home. Ditch the sugary condiments and prepare a two-minute healthy ketchup, healthier-for you BBQ sauce, or homemade honey mustard.
10. Added into Tacos
Swap out standard ground taco meat with chicken for your next #TacoTuesday! Start by preparing this simple crockpot chicken taco recipe, allowing it to cook throughout the day. After coming home from work, simply shred the chicken and build a quick taco bar filled with tortillas, lettuce, tomatoes, salsa, hot sauce, and other favorite taco toppings. Continue enjoying Mexican flavors with this better-for-you chicken burrito bowl.
11. With Balance by bistroMD
Chicken and white bean chili, Greek chicken crepe with fruited quinoa, chicken and andouille sausage jambalaya, chicken cacciatore, Italian chicken sausage with peppers, chicken a la king, Thai coconut chicken… As if these different ways to enjoy and cook chicken were not satisfying enough, you can have them delivered straight to your doorstep! With Balance by bistroMD, you can order not only what chicken recipes you want to enjoy, but exactly when you want them! Though there is no kitchen cleanup, no meal prep, no cooking, no minimums, and no contracts, Balance is a reputable service to say "YES!" to. Find more information on Balance by bistroMD and meal options here.