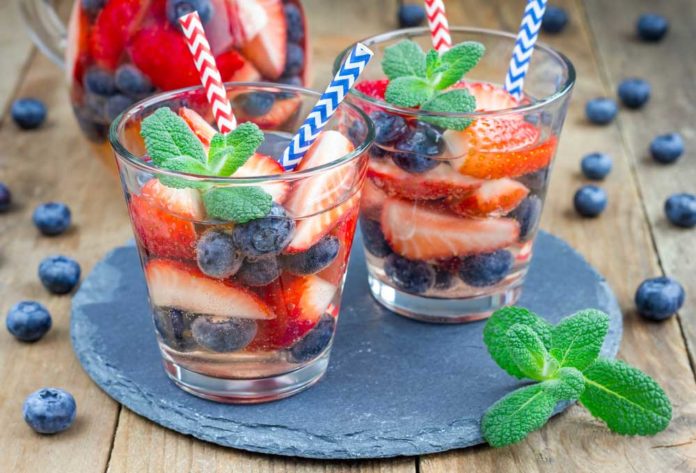 Boozy 4th of July Drinks
1. Berry Good Champagne
Simple but festive, pop the bubbly and garnish champagne with frozen berries. Add blueberries, raspberries, strawberries, blackberries, etc. for a red, white, and blue drink that will keep the champagne chilled amidst the warm heat.
2. Red, White, and Blue(berry) Margarita
A 4th of July drink is full of flavor without packing on many of the calories most margaritas supply? Sounds too good to be true. However, this red, white, and blue(berry) margarita contains all-natural ingredients, including berries, agave nectar, coconut milk, and fresh lime juice.
3. Fourth of July Slushy
Transform traditional snow cones into a boozy red, white, and blue drink. Although these slushies are devoid of heaping loads of sugar, the use of honey can be lowered or replaced with an additional sugar substitute.
4. Bomb Pop Drink
Though not the most nutritious, celebrate with this festive 4th of July drink… A frozen bomb pop cooler! Switch to diet soda or carbonated water with a splash of lemon and lime to reduce the amount of added sugars.
5. Fourth of Jell-O Shots
Let freedom ring with these red, white, and blue Jell-O shots! Especially if watching sugar intake, feel free to use sugar-free Jell-O.
6. Mojito
Mojitos are a refreshing summertime drink, and this strawberry mojito is perfect for the warm heat expected across most regions on during July. Top with blueberries for an additional celebratory twist!
Non-Alcoholic 4th of July Drinks for All
7. Kick Starter Smoothie
Kick off the holiday with a nutritious, festive smoothie. Starting with the first layer, blend together ¼ cup Greek yogurt with frozen strawberries and a light pour of milk if needed. For the second layer, swap out strawberries with blueberries. Layer the two berry yogurt mixtures in a cup, garnish with shredded coconut, and enjoy!
8. Red, White, and Blueberry Coconut Slushy
This red, white, and blueberry coconut slushy is a non-alcoholic version of the boozy slushy above. And also without all the unnecessary added sugars…
9. Bubbly Lemonade
This 4th of July drink is comparable to the berry good champagne described above, just kid-friendly. Add a splash of carbonated water to all-natural lemonade for a fun, bubbly touch. Also like the champagne, top with frozen berries. Now that is a toast all kids and adults can cheers to!
10. 'Merica Milkshake
Shake things up with a 4th of July milky, creamy drink. This red, white, and blue milkshake is prepared with just a few basic ingredients, including vanilla ice cream and berries.