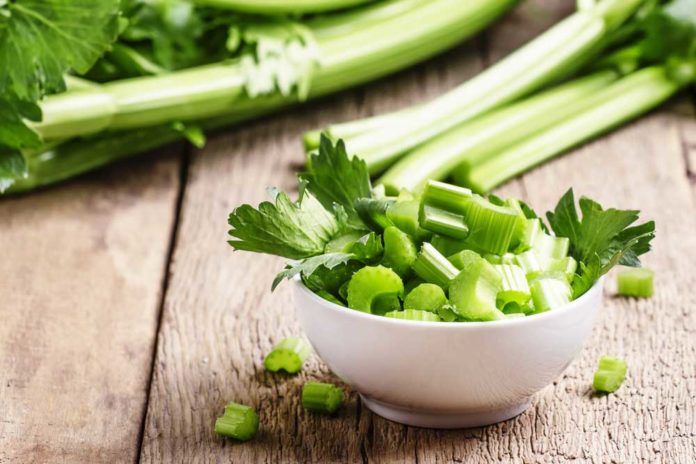 Soups and Salads
1. Creamy Celery Soup
This celery soup is touted as simple and delicious. Feel free to limit or ixnay the butter and/or heavy cream, as the potato also offers a natural creaminess. Olive oil or a reduced fat milk may also be valuable substitutes.
2. Chunky Celery Soup
If desiring a little less creaminess and a little more heartiness from a soup, this recipe may just be for you!
3. Thai Celery Salad
Change up that standard bowl of salad greens with this Thai celery salad recipe! For a protein-rich, vegetarian celery recipe, pair with tofu or temp eh.
4. Tuna Salad Celery Sticks
Start by draining a can of tuna and mix with half of a ripe avocado and ¼ cup of Greek yogurt. Sprinkle with ½ teaspoon of onion and garlic powder and salt and pepper to taste. Squeeze fresh lemon juice atop and mix. Fill tuna salad mixture into long celery stick stalks and serve for a convenient, on-the-go snack or light lunch.
Appetizers and Sides
5. Celery Toast
Toasted bread just got a green makeover! This celery toast recipe can also be adapted to various flavors, including adding an egg or various fresh herbs.
6. Greek Salad Celery Appetizers
This Greek salad celery appetizer may be bite-sized, but it is a mouthful of flavor! From the creaminess from feta and cream cheese and crunch from celery, your party guests are sure to be pleased.
7. Buffalo Chicken Lettuce Wraps
Wings are notoriously known to be cooled down with celery sticks. And these slow cooker buffalo chicken lettuce wraps are a simple, fun way to enjoy those flavors without all the mess.
8. Herbed Red Potato Salad
Most potato salads tend to be become a heavy side option after becoming drenched in mayo. However, this herbed red potato salad is lightly dressed but loaded with flavor, making it an appropriate side option for a warm summer day.
Main Entrée
9. Sausage and Herb Stuffing
Although stuffing is traditionally known to pair with the Thanksgiving turkey, the heartiness of this sausage and herb stuffing recipe serves it as a meal, too. Spicy and sweet, the flavors are sure to excite the taste buds!
10. Asian Rice Bowl
This vegetarian celery recipe is full of flavor and nutrients! The rice bowl can be also take on other flavors, including the addition of jalapenos for added spice or shredded chicken if desiring animal protein.
11. Lobster Rolls
Luscious lobster and crunchy celery… What is not to love about this healthier lobster roll recipe? To reduce calorie and carb content, skip the rolls and stuff into butter lettuce.
12. Shrimp Gumbo
This bistroMD original recipe features refreshing shrimp, spicy shrimp, and mild celery to cultivate a unique shrimp gumbo The flavors are sure to transport you to the flavors of the French Quarter of New Orleans!
13. Chicken Celery Casserole
Traditional "sick day" chicken noodle soup just received a heartier makeover! This chicken noodle soup utilizes all the flavors of your childhood and brings them into one hearty meal entrée.
Drinks
14. Apple-Celery Juice
This fresh apple-celery juice with ginger and parsley recipe is a sweet and tangy beverage to enjoy. And being claimed as a "wake-up call," it may be a valuable swap for that cup of joe, especially in the afternoon hours when caffeine is discouraged for a good night's rest come bedtime.
15. Bloody Mary
Garnished with that notorious celery stalk, brunch on with this light bloody Mary!