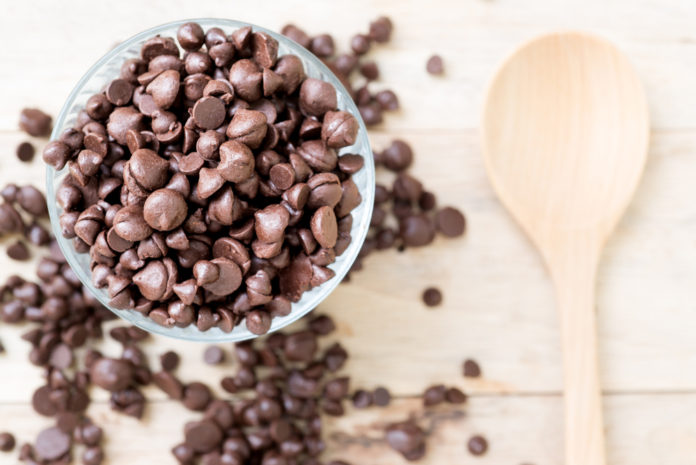 While chocolate is celebrated and enjoyed quite often, National Chocolate Chip Day encourages the celebration of those little morsels, all thanks to the creator, Ruth Graves Wakefield, who paired chocolate chunks and sugar cookie dough following brilliant curiosity. And in hindsight, it really is not too surprising cookies were the first to makes its chocolately chip appearance. This National Chocolate Chip Day celebrate with these healthier chocolate chip recipes!
12 Healthy Chocolate Chip Recipes
1. Chocolate Chip Cookies
Pour a glass of milk and kick off National Chocolate Chip Day with the true MVP… You will not be able to keep your hand out of the cookie jar, nor have to, with these healthy chocolate chip cookies.
2. Chocolate Chip Cookie Batter
Although you may not be able to keep your fingers away from that cookie batter, doing so is often encouraged related to the concern of raw egg whites. This chocolate chip cookie dough recipe is not only safe to eat, but quite nutritious thanks to the addition of protein and fiber-packed chickpeas.
3. Oatmeal Chocolate Chip Pancakes
Start the day with a stack of pancakes! These oatmeal chocolate chip pancakes are desirable as is, but amplify taste and nutrient levels by smearing on favorite nut butter, dolloping on yogurt, or topping with sliced bananas or strawberries!
4. Pumpkin Chocolate Chip Muffins
Chocolate chip muffins just got a healthful and tasteful spin thanks to the ever so popular and notoriously known pumpkin. These healthy chocolate chip pumpkin muffins are the perfect way start to your day, as a mid-afternoon pick-me-up, or even nighttime treat.
5. Energy Bites
Ditch a traditional granola bar and bite into these power-packed energy bites! Not only are they chocolaty in flavor, but conveniently sized to keep portions in check. The energy bites are a perfect on-the-go breakfast option, mid-morning and afternoon snack, or fuel to energize your next workout.
6. Frozen Yogurt Bark
Whether enjoyed as a snack or a nighttime treat, this healthy chocolate chip recipe is a healthful spin on well-known chocolate covered strawberries. Start by mixing 2 cups of plain Greek yogurt with a 1 tablespoon of honey then pour onto a baking tray lined with aluminum foil. Spread yogurt mixture based on desired thickness then sprinkle on 2 tablespoons of chocolate chips, ¼ cup of chopped strawberries, and a tablespoon of shredded coconut if desired. Place in the freezer for a couple of hours, or until completely frozen, then break into smaller pieces. Serve or keep stored in airtight food bags in the freezer.
7. Chocolate Chip Apple Nachos
Swap out traditional nachos for this nutritious, yet satisfying apple nacho recipe. Start by thinly slicing favorite apple type then arrange slices on a plate. Drizzle atop a tablespoon of melted peanut butter and melted chocolate chips then top with a teaspoon of chocolate chips and a sprinkle of cinnamon and nuts as desired. Enjoy as a snack or as a guilt-free dessert on National Chocolate Chip Day!
8. Mocha Chocolate Chip Mug Cake
Surge your day not by sipping on morning coffee, but by biting into this mocha chocolate chip mug cake! Preparing in the coffee mug is a simple way to keep cake portions in check.
9. Ice Cream with Chocolate Chips
Get out your favorite ice cream bowl and spoon… This ice cream recipe may be nontraditional, but it is both nutritious and delicious! Add mini chocolate chips for a simple chocolate chip ice cream or pair the chips with cherry, strawberry, mint, and peanut butter and banana for amplified flavor.
10. Pretzel Pecan Clusters
Salty meets sweet with the desirable combination of chocolate, nuts, and pretzels. Start by lining a sheet pan with pretzels and melting ½ cup of dark chocolate chips. Lightly drizzle the pretzels with melted chocolate then place a couple of pecans or other desired nuts atop. Sprinkle with a bit of sea salt then refrigerate or freeze until firm.
11. Chocolate Chip Cheesecake Yogurt Pops
Cool down on a warm day with these banana, peanut butter, and chocolate chip cheesecake yogurt pops! While most cheesecakes require long time periods in the kitchen, the use of a mere five ingredients is a simple way to relish the flavors of rich cheesecake without the obligatory effort on your end.
12. Chocolate Chip Cheesecake Parfaits
If desiring the flavor of cheesecake along with its softer texture, skip the freezer yogurt pops for a creamy parfait. In a food processor, mix 5 graham crackers with a tablespoon of melted coconut oil until crumbly. In a mixing bowl, beat together 8-ounces of Greek yogurt cream cheese (or light cream cheese) with a package of sugar-free cheesecake pudding mix while gradually adding 1 cup of milk. Once the pudding has thickened, fold in a quarter cup of chocolate chips. Layer the graham cracker crumbs and chocolate chip filling in serving glasses. Top with sliced strawberries if desired.