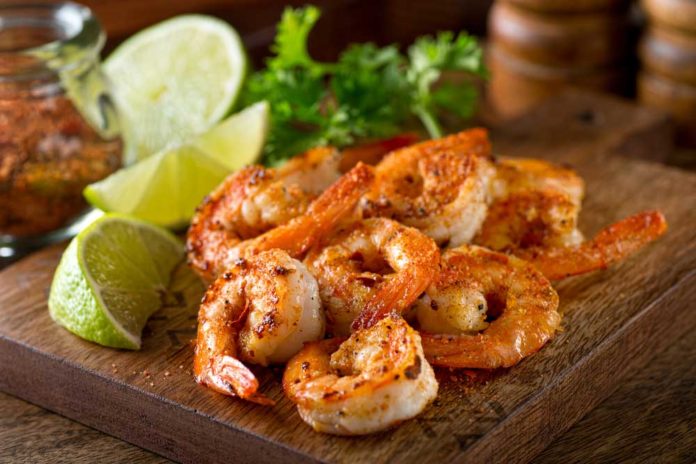 Every May 10th, we celebrate one of the most popularly consumed fish in the U.S… Shrimp! In fact, its intake accounts for a quarter of all fish consumption. But rather than heading to a nearby restaurant this National Shrimp Day, try whipping up one these 15 simple shrimp recipes!
Healthy, Simple Shrimp Recipes
1. Shrimp Omelet
Kickoff National Shrimp Day with a shrimp omelet! From Cajun omelets to fiesta variations, there is a flavor option to excite everyone's taste buds!
2. Pumpkin Curry with Shrimp Recipe
Move over PSL (pumpkin spiced latte)… Filled with flavor and nutrients, the unlikely pairing of pumpkin and shrimp harmonize in this pumpkin curry with shrimp recipe.
3. Shrimp Gumbo
Take a flavor trip to New Orleans with bistroMD's shrimp gumbo recipe. The rich flavors of onion, garlic, pepper, fire-roasted tomatoes, shrimp, and sausage are sure to please.
4. Shrimp Salad
Let chicken and tuna take the backseat on National Shrimp Day! This shrimp salad can be rolled up in a tortilla, scooped over lettuce greens, or paired with whole grain crackers. Swap out part of all of the mayo with plain Greek yogurt to reduce fat content and amplify protein.
5. Shrimp Kabobs
Put the shrimp on the barbie! Heat up the grill for this simple shrimp recipe, flavored with olive oil, white wine, lemon juice, and garlic. Enjoy alone, atop a salad, or with these grilled veggies.
6. Sushi Bowls
Unravel the desirable flavors of sushi into one nutritious, delicious bowl! Find basic instruction here and feel free to add cucumber, avocado, and other favorite sushi combos!
7. Garlic Shrimp and Quinoa
Conventional rice not up your alley? Give this quinoa with garlic shrimp a try! Pair with a side salad for a complete meal or add bulk with assorted veggies.
8. Shrimp Scampi Zoodles
Pasta lovers more than likely dabble into the flavors of shrimp scampi, as the dish is rich, smooth, and nothing short of desirable. Healthify the traditional carb-loaded pasta with this shrimp scampi zoodle recipe, full of flavor but not for a large sum of calories!
9. Shrimp Stuffed Avocadoes
Creamy avocadoes harness creamy shrimp salad in this avocado stuffed with shrimp recipe. Consume as an appetizer or as a lighter, healthier meal option.
10. Shrimp Tacos
National Shrimp Day will feel like #TacoTuesday with shrimp tacos! The cool, creamy garlic cilantro lime slaw compliments the heat of these spicy shrimp tacos.
11. Shrimp Risotto
Tender and creamy, the final product of preparing this lemony shrimp and risotto recipe is sure to hit the spot on National Shrimp Day!
12. Shrimp Boil in Foil
Go down to the bayou by preparing shrimp in foil packets. Either on the grill or boiled in the oven as described here, you and your guests will enjoy the sensations of a traditional shrimp boil!
13. Coconut Shrimp
Baked not fried, this coconut shrimp recipe is sure to be a catch this National Shrimp Day! Enjoy as an appetizer or paired with a side salad or roasted veggies for a cohesive meal.
14. Sriracha Shrimp Rolls
Spice up those crustaceans with a little (or a lot) of that beloved rooster hot sauce… These Sriracha shrimp rolls are sure to be your next (semi) guiltless pleasure!
15. Shrimp Pizza
Throw conventional pepperoni and sausage back in the water and catch the fresh flavors of this shrimp pizza. If in a time crunch or desiring a more casual, less committing evening meal, feel free to use a premade pizza crust or add the toppings to a whole grain tortilla shell.