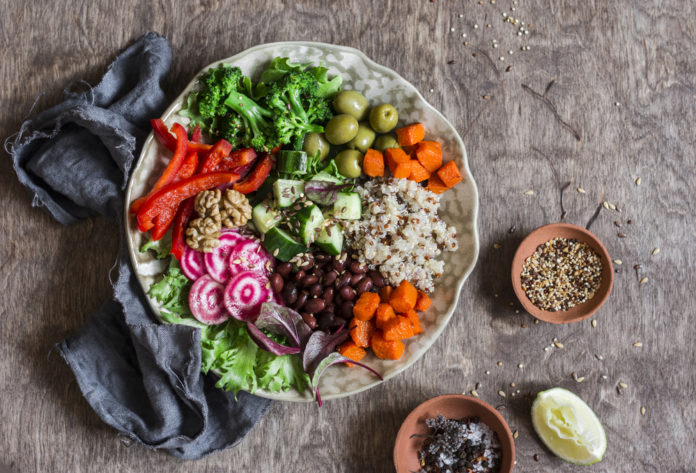 But First, What Are Buddha Bowls?
Also known as a macro bowl, Buddha bowls hit all the macronutrients: carbs, protein, and healthy fats. But expanding on its name, Urban Dictionary defines Buddha bowls as "a bowl which is packed so full that it has a rounded 'belly' appearance on the top much like the belly of Buddha." Further exploration leads us to identify them (mostly) as vegetarian or vegan-friendly bowls balanced with colorful veggies, whole grains, and plant-based proteins. Preferred and favored contributions include a grain or starch, such as rice, barley, quinoa, sweet potatoes, or corn; protein source, including tofu, tempeh, chickpeas, or beans); and an assortment of various colorful veggies, either raw and/or cooked. But beyond the ingredients themselves, their arrangement is key to portray a visually-appealing bowl. And while their preparation is essentially foolproof (well, besides the visual aesthetics that need to be well-executed…) below provides 10 delicious and nutritious examples to spark your Buddha bowl inspiration!
10 Buddha Bowl Recipes
1. Guacamole and Egg Breakfast Bowl
First of all, Buddha bowls are not confined to dinner and can make a nutritious breakfast sure to kick start your morning! So skip out on a sugar and fat-filled breakfast and prepare this simple avocado breakfast bowl, sure to put some pep in your step! If desiring a vegan-friendly Buddhist breakfast recipe, swap out the eggs and feta with scrambled tofu and your favorite vegan cheese variety.
2. Berry Buddha Bowl
This Buddhist breakfast bowl recipe is a berry good start to your day! Feel free to add other favorite mix-ins or toppings, including acai berries, peanut butter, pecans, and cashew milk.
3. Green Machine Bowl
The name says it all… Layer spiralized zucchini at the bottom of the bowl and top with edamame, spinach, and a homemade pesto sauce. Top with favorite nuts and seeds for added crunch.
4. Rainbow Bowl Buddha Bowl
Eat the colors of the rainbow by serving up red beets, orange carrots, a yellow lemon wedge, green spinach, purple eggplant, white cauliflower and brown rice. Drizzle olive oil atop, along with garnishes of fresh herbs!
5. Sweet Potato and Chickpea Buddha Bowl
Though touted as "the perfect fall lunch," we believe the sweet potato and chickpea Buddha bowl deserves to be enjoyed at all times of the year!
6. Spicy Kimchi Quinoa Bowl
Spicy, tangy, and somewhat of a sour flavor, this spicy kimchi quinoa bowl is sure to tingle your taste buds! But beyond the unique flavor profile it offers, the fermentation of kimchi supports a healthy gut for digestive and simply overall health.
7. Peanut Tofu Buddha Bowl
Asian-inspired and protein-packed, this Buddha bowl recipe features brown rice, tofu, vegetables, and roasted broccoli dressed in a peanut sauce. Garnish with freshly grated carrots and chopped peanuts for added textural depth.
8. Sheet Pan Winter Buddha Bowl
With one sheet pan, this Buddha bowl is an easy (but tasty) dinner recipe to create on a busy weekday night. From the hearty squash to the light tahini sauce, relish on numerous nutrients and flavors!
9. Chickpea Taco Buddha Bowl
Buddha bowls meets #TacoTuesday with this simple and high-protein recipe! Complement with favorite taco toppings, including tomatoes, jalapenos, roasted corn, and avocado.
10. Ground Turkey Buddha Bowl
Okay, maybe not all Buddha bowls are vegetarian and vegan-friendly… For the omnivores, this Buddha bowl features lean ground turkey and packs 33 grams of protein! But you can always go back to your plant-based roots by swapping out the turkey with tofu or any type of beans. (Or even revert and select ground beef or chicken…) Ultimately, make your Buddha bowl to align with your personal preferences and desires!