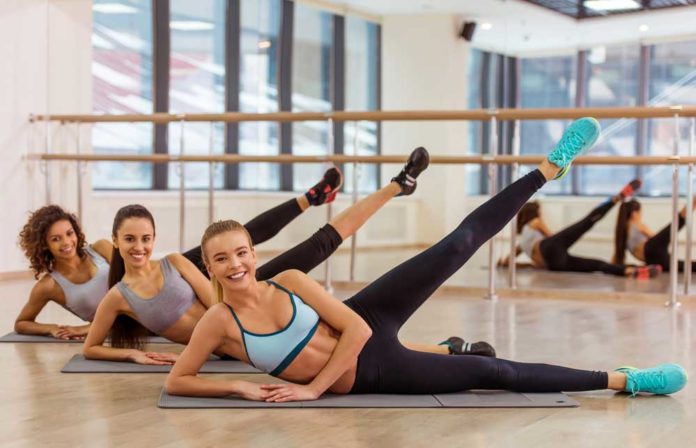 Often used interchangeably to describe six-pack abs, the core is actually a complex series of muscles and includes everything besides the arms and legs. A strong core acts as a stabilizer and a key producer of force produced by the body. The balance of the bodyweight movements identified below tout them as some of the best core-strengthening exercises!
10 Bodyweight, Core-Strengthening Exercises
1. Bicycles
The bicycle exercise is touted not only to target the abdominal muscles, but the thighs as well. Find your step-by-step guide to completing bicycle crunches here.
2. Side Balance Crunches
Although maybe a little more advanced, the side balance crunch is an effective core-strengthening exercise as balance challenger.
3. Reverse Crunches
Reverse crunches are similar to traditional crunches, and do not require a lot of range of motion, but puts more emphasis on the lower body. Start by getting into the crunch position but rather than lifting with the upper portion of the body, elevate and crunch up with the lower body.
4. Planks
Planks are isometric holds, a beneficial element to establish core stability in a well-controlled manner. And depending the type of plank, you can further improve posture and engage various muscles in the back, arms, shoulders, glutes, quads, and hamstrings. Not sure which to plank in? Here are 20 ways to tackle them.
5. Bridges
Not only are bridges are core-strengthening exercise, but their practice also targets the glutes. To complete a basic bridge, lie on you back with knees bent and feet flat on the floor. Pushing from your heels, lift glutes off the floor until there is a visibly straight line from the knees to the shoulders. Squeeze glutes and abs and hold for two seconds, releasing slowly to the starting position with the back on the floor.
6. V-Ups
Also known as the jackknife and pike crunch, v-ups are an advanced and very effective core exercise. Rather than crunching the knees in a traditional crunch, lie down flat on the back with legs straight. Lift legs up in the air and touch toes with fingertips, ultimately forming a 'V.' Lay back down for one rep and repeat.
7. Leg Raises
Leg raises are similar to v-ups, but resemble more of an 'L.' Complete leg raises by laying flat on the ground with hands placed beside. Slowly raise the legs, keeping the upper body still, then lower legs back down for one repetition.
8. Flutter Kicks
Abdominal flutter kicks are a great compliment to an exercise regimen, as they are touted to improve lower core strength. Find more detailed instructions and tips for flutter kicks here.
9. Supermen
Practice this core-strengthening exercise for super abs! The superman exercise is also promoted to strengthen the lower back, though should be eased into if not used to working that concentrated area.
10. A-B-C's
While it may not be as easy as 1-2-3… Spelling out the alphabet with your feet is a highly effective core-strengthening exercise. Repeat the ABC's as many times as possible.