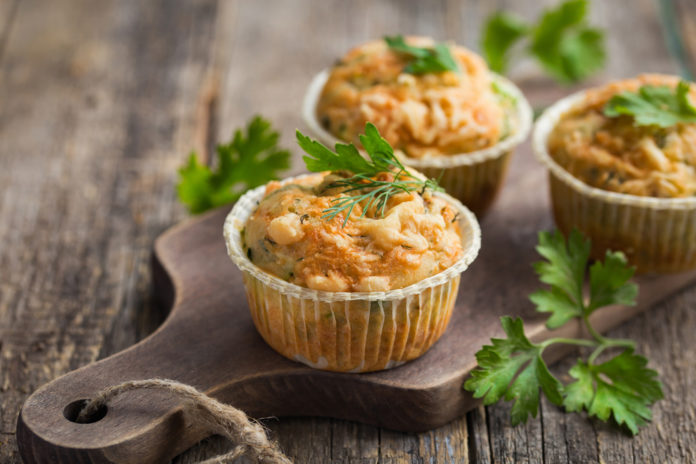 One tends to automate any baked product featuring a colorful veggie as healthy, though those nutrients often becomes overshadowed by not-as-nutritious ingredients. Additionally, most muffins are essentially nothing more than refined carbs, making their consumption a pesky hunger within a mere hour. But by whipping up these zucchini bread muffins utilizing protein-packed Greek yogurt and quinoa, you can bury that pesky hunger while surfacing nutrients and flavor with whole, natural ingredients!
Zucchini Bread Protein Muffins
Nutritional Breakdown (per one muffin)
Yield: 12 muffins; serving size: 1 muffin
Calories: 90 calories
Protein: 5 grams
NET Carbohydrate: 11 grams
Ingredients:
1 cup whole wheat flour
1 cup cooked quinoa, approximately 2 cups uncooked
1 teaspoon ground cinnamon
1 teaspoon ground nutmeg
1 ½ teaspoons baking powder
¼ teaspoon salt
2 egg whites
1 cup plain Greek yogurt (Hello, protein!)
¼ cup applesauce
1 tablespoon honey
2 tsp vanilla extract
1 cup shredded or spiraled zucchini, drained and squeezed of excess liquid
Directions:
Preheat oven to 375-degrees Fahrenheit.
Line muffin tin with paper liners or grease with cooking spray.
In a large bowl, mix flour, quinoa, cinnamon, nutmeg, baking powder, and salt.
In a separate bowl, mix egg whites, yogurt, applesauce, honey, and vanilla extract.
Slowly stir in wet ingredients into dry ingredients, mixing only until dry flour is not visible. Lightly fold in drained zucchini.
Divide and fill the batter among 12 muffin cups, filling approximately ¾ to the top.
Bake for approximately 15 minutes or until the top is golden brown and a toothpick comes out dry following its insertion from the middle.
Allow muffins to cool for 5 minutes then carefully transfer onto a wire rack.
Serve alone or with warm coffee and enjoy!
Tips
To guarantee the muffin's desirable texture, it is vital to completely drain zucchini. This can be achieved by squeezing on paper towels and allowing to dry.
Ingredients can be tailored or added, including swapping out one smashed banana for the egg or adding dark chocolate chips to the mixture. Varying chopped nuts can also offer additional protein and healthy fats. Substitutions may alter nutritional breakdown.
Muffins should be stored in an airtight container for up to 5 days. They can also be frozen and saved for up to 3 months.
For an added mild crunch, prepare a crumble by mixing ½ cup oats, ½ cup whole wheat flour, 2 tablespoons honey, 1 tablespoon melted coconut oil, and 1 teaspoon cinnamon. After filling the muffin tins with the batter and prior to popping into the oven, sprinkle crumble mixture atop and bake!