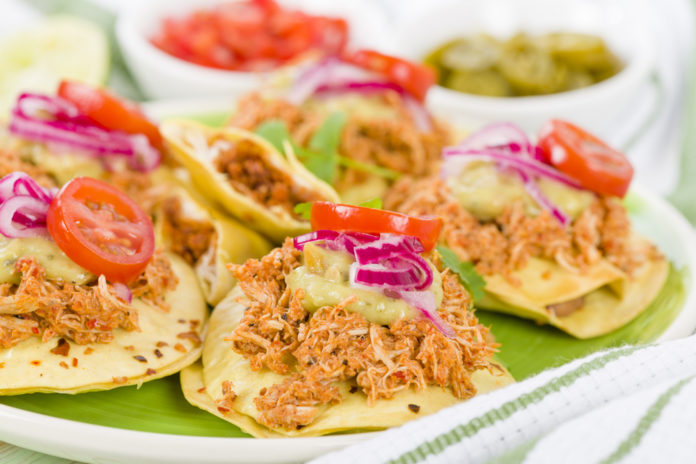 Chicken Tinga Recipe in A Slow Cooker
Ingredients
4 medium-sized chicken breasts, boneless and skinless
1 onion, chopped
1 (15 ounce) can tomato sauce
1 (7 ounce) can chipotle Chile peppers in adobo sauce, chopped and seeded
2 fresh jalapeño peppers, seeded and chopped
2 cloves garlic, minced
¼ teaspoon red pepper flakes
Instructions
Add all ingredients into a slow cooker, stir and combine evenly.
Cook on low for 4 to 6 hours or high for 3 to 4 hours, or until the chicken has reached an internal temperature of 165°F.
Remove chicken from slow cooker and shred with two forks, turn the slow cooker down to low, then place shredded chicken back into slow cooker for an additional 30 minutes.
Read on for serving ideas and tips!
How to Serve Chicken Tinga: Five Ways
1. Chicken Tinga Tostadas
Customarily, chicken tinga is served onto a tostada and accompanied with a layer of refried beans. So simply layer the cooked chicken onto a tostado, along with refried beans, avocado slices, shredded lettuce, jalapenos, cilantro, and onion.
2. Chicken Tinga Tacos
Simply swap out the tostado with flour or corn tortillas. Top with favorite taco recipes and serve with grilled corn, beans and rice, and other taco-time favorites.
3. Chicken Tinga Breakfast Skillet
Start your day off the right way (or anytime of the day, really)! Heat oven to 425°F and add the chicken tinga to a cast-iron skillet. Mix in one can of pinto beans then crack eggs six eggs into the mixture, spacing evenly. Heat in a 425°F oven for five to seven minutes, or until the white has set and the yolks are runny. Cook longer if you wish for firmer yolks.
4. Mexican-Style Salad
The chicken tinga serves an excellent protein source to top a Mexican-style salad! Simply layer romaine lettuce, corn, black beans, rice, tomatoes, onion, and avocados.
5. Chicken Tinga Tortilla Soup
Give this chicken tinga tortilla soup recipe a try for your next cozy night in!