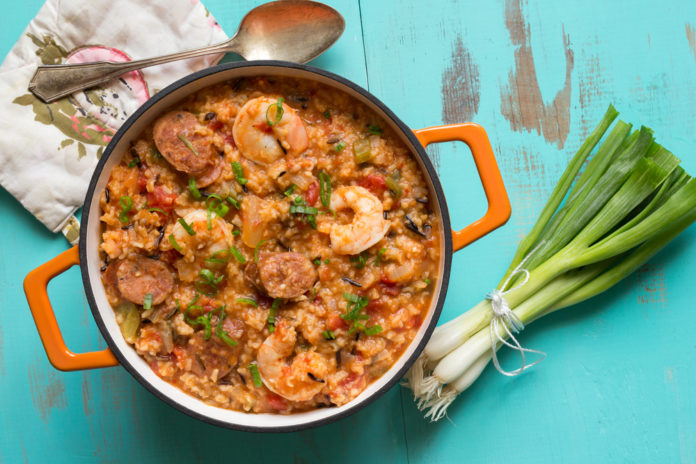 13 Easy Mardi Gras Party Foods
1. Creole Hush Puppies with Jalapenos
These creole hush puppies are the perfect Mardi Gras food to kick off your party! They are a quick, simple, one bowl mix that morphs together in just a matter of minutes.
2. Cajun Collard Chips
Health meets party meets Mardi Gras with Cajun collard chips! Preheat the oven to 350°F and line a baking sheet with parchment paper. Wash a bunch or two of raw collard greens (also depending on how much you wish to yield) to remove any dirt, shake excess water off, and blot dry. Cut or tear the greens into two-inch pieces, arrange onto baking sheet (not overlapping), lightly spray with cooking oil, and sprinkle with Cajun seasoning. Bake for approximately 10 minutes, or until the greens are crisp in texture, and serve!
3. Baked Crab Cakes
Crab is decadent as is, but oftentimes become overpowered with unwanted fat and sodium in the form of cakes. This crab cake recipe is lightened up by baking instead of frying, along with being served with a spicy Greek yogurt dipping sauce.
4. Blackened Salmon
Blackening is often associated with Cajun cuisine, and this mouthwatering salmon recipe is complemented with Cajun cauliflower florets and stew okra for a completely authentic Cajun experience.
5. Blackened Tilapia with Red Beans and Rice
Carrying on the blackening trend with another traditional Mardi Gras food… Red beans and rice!  Prepare this blackened tilapia with red beans and rice recipe for your next party.
6. Dirty Rice
And speaking of rice… Dirty rice is another customary Cajun dish known in NOLA. This recipe may only be four ingredients, but gains five stars based on ease and flavor it offers.
7. Slow Cooker Jambalaya
Not much screams "easy meals" the way a slow cooker can. And not only is this traditional Mardi Gras food simple, but expending an aroma your guests are sure to love!
8. Slow Cooker Grits
Continuing with the ease granted of a slow cooker… This grit recipe is easy to prepare while being rich in flavor thanks to the addition of… Bacon!
9. Shrimp Gumbo
This savory and delicious shrimp gumbo recipe will transport you and your guests to the French Quarter of New Orleans!
10. King Cake in A Mug
King cake is Mardi Gras staple, though the preparation takes time off your personal clock. Take a bite out of tradition, without hours in the kitchen, by preparing this super easy king cake recipe.
11. Beignets
You do not want to skip out on one of NOLA's very own delicacies! These beignets are touted as fail-proof and delicious, all while being easy to prepare.
12. Sazerac
No Mardi Gras party would be complete without some of NOLA's notorious cocktails! Recognized as the world's first cocktail (according to the Sazerac Company), learn how to make the "official cocktail of New Orleans" here.
13. Hurricane
But we must not forget about that infamous red cocktail that can rock you like a hurricane… But rather than having to head down to Bourbon Street, prepare the Hurricane for your Mardi Gras party wherever you reside. Simply combine a fluid ounce each of dark and light rums and a tablespoon each of passion fruit syrup and lime juice in cocktail shaker. Add ice, cover, shake, strain into a cocktail glass, and garnish with an orange slice and cherry.