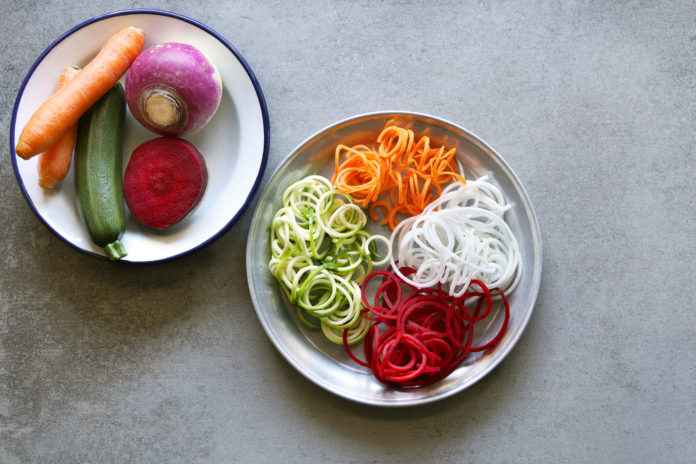 14 Spiralizer Recipes and Ideas
Breakfast
1. Sweet Potato Pancakes
Pancakes break tradition with these cinnamon-nutmeg sweet potato noodle pancakes! Switch out toppings as desired, including vanilla or plain yogurt, pumpkin puree, nut butter, banana, and walnuts.
2. Apple Spiralized Pancakes
Not a sweet potato fan? Give these two ingredient pancakes with cinnamon spiralized apples a try! The spiralized apple mound can further be garnished with nut butter, a dollop of yogurt, or extra cinnamon.
3. Hash Brown Eggs
For a less conventional spin on standard hash browns and eggs, start by spiralizing a potato and onion. Take the shreds and heat through and crisp on a greased skillet over medium heat. Crack an egg or two atop until the white is cooked through and the yolk has reached desired doneness. Top with salsa, avocado, hot sauce, and salt and pepper to taste as preferred. The egg mixture can also be used to fill a large wheat tortilla shell as a big breakfast burrito or small flour or corn tortillas for breakfast tacos.
4. Spiralized Butternut Squash Toast
Although it may be sometimes hard to beat a slice of toast with butter and refreshing fruit preserves, that whole grain slice of bread receives a flavorful makeover with the use of a spiralizer. This spiralized butternut squash toast recipe is complimented with goat cheese and pomegranate seeds, ultimately delivering a creamy, lightly sweetened breakfast or snack option.
5. Pesto Bacon Zucchini Spaghetti Frittatas
Frittatas are a valuable breakfast option to cram in nutrients without compromising flavor. And this large, healthy frittata recipe does just that with the use of zoodles, bacon, mushrooms, kale, and eggs.
Salads
6. Carrot Salad
Although greens generally overshadow chopped carrots on a salad, let them shine in this five-ingredient salad. Lemony and bright, the use of a spiralizer transforms traditional carrot sticks into this spiralized carrot salad.
7. Greek Cucumber Salad
Simple yet oh so cool! Start by spiralizing cool cucumber and lightly drizzle with olive oil. Top with Kalamata olives, sliced tomato chunks, and feta cheese crumbles. Crack black pepper atop and serve as is or with a chicken breast for a protein and nutrient-packed meal.
8. Beet Salad
This salad sure has the beet! After scrubbing the outer surface of the beets, use the spiralizer to create strands. Add a sprinkle of chopped walnuts, goat cheese crumbles, and drizzle with this orange balsamic dressing, swapping out sugar with honey as desired.
Noodle Dishes
9. Shrimp Scampi
With its rich and creamy appeal, shrimp scampi is often ample in carb and fat content. Lighten up that desirable pasta bowl with this shrimp scampi zoodle recipe, filled with flavor but not for a large sum of calories!
10. Rainbow Vegetarian Pad Thai
This rainbow vegetarian Pad Thai with peanuts and basil is bursting with color and nutrients. The dish can also be complimented with tofu or tempeh for heightened protein or if desiring meat, feel free to add chicken, lean beef, or shrimp.
11. Zucchini Linguini with Tuna
Swap out traditional linguini noodles with spiralized zucchini! Place zucchini strands into a medium-heat pan with finely chopped garlic and a drizzle of olive oil. Add in a handful of spinach and spiralized zucchini until barely softened, approximately five minutes. Transfer to a serving plate and top with fresh or drained tuna from a can. Top with fresh chopped parsley and a sprinkle or red pepper flakes.
12. Zac N' Cheese
Zucchini + cheese = zac n' cheese! Swapping out traditional macaroni noodles with spiralized zucchini cuts back on carbs and amplifies the nutritional count, all without the guilt and loss of flavor. Follow this bistroMD mac n' cheese recipe, but replace the whole wheat macaroni with zoodles. Add veggies, various meats, and spices to offer extra flavor.
Other
13. Chili Cheese Fries
While this spiralizer recipe may not exactly be like the traditional chili cheese fries you are accustomed to, it sure was inspiralized by it! Start by spiralizing a potato or a few (depending on how many servings desired) then bake in a 400-degree oven for approximately 10 minutes, or until the potato is cooked through and they are crispy. Top with favorite chili recipe, along with chopped onions, cheese, hot sauce, and a few small dollops of plain Greek yogurt.
14. Black Bean and Butternut Noodle Tacos
Tacos are much more than a crunchy hard shell filled with seasoned ground beef… And this black bean and butternut squash noodle taco proves just that! Filling can also extremely adaptable, so feel free to utilize other bean selections, various veggies, and other diverse toppings!