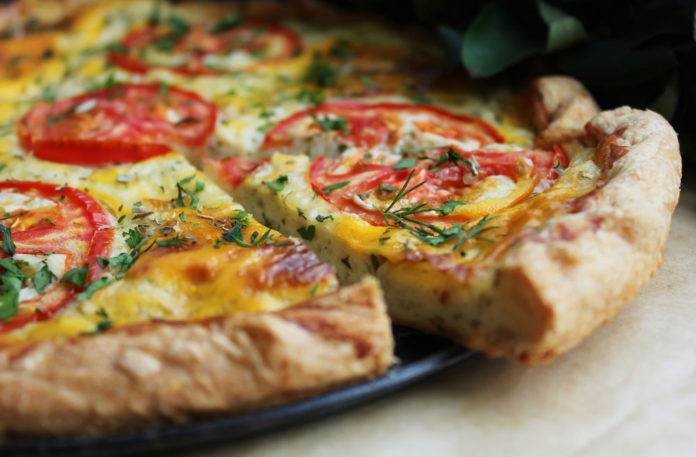 Breakfast Pizza Basics
The Crust
The crust acts like a blank canvas to harness the multitude of flavors. Crust variations and options include whole wheat tortillas, English muffins, spelt pita breads, waffles, or a homemade pizza crust.
The Sauce
When it comes to breakfast pizza, traditional red sauce mostly takes the backseat. Let the flavors of honey, maple syrup, pesto, olive oil, Greek yogurt cream cheese, hummus, nut butter, salsa, pumpkin puree, and avocado add flavor depth.
The Toppings
Oh the fun that can be had with breakfast pizza toppings! From veggies, to meats, to natural sweets, allow these toppings to excite your taste buds in the morning.
Veggies: tomato, pepper, jalapeno, onion, spinach, zucchini, asparagus, kale, leek, acorn squash
Meats and Proteins: turkey bacon, breakfast sausage, egg, smoked salmon
Natural Sweets: apples, bananas, blueberries, strawberries, figs
Herbs and Seasonings: cilantro, basil, oregano, thyme, cinnamon, nutmeg, sage
Cheese: feta, gruyere, blue cheese, shredded cheese (cheddar, mozzarella, parmesan, etc.)
10 Healthy Breakfast Pizza Recipes
Needing a little inspiration? Awake the taste buds with these recipes and ideas:
1. Egg-ceptional Pizza
Drizzle homemade pizza crust with a thin layer of olive oil. Layer bacon, sausage, and other favorite breakfast toppings and cheeses. Using the back of a spoon or with your finger, form a few dips and crack open an egg into each pod, just deep enough to prevent them from spilling over. Bake in a 500-degree oven until the whites are completely cooked through and the yolk is or is not (based on preference) runny, approximately eight to 10 minutes.
2. Breakfast Taco Pizza
Spread mashed black beans across a whole wheat tortilla, forming a small indentation to crack open an egg. Coat a thin layer of desired shredded cheese and top with chopped onion. Bake pizza for approximately 10 minutes in a 400-degree Fahrenheit oven, or until egg has reached desired doneness, but making sure the white is fully cooked. Serve with fresh cilantro, salsa, and hot sauce!
3. Pumpkin Pizza
On desired pizza crust, smear a thin layer pf pumpkin puree and top with roasted pumpkin or acorn squash, cut in bite-sized pieces. Lightly add gruyere cheese and bake in a 400-degree Fahrenheit oven for approximately 10 minutes, or until crust is crisp and cheese is soft. Drizzle with honey and top with roasted pumpkin seeds!
4. Farmer's Market Pizza
Make this pizza into an experience! One morning when time allows, head to your nearest farmer's market and grab your favorite veggies and fresh cheese. An example would feature locally-grown zucchini, asparagus, tomatoes, and fresh mozzarella cheese!
5. Fresh Catch Pizza
On a whole grain tortilla, lightly spread a thin layer of Greek yogurt cream cheese. Place smoked salmon and tomatoes onto pizza and bake in a 400-degree Fahrenheit oven for approximately eight minutes, or until desired crunch level of the crust. Dress with fresh herbs and cracked black pepper.
6. Waffle Pizza
First, dust off your waffle maker and create a whole grain waffle. From there, top with desired toppings. Since the waffle is already cooked, place the waffle pizza under a broil, just until the cheese has melted. Feel free to have fun and experiment with waffle pairings and flavorings!
7. Apple Pizza Pie
On an oatmeal crust, evenly spread apple butter until coated. Top with cooked apples, cinnamon, and a drizzle of honey. Cozy up with coffee and serve warm!
8. Berry Good Pizza
Start by toasting a round of spelt pita bread. Lightly smear Greek yogurt cream cheese and top with strawberries and blueberries, or other favorite berries. Lightly graze fresh lemon zest atop along with a few sprinkles of cinnamon.
9. Thyme for Pizza
Wake up, it is pizza "thyme!" Drizzle a thin layer of Dijon mustard and honey atop a whole grain tortilla or whole grain crust. Layer cooked chicken apple sausage along with onion and part-skim mozzarella. Bake for approximately 10 minutes in a 400-degree Fahrenheit oven, but also reliant on chosen pizza crust. Top with fresh thyme, slice, and serve!
10. Fig Pizza
Start by toasting a piece of pita bread then smear ripe avocado on top. Layer with fig and dress with arugula and a drizzle of balsamic vinegar. The pizza is ready to be sliced and served, unless you prefer consuming warm. If so, place into a warm oven for a short time to prevent too much browning of the avocado. Add chopped walnuts or pecans if desired!
Feel free to experiment with different recipes. Swap out pizza crusts, toppings, sauces, etc. to cater to your personal (pizza) preferences!