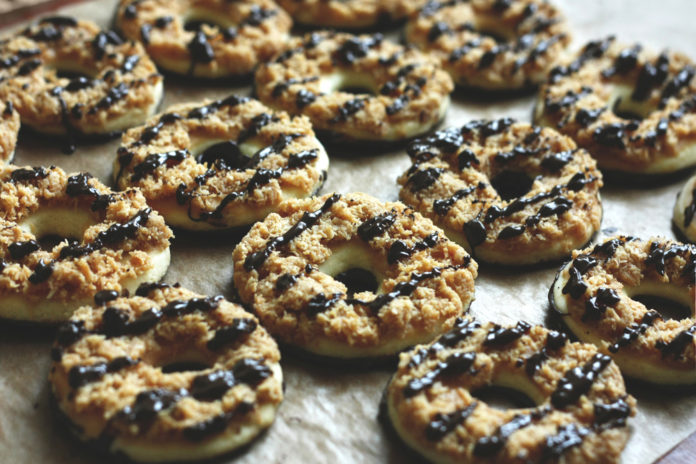 From Shortbreads to Thin Mints, those infamous Girl Scout cookies are nothing short of anticipated between the common months of January and April. But for those with a Celiac disease or following a vegan lifestyle, finding cookies to accommodate may be a challenge. At this time, Girl Scouts offers two gluten-free options, Trios and Toffee-tastics, while S'mores, Thin Mints, Thanks-A-Lots, Lemonades, and Peanut Butter Patties are considered to be vegan-friendly. But with these gluten-free and vegan Girl Scout cookie copycat recipes, all can put their hands in the cookie jar!
Gluten-Free Girl Scout Cookies
1. Thin Mints
According to a recent survey conducted by Influenster, Thin Mints are the most popular Girl Scout cookie. However, the wheat contained in Thin Mints has no safe place in a gluten-free diet. But with this alternative Thin Mint recipe, individuals following a gluten-free diet can relish the highly desirable and refreshing combination of chocolate and mint!
2. Samoas
Samoas, also known as Caramel deLights, feature decadent caramel, toasted coconut, and dark chocolate stripes all atop a crispy cookie. Unfortunately, though, Samoas contain wheat, making them not-so-friendly for those requiring a gluten-free diet. But gluten-free desirers will rejoice with this Samoa recipe!
3. Shortbread
Also recognized as Trefoils, those delicate-tasting shortbreads are prepared with enriched flour, with the inclusion of wheat. But with just a few ingredient swaps, those traditional shortbread cookies can be enjoyed by all! Find the gluten-free, Girl Scout copycat recipe here.
Vegan Girl Scout Cookies
4. Trios
Although they may be gluten-free, Trios contain milk and eggs. Making just a few adjustments, individuals following a vegan lifestyle can indulge on flavors of chocolate, peanut butter, and oats! Harness the flavors of the Trios Girl Scout Cookie with this vegan peanut butter chocolate chip oatmeal cookie recipe!
5. Toffee-Tastic
Rich, buttery cookies with toffee bites? Everyone, including vegans, should be able to indulge on such flavors! To mimic the taste of Toffee-Tastic cookies, start by preparing this buttery vegan shortbread cookie recipe. Add this vegan toffee into the batter or top onto freshly-baked cookies while cooling.
Ultimately, if the original Girl Scout cookies do accommodate diet requirements, order directly from a Girl Scout or at a cookie booth. Buying Girl Scout Cookies not only offers you a box of those tasty treats, but invests in Girl Scouts' futures and provides leadership opportunities. But rather than downing a whole cookie sleeve in one sitting, stick to the recommended serving size, or approximately two cookies.