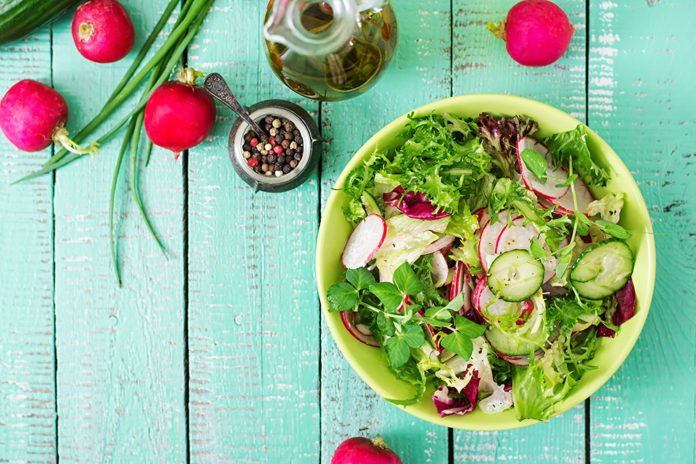 8 Tips for Eating Healthy
1. Begin the Day with Breakfast
Though critics still question whether or not breakfast actually is the most important meal of the day, most nutrition experts nod to these reasons why you should never skip it. Not only does a nutritious breakfast fuel the body with physical and mental energy to kick off the morning, but helps pave the way to more nutritious choices throughout the day's entirety, lessens mid-morning hunger and cravings, and supports a healthy weight. If desiring some breakfast inspiration, look no further than these 11 high-protein, low-carb ideas you do not want to miss, including mini egg frittatas, quinoa bowls, and pancakes.
2. Color Your Plate
No, not a bowlful of sprinkles… Foods colorful and harvested straight from nature tend to be the most nutritious. From red tomatoes to green broccoli florets, fill at least half your meal plate with colorful veggies. And if constructing a colorful salad, using an oil-based dressing and the "dip" method (dipping your fork into than dressing rather than pouring it over the salad itself) can help reduce unwanted calories. And when it comes to that pesky sweet tooth, opt for a naturally-sweetened piece of fruit or this honey drizzled broiled grapefruit, guilt-free strawberry gelato, or avocado ice cream!
3. Opt for Whole Grains
At least 50 percent of the time, opt for whole grains such as oats, wheat, barley, rice, and rye. Compared to refined and processed products, whole grains are richer sources of fiber and valuable nutrients. Since high-fiber foods are generally lower in calories and tend to be more filling than non-fiber foods, whole grains can help facilitate weight loss and encourage weight maintenance. Additional benefits of whole grains and fiber include digestive and heart health and diabetes management.
4. Plant A Garden
For eating healthier and cultivating and expanding food appreciation, go back to your roots and plant a garden! Gardens can be as simple or as large as desired or needed, including the use of small planters or large garden beds. Research what produce flourishes best in your climate and season and plant based on current conditions. Once the crops are ready to be gathered, utilize them in the kitchen and have fun exploring new recipes and cooking techniques!
5. Shop the Perimeter
When visualizing a grocery store, you may picture boundless rows of various cereals, breads, pastries, cookies, chips, and other packaged snacks. But when shopping, skip the weaving in and out of the aisles and mostly stick to the store's perimeter. Doing so lessens the temptation of highly processed products and encourages focusing on more nutritious and wholesome food items, including fresh produce, dairy products, and lean proteins.
6. Practice Meal Prepping
Following a long day, one of the last things you want to do is mosey into the kitchen and whip up dinner. But some of the largest misconceptions of eating healthy is it takes too long to do and is too difficult to tackle, subsequently increasing the risk of heading to the drive thru on the way home or calling in for pizza or Chinese takeout. But by practicing meal preparation, eating healthy is simple and convenient, especially once becoming more comfortable with the practice. Find your beginners guide to meal prep here, equipped with recipes, ideas, and inspirations!
7. Swap Soda for Water
Along with eating healthier, we must not discount the importance of reducing liquid calories. Though milk and juices can offer valuable nutrients, soda and other soft drinks essentially supply nothing more than sugar and calories. (Oh, and go easy on cream and sugar in your coffee…) Swap out sugary drinks with water to keep calories in check and the body well-hydrated for optimal health.
8. Utilize A Meal Delivery Service
Life gets busy, we understand! Utilizing a meal delivery service such as Balance by bistroMD gifts healthy eating in a convenient way, additionally offering flexibility to order whatever and whenever you like. Prepared by chefs and approved by dietitians, you gain a peace of mind knowing each meal offers high-quality ingredients and maximum flavor. For more information on Balance and the delicious and nutritious meals offered, visit the official webpage here or call 844-411-2252 today!