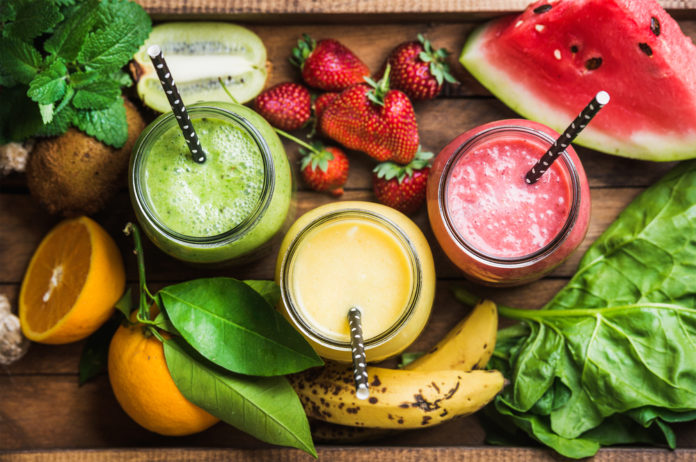 13 Healthy Veggie Smoothie Recipes
1. Green Apple Pie Smoothie
This homemade green apple pie smoothie recipe may not be an exact replica of your grandma's secret recipe, but it is nothing short of delicious. So turn off the oven and whip out the blender, getting in those fruits and veggies has never been better. (Four servings, to be exact!)
2. Spicy Mango Smoothie
Spice up your life with this healthy mango smoothie recipe! The subtle hint of cayenne is the perfect balance to the sweet mango, along with standing poised with numerous nutrients. So on your mark, get set, manGO!
3. Raspberry Jalapeno Smoothie
Speaking of spice… This raspberry jalapeno smoothie is bright, spicy, and sure to get your morning throttled! Moreover, the veggie smoothie recipe is packed with antioxidants, fiber, and omega-3 fatty acids thanks to the addition of beets, apples, and hemp seeds.
4. Energizing Cucumber Mint Smoothie
Energizing, hydrating, nourishing, and cooling… Four words to describe this four-ingredient cucumber mint smoothie recipe! Nonetheless, the healthy veggie smoothie can start your day with the hydration your body longs for and the zing your taste buds crave!  
5. Sweet Pea Strawberry Banana Smoothie
Remember those small green-colored bean-shaped veggies you spread around your dinner plate as kid? Well, they have graduated into your smoothie cup as an adult! While the pea shake is slightly unusual, peas give this strawberry-banana smoothie recipe a chance!
6. Green Superfood Smoothie
Going green takes a whole new meaning with this ultimate green superfood smoothie! Along with bursting with green goodness, the healthy veggie smoothie is naturally sweetened with freshly squeezed OJ and raw honey, spiced with cinnamon, and protein-packed thanks to Greek yogurt.
7. Avocado Banana Green Smoothie
Step aside, avocado toast! This veggie smoothie recipe is not only creamy from the avocado, but filled to the brim with powerful nutrients thanks to the harmonizing blend of greens, bananas, and other superfood ingredients. 
8. Pear Smoothie with Spinach, Celery, and Ginger
This pear smoothie recipe is chockfull of fruits and veggies, including spinach, celery, arugula, and banana. And not to mention, the contribution of kefir or yogurt to the veggie smoothie packs a protein punch and adds probiotics to support your morning. 
9. PB & J Smoothie
Blend up this peanut butter and jelly smoothie and sip on the flavors of that lunchbox classic! Also feel free to swap out the strawberries for other jelly favorites, including grapes, blueberries, or blackberries. Prefer almond butter? You can swap the PB for that, too! 
10. Sunrise Sweet Potato Smoothie
Do not sleep on this sunrise sweet potato smoothie! Not only is it touted to taste like pie in a glass, but boasts with fiber, potassium, and vitamin A to rev up that a.m. engine.
11. Spiced Maple Kabocha Smoothie
Squash your daily goals with the help of this spiced maple kabocha recipe! Slightly sweet and slightly spiced, the nutrient-packed veggie smoothie features kabocha squash, carrots, fresh ginger, maple, and cinnamon to kick start your morning.
12. Peanut Butter Banana Cauliflower Smoothie
Yes, cauliflower… But before turning your head away too quickly, this veggie smoothie recipe is healthy, delightfully shake-like, cool, and creamy! And really, what more could you ask for in a smoothie? Also feel free to add cocoa powder for a chocolately peanut butter variation!
13. Kale and Pineapple Green Smoothie
Need a morning or afternoon pick-me-up? Look no further than this energy-boosting kale and pineapple green smoothie, filled with a mere five ingredients and overflowing with vitamins and minerals!