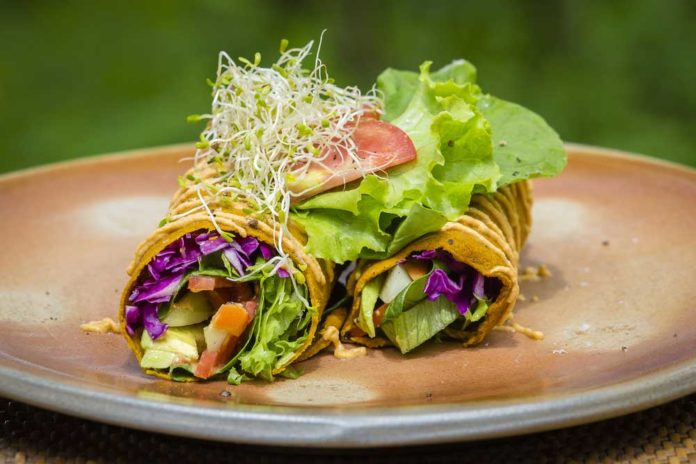 11 High-Protein Vegetarian Meals
The nutritional values indicate NET carbs, or the grams of total carbohydrates minus the grams of fiber it contains. But it is important to not be discouraged by some of the recipe's carb content, as with any plant-based food comes some form of carbohydrate. But along with carbs, plants are extremely rich in fiber and nutrients, also making the protein and fiber duo beneficial in inducing satiety, preventing the risk of overeating, and promoting weight loss and maintenance. And not to mention, adequate fiber plays a significant role in both digestive and heart health. Nonetheless, here are 11 plant-based meals, with included low-carb and high-protein vegetarian recipe options, you sure are going to love!
1. Hummus Wrap
Skip out on the highly processed deli meat sandwich and opt for the fresh flavors of a vegetarian wrap! Start by smearing two tablespoons of hummus onto a medium-sized whole grain tortilla. Fill with a ¼ cup each of grated carrot, cucumber, and bell pepper, along with a tablespoon of sunflower seeds for added crunch.
Per one wrap: 386 calories, 12 grams protein, 10 grams NET carb
2. Tofu and Broccoli Salad
Colorful and crunchy, this high-protein, low-carb vegetarian recipe drapes broccoli slaw and crispy baked tofu with a creamy peanut butter dressing. Mix-ins include peanuts, edamame, and red pepper strips, though you can swap out and add other salad favorites to liking.  And if salad is your go-to lunch of choice, check out these 18 vegetarian and vegan high-protein options!
Per one serving: 392 calories, 8 grams protein, 13 grams NET carb
3. Vegetarian Chili
Sitting down to a warm bowl of chili is sometimes hard to beat. This high-protein vegetarian meal is also packed with rich flavors and nutrients thanks to the contribution of tomato, bell pepper, onion, celery, and garlic.
Per one serving: 335 calories, 19 grams protein, 34 grams NET carb
4. Barley Lentil Soup
This barley lentil soup is the perfect vegetarian recipe to cozy up to! Feel free to top with plain Greek yogurt for added protein, along with fresh herbs to amplify flavor.
Per one serving: 177 calories, 10 grams protein, 17 grams NET carb
5. Mexican-Style Stuffed Peppers
For a low-carb, high-protein vegetarian recipe, start by cutting the tops off four bell peppers, taking out the ribs and seeds, and rinse off and dry. Fill the hollow pepper with favorite plant-based taco ingredients, including ½ cup of beans, ¼ cup corn, two tablespoons of diced tomatoes, and taco seasoning. Wrap peppers tightly in foil and stand them up in baking dish. Bake in 350°F oven for 10 minutes then uncover and bake for an additional 15 to 20 minutes, or until the peppers are tender. Top with a tablespoon of plain Greek yogurt, shredded lettuce, and hot sauce as desired.
Per one pepper: 210 calories, 15 grams protein, 28 grams NET carb
6. Greek Stuffed Peppers
For a Greek-inspired twist on stuffed peppers, look no further than bistroMD's vegetarian recipe, featuring quinoa and cannellini beans as its primary protein source!
Per one pepper: 340 calories, 16 grams protein, and 34 grams of NET carb
7. Portabella Pizza
Though pizza is always desirable, the temptation may be dominated by its calorie and carb content. But using simple swaps and ingredients, you can relish on the flavors of pizza without slicing up an ounce of guilt! For a low-carb, high-protein vegetarian recipe, exchange traditional pizza crust for these vegan portabella pizzas.
Per one pizza: 165 calories, 8 grams protein, 10 grams NET carb
8. Spiced Chickpea and Zucchini Sauté
For 35 minutes, a few simple ingredients, and one pan, you can create this high-protein vegetarian meal for your next lunch! For added protein, serve the spiced chickpea and zucchini sauté over ½ cup of quinoa.
Per one serving (served over ½ cup quinoa): 377 calories, 18 grams protein, 38 grams NET carb
9. Lemony Pesto Pasta
Robust in flavor and nutrients, you do not want to miss out on this lemony pesto pasta with edamame and almonds recipe. And beyond its zest, the dish is touted as easy, healthy, and very elegant!
Per one serving: 432 calories, 20 grams protein, 49 grams NET carb
10. Italian-Style Spaghetti Squash with Tempeh
Concerned about the carb content of pasta noodles? This low-carb, high-protein vegetarian recipe utilizes spaghetti squash to cut down on carb content, all without comprising the desirability of pasta.
Per one serving: 430 calories, 22 grams protein, 33 grams NET carb
11. Black Bean Lasagna
Courtesy of country star Trisha Yearwood, traditional Italian gets a unique spin in this black bean lasagna recipe! Add mushrooms, carrots, and spinach for added bulk and nutrients.
Per one serving: 235 calories, 14 grams protein, 25 grams NET carb