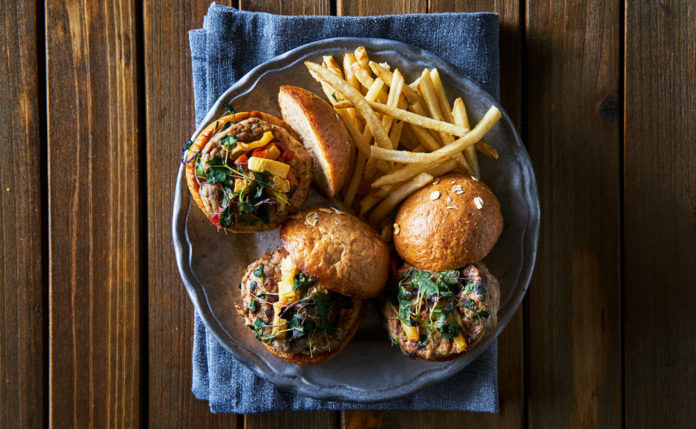 You and your family sit down at the kitchen table only to hear, "What is this slimy green thing?!" or "Why does this food look like that…?" This may be an all too familiar scenario of trying to get your kids to eat much more than a pop-in frozen pizza or even a bag of chips for dinner. And when it really comes down to meals kids love, the list may be quite limited in variation and nutrition. But with these easy dinner ideas for kids, you will find peace and comfort knowing they are receiving the adequate nutrients encouraged for their growing bodies, all while putting smiles on their faces!
10 Dinner Ideas for Kids
1. Breakfast for Dinner
Who says breakfast is only designated to morning hours? Shake up routine and have fun with a breakfast for dinner (brinner) night. Allow kids to choose favorite breakfast foods and enjoy them for your evening meal, including whole grain pancakes with numerous topping options, and breakfast tacos paired with assorted cheeses, salsas, and other festive toppings.
2. Savory Muffins
Muffins can be much more than blueberry, chocolate chip, and other sweet flavors. Spark a baking interest and divert their sweet flavor palates by preparing savory variations, including broccoli and cheese, ham and cheese, or pumpkin, squash or sweet potato.
3. Chicken Fingers
Rather than popping in a tray of chicken nuggets purchased from the freezer aisle, expose kids on how to prepare them. This healthy chicken fingers recipe is simple and features three dipping sauces. Have fun pairing and experimenting with the dips to amplify and alter taste of traditional chicken fingers.
4. Taco Bar
For Taco Tuesday, build a taco bar to expand the kids' nutritional palates without stretching their limits too far. Offer both crunchy and soft tortillas; various protein sources such as shredded chicken, beef, and several bean types; a plethora of veggies with tomatoes, shredded lettuce, peppers, and onions; and other toppings that may include plain Greek yogurt, salsa, guacamole, and fresh cilantro.
5. Enchilada Sloppy Joes
Keep the Mexican-inspired meals coming and get slightly sloppy with an enchilada spin! Although this enchilada sloppy joe recipe uses beef, alter to ground chicken or turkey if desired. The mixture can also be served into crunchy taco shells.
6. Spaghetti
Spaghetti is generally an established meal kids love! But rather than the customary spaghetti noodles, red sauce, and meatballs, break tradition and broaden their horizons by offering one or a few of these veggie substitutes. Additionally, sneak veggies by blending in spinach, kale, and other greens into pasta sauces, including a homemade tomato or pesto sauce.
7. Rice Bowls
Rice bowls can be transformed into unique flavors, as rice is particularly a blank canvas that pairs with a wide assortment of toppings. Additionally, rice bowls are ample in nutrients thanks to the likely pairings of various veggies and fresh herbs. These bowls are not only bold in color and flavor, but simple to create.
8. Pizza Night
What kid (or adult for that matter) does not enjoy pizza night? Get kids in the kitchen and allow them to pick and choose from countless toppings, sauces, cheeses, crusts, etc. Find more inspiration with these easy food swaps for healthier pizza.
9. Macaroni and Cheese
That infamous mac n' cheese is a childhood staple, though that notorious blue box often lacks valuable nutrients encouraged at mealtimes. Harness the tradition of those cheesy noodles while exposing them to flavor and ingredient variations. Find healthier-for-you mac n' cheese recipes here.
10. Turkey Sliders
Swap out big burger patties with these turkey sliders! Not only does their small size keep portions in check, but offers the opportunity to experiment with various flavors per slider. You can stick to tradition with typical lettuce, tomato, and mustard or slide into these 14 unique flavors.