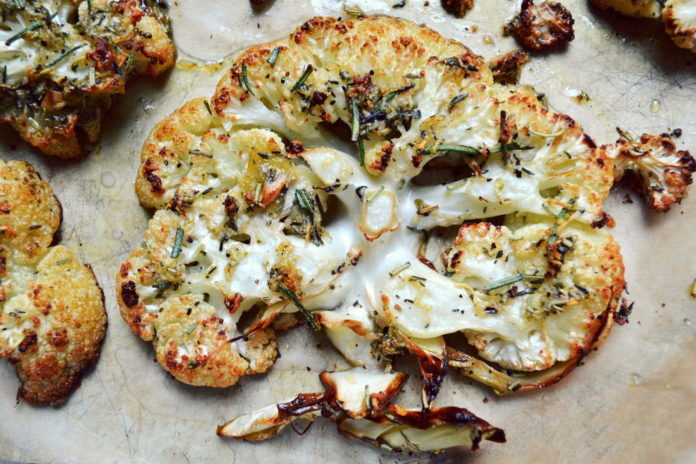 14 Guilt-Free Cauliflower Recipes
1. Cauliflower Muffins
If searching for a convenient, low-carb, high-protein breakfast option, look no further than these cauliflower egg muffins. Customize your on-the-go breakfast with mushrooms, tomatoes, hot sauce, and other favorite egg toppings.
2. Cauliflower Dip
Transform the mild flavor of cauliflower into a robust, creamy dip! Start by steaming one head of cauliflower. In a food processor, add steamed cauliflower, two tablespoons of olive oil, a tablespoon of tahini, one minced garlic clove, the juice from one lemon, and pinches of cumin, onion and garlic powders. Add salt and pepper to taste and blend ingredients until smooth. Serve with sliced veggies or pita chips.
3. Cauliflower Salad
Skip out on a heavy potato salad and serve up this light cauliflower salad recipe for your next barbeque, summer picnic, or get-together. To enhance the flavor, make the salad a day prior to allow ingredients to absorb and mesh together.
4. Cauliflower Soup
This cauliflower soup recipe is creamy and nothing short of desirable, all without the guilt! Garnish with roasted chickpeas or a dollop of plain Greek yogurt for added protein.
5. Cheesy Cauliflower Breadsticks
Take a bite (or a few) out of these cheesy cauliflower breadsticks! Dip into favorite marinara or feel free to experiment with other cheese and topping varieties, including a Mexican twist with pepper jack cheese and taco seasonings, dipping the sticks into salsa!
6. Italian Roasted Cauliflower
Paired with bistroMD's stuffed shells with vodka marinara sauce, this Italian roasted cauliflower offers balance to a cheesy, yet nutritious meal. Preheat oven to 425 degrees Fahrenheit. In a small bowl, whisk together 3 cloves chopped garlic, 1 tablespoon red wine vinegar, 1 tablespoon balsamic vinegar, and 2 tablespoons olive oil. On a baking sheet, spread 1 head fresh cauliflower (cut into small florets), 1 diced red onion, and 1 diced red bell pepper and drizzle the balsamic vinegar mixture atop, tossing together and ensuring all veggies are coated. Roast for about 10 minutes, flip and turn veggies, and roast for an additional 10 minutes, or until the cauliflower has softened and turned golden brown.
7. Roasted Cauliflower Head
This oven-baked whole roasted cauliflower recipe is similar to the one described above, but without the need to chop the head into small florets. Slice the cauliflower into 4 to 6 wedges and serve with a lean protein for a well-balanced meal.
8. Buffalo (Cauliflower) Bites
Spice up cauliflower with these buffalo bites. Dip into a protein-packed Greek ranch dressing (http://showmetheyummy.com/homemade-greek-yogurt-ranch-dressing/) for a vegetarian-friendly appetizer or serve in whole wheat tortillas or butter lettuce leaves for a buffalo cauliflower wrap!
9. Cauliflower Rice
Cutting down on carb intake? Look no further than this low-carb cauliflower rice recipe! Compared to 45 grams of carb per one cup on cooked brown rice, cauliflower rice supplies a mere 25 calories and 5 grams of carb for the same volume! Use as desired, including paired with roasted veggies or mixed into this healthy teriyaki chicken cauliflower rice bowl.
10. Cauliflower Mashed "Potatoes"
Lighten up starchy mashed potatoes with this cauliflower mock recipe. Swap sour cream with plain Greek yogurt for added protein.
11. Grilled Cauliflower Steaks
Although beef is often thought of when grilling up steaks, vegetarians and vegans can rejoice with this appetizing grilled cauliflower steak recipe. Make modifications as desired, including using favorite steak seasonings to coat the cauliflower.
12. Cauliflower Pizza Cups
"Cheat day" comes everyday with these cauliflower pizza cups! Toppings can be varietal, so feel free to make the cups your own, including swapping out pepperoni with veggies for a vegan-friendly cauliflower recipe.
13. Shrimp Curry with Chickpeas and Cauliflower
This cauliflower recipe is loaded with unique flavors and protein! But if desiring a vegetarian-friendly meal option, the shrimp can be eliminated or replaced with tofu or tempeh.
14. Crispy Cauliflower Tacos
Over the years, tacos have transformed from traditional beef and chicken into extravagant varieties, including these crispy cauliflower tacos. Topped with a tangy cabbage slaw and avocado cream, your taste buds will be nothing short of excited!