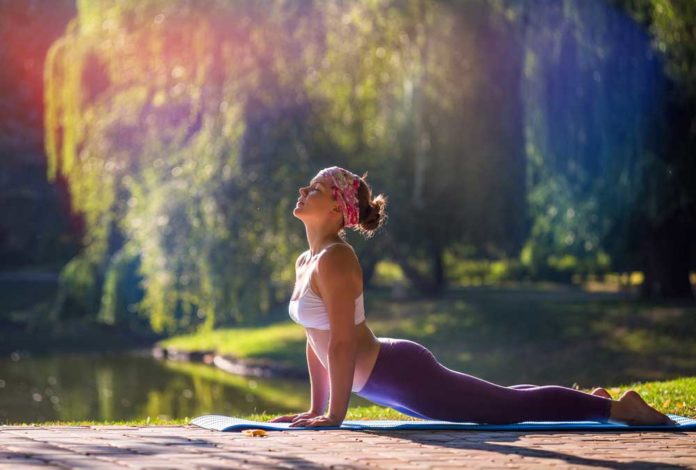 For beginning yogis, stepping into your first yoga class may be completely overwhelming. Especially if in a roomful of experienced yoga-goers, the movements and flexibilities they flow into looks quite intimidating. But with this 10-minute yoga workout for beginners, newbies can relish in the benefits of the meditative practice!
10-Minute Beginning Yoga Routine
Move into and hold each pose for 40 seconds and take a 20-second transitional break in between.
1. Mountain Pose
Standing tall with feet together and shoulders relaxed, take a deep breath and raise hands overhead with palms facing each other and arms straight. Reach toward the sky with the tips of your fingers and hold for the mountain pose, also known as tadasana.
2. Warrior Pose
From standing into mountain pose, step into the warrior pose, resembling a lunge with flat hands facing towards the sky. Beginners may have difficulty keeping the back heel grounded, so feel free to lift the back heel on a sand bag or other object of similar height.
3. Right Extended Triangle Pose
Like the warrior pose, start the extended triangle pose in tadasana and step out approximately 3 to 4 feet out. Allow right hand to touch the floor or hip and extend fingertips of the left hand towards the sky.
4. Left Extended Triangle Pose
Complete the extended triangle pose as described above, but alternate and complete with left hand down to the floor and right hand facing up towards the sky.
5. Downward-Facing Dog
For the downward-facing dog, start on all fours with hands and feet on the ground. Walk the hands up a few inches past the shoulders to resemble an upside-down 'V' and hold.
6. Upward-Facing Dog
Opposing the downward-facing dog, lie facedown on the floor with thumbs under shoulders. Push the chest off the floor and hold for the upward-facing dog pose.
7. Cobra Pose
While laying down on the stomach, form into the cobra pose position. Though similar to upward-facing dog, the cobra pose encourages the legs, pelvis, and lower ribs to remain on the floor.
8. Ego Eradicator
In a comfortable pose on the ground, reach and stretch out the arms in a circular motion, pointing up to the sky. The ego eradicator is promoted to release negativity and surface positive energy.
9. Child's Pose
Also known as balasana, start wrapping up the yoga sequence with child's pose. Touted as a resting pose, beginner's and pros alike can practice deep breathing in the position.
10. Corpse Pose
Conclude the sequence with the corpse pose, or savasana, a pose of total relaxation.
Practice the yoga exercise 2 to 3 times each week and graduate to this 20-minute full body workout once ready and comfortable with the basic moves!