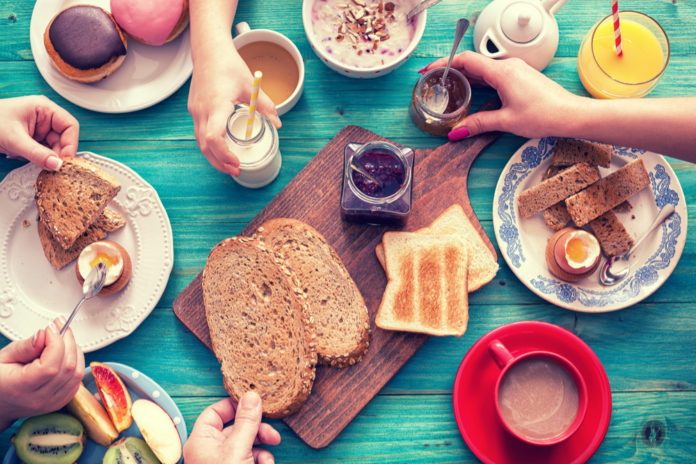 According to the American Psychological Association, personality refers to "individual differences in characteristic patterns of thinking, feeling, and behaving." And while various internal and external influences adapt individual traits, did you know the foods offer insight to your personality? From coffee to avocado and French toasts to bagels, what might your favorite breakfast foods and choices say about you?
What Your Breakfast Choices Say About You
Coffee
While coffee may not be the heartiest and nourishing breakfast choice, it sure does do the job for some. Those pouring out a plain black cup of joe may be feeling the consequences a late night bender, running late, or even authoritative and powering through productive morning hours.
Eggs and Toast
You recognize breakfast is essential and take ownership of being classic! So crack open that egg, pop the bread in the toaster, unfold the newspaper, and enjoy the calm of the mornings you relish day in and day out.
Breakfast Sandwich
Toasting the bread, cracking up an egg, and sizzling up some bacon to make one cohesive breakfast sandwich… You relish the classics but maybe too busy to sit down and enjoy eggs and toast tableside. But the innovation of the breakfast sandwich allots you time to not only catch up on today's news from your car radio, but indulge and find comfort in your favorite breakfast foods.
Avocado Toast
You are contributing to the largest breakfast trend, as American consumers spend $900,000 (or more) per month on avocado toast! But with such trendy toppings and flavor variations like described in these recipes that will instantly upgrade your life, why not join in on the avocado toast train? You are also probably a major foodie and health enthusiast, seeking out the newest food innovations and open to experience. And we'll bet you enjoy quinoa, fresh-pressed juices, and bone broth, too…?
Sugary Cereal
Child at heart and lover of sweet things, you opt for sugary and colorful cereal. You may also be carefree and tolerable of mismatching and colorful bowls and utensils. While a bowl of Fruit Loops or Cinnamon Toast Crunch is okay every now and then, remember, the American Heart Association encourages men and women to consume no more than 38 and 25 grams of added sugar per day, respectively. Sugary cereals contain an average of 15 grams of sugar, though also dependent on which big, colorful bowl you choose to fill…
Whole Grain Cereal
You enjoy the chill and crunch of cereal, but also appreciate your own personal health. Whether persuaded by marketed health claims or personally recognizing their higher fiber content, whole grain cereals can promote digestive, heart, and overall health, along with reducing the risk of type 2 diabetes. But like sugary cereal, it is important to stay mindful of added sugars, as even Raisin Bran can contain almost 20 grams of sugar! Fiber One, Cheerios, Kashi, and these other whole grains cereals are recognized as high-fiber, low-sugar breakfast options.
Oatmeal
Particularly if opting without the spoonful of sugar and gob of butter, you more than likely have health as a top priority. You are agreeable to make sacrifices when it comes to what your body needs, though do not have to compromise flavor with these nutritious and delicious overnight oat recipes!
Breakfast Bar
You recognize breakfast is important, but may be crunched for time in the morning hours. Kudos to you for grabbing a convenient and on-the-go breakfast, but you do watch out for all the added sugars, right…?
Smoothie
You more than likely are a health enthusiast, whipping up a nutritious smoothie following a morning workout and before heading into the office. Mixing up those sippable greens increases your awareness and appreciation of the mind-body connection, recognizing and appreciating just how food ties into physical and mental health.
Pancakes and Waffles
Whether with a premix or homemade batter, you made the effort to preheat your waffle iron or stove top! And not to mention, you doctor it up with chocolate chips, peanut butter, mixed berries, and maybe a dollop of fresh whipped cream for a creative and flavorful spin. You may even crack an egg to compliment the carb sources, aiming to make your breakfast just as well-rounded as your pancake!
French Toast
Similar to pancakes and waffles, you take the time to whip up a batch of French toast, perhaps even stuffing it with a fruit filling. You may even be entertaining houseguests, ensuring they have a welcoming stay! And while you are at it… Give bistroMD's stuffed French toast with berry compote a try!
Bagel
Bagels can tell much about you, as they come in numerous varieties. Go for cinnamon raisin? You may have a sweet tooth. Toast up a whole grain bagel? You may be considering the health of your body. But aside from the extensive varieties, you may also not realize each bagel can contain between 50 to 60 grams of carb…
Donuts
Although regular morning runs to the donut shop may not be the most ideal breakfast choice, you may feel a sensation of impulsivity seeing that sprinkled work of art. You may be spontaneous and seek out the most innovative donut in or out of your area or simply indulge on a glazed, Long John, or jelly-filled classic!
…Nothing
Perhaps you just are not a morning eater or always running late… And while it is personal preference to ixnay breakfast, you may not realize the benefits of its inclusion in the daily diet. Find out just why you should not skip breakfast here.