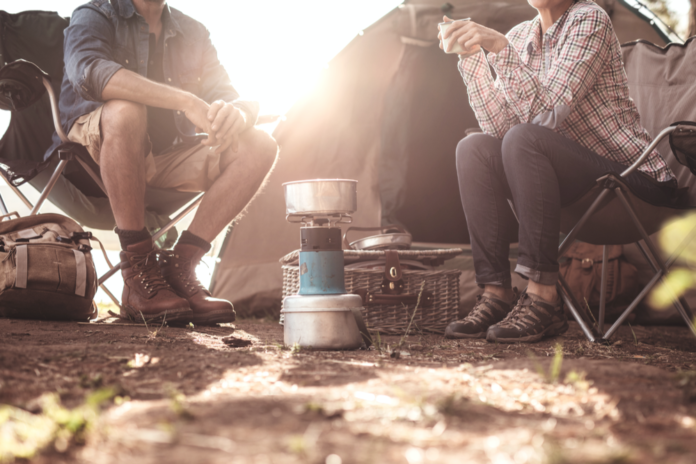 Campfire cooking does not have to be complicated. Simple staple camping meals that still taste amazing elevate outdoor adventures!
Ready to nourish in the great outdoors? Use these 30+ healthy camping food ideas and tips!
What Are the Best Camping Foods & Drinks?
The "best" camping food is different for everyone. However, proper nutrition goes beyond an energy bar or water bottle. Healthy camping meals focus on adequately fueling outdoor adventures. 
When planning for camping, consider the following factors:
How long is the trip? (i.e. day trip or multi-day trip)
What foods and beverages will one carry?
How will eating and drinking occur?
Is bringing a cooler an option?
What food-related tools would one need?
Food and water needs are generally higher during camping. This is due to the likelihood of activity-based excursions. One of the best items to come prepared with is fluid for proper hydration and nutrition experts recommend the following tips.
Pre-Hydrate When Possible
By drinking at least four cups of water before heading out on a hike, there will be less water to carry. Less to carry also means a lighter bag. A lighter bag means less potential for early exhaustion and more chances of enjoying the outdoors.
Drink The Right Ratio
Plan to drink at least two cups of fluid per every hour of hiking. Water is the gold standard, but fluid with electrolytes and no sugar added is also a great choice.
Drink Clean Drinking Water
Know where to access clean water. If publicly available sources are not accessible, bring clean water to drink. Water purifying tablets can lose their potency and some parasites and larger bacteria can make it past this method, so it is important to use a water filter when possible. 
Camping Food and Snacks
Non-perishable foods and portable snack options are perfect for camping. Choose nutrient-dense options that are lightweight to carry.
If possible, use some food items to keep others cool. For example, freezing juice boxes overnight before departing on a trip can transform them into "ice packs" that save space. 
The following ideas are great for nourishing and non-perishable snacks:
Camping Snacks with Protein:
Homemade trail mix
Nut-based bars
Nut butter packs
Poultry or meat/plant-based jerky
Camping Snacks with Carbohydrates:
Dried fruit
Freeze-dried fruit
Whole-grain tortillas
Granola bars
Camping Snacks with Healthy Fats:
Easy Camping Food
Favorite foods among campers are easy essentials. The ideas below are shelf-stable, easy-to-pack, pre-portioned options that also provide nutritional value.
Individual Condiment Packets
Individually packaged condiments can be more shelf-stable than bottled products. Often, condiments in the bottle need to be refrigerated.
While highly-processed and preservative-heavy products are not usually recommended, in the case of camping they check all the boxes. 
Dried or Dehydrated Foods
Just-add-water options use drinkable, boiled water for rehydration. These foods may not taste as great as the original but after a long day of activity, the body's taste buds do not discriminate. Soups, stews, or meal ingredients can be made this way. 
If desiring plant-based foods, dehydrated options are surprisingly easy to find at many local, outdoor stores. Food can also be dehydrated at home, although the pre-packaged options are more convenient.
Powdered Beverage Mixes
Beverage mixes in powder form are affordable, plus portable. They offer an easy way to add variety to hydration. Add a burst of flavor to a regular water bottle.
Canned Fish, Poultry & Meat
From "healthy" fats to much-needed nutrients, canned fish provide fuel for camping. Be sure to look for varieties canned with water and not those with high levels of added salt or sodium. 
Canned in water, poultry is a great option if campers want protein in lean meat form. Turkey and chicken are two common canned favorites. Simple seasonings can quickly flavor canned poultry.
Meats that have been canned can create great camping meals. Whether on their own or as an ingredient in the meal, buy varieties with ground meat and reduced levels of sodium when possible.
(Also remember to bring a can opener!)
Ready-to-Eat & Hot Cereals
Most cereals are fortified with nutrients, making them an affordable and nutritious option. Many come in reusable packaging for easy portability. Eating cereal on its own or paired with nut milk can help fuel an outdoor activity.
Oatmeal, muesli, and other hot cereal options are great vegan camping foods. Overnight oats can easily be prepared using simple ingredients. Hot cereals and whole grains provide higher levels of protein and fiber, which fuel a feeling of fullness as well as healthy digestion. 
Poultry or Fish Pouches
Poultry and fish pouches can create easy tuna salads or be added to campfire stoves. They are flat, affordable, and easy to pack or prepare. Plus, they provide excellent levels of nutrients and protein, but at a lower price.
Ready-Made Mixes
Ready-made mixes, such as pancake mix or rice mix, can make food preparation easier. Explore "shake-and-pour" options, or create a similar version from homemade ingredients. 
Squeezable Puree Pouches
Squeezable vegetable or fruit purees are not only portable but make for easy digestion. Stick them in a backpack or next to other foods in a cooler. They take up little space while providing lots of nutrients. 
Frozen Juice Boxes
Thawing juice boxes (100% juice whenever possible) have a slushie-like consistency and make for a hydrating camping treat. Besides sneaking an extra serving of fruits and veggies into the day, they also double as cooler packs for keeping other foods cold.
Simple Energy Bars
Homemade or store-bought energy bars can be great for tiny tummies. Brands like Larabar and CLIF Bar have special products for all preferences and ages. 
Legumes
Peas, beans, and lentils are great sources of fiber and nutrients. Pre-packaged options are convenient, especially if grabbing food last-minute.
Whole Grains
Whole-grain pasta and couscous are great options to have on hand and work well with other ingredients. Tasty hot or cold, whole grains are often considered a camping kitchen staple.
Pre-Ground Coffee Beans
Grinding beans for the brew before leaving can make morning coffee while camping a breeze. Do not forget to bring natural paper fillers and account for any other coffee-making accessories such as plastic baggies or odor-proof bags for proper disposal. 
Candy Bars
Researchers in the arctic sometimes consume candy bars during the day. This is because they are exposed to extreme temperatures and the body works overtime to stay warm. Cold weather camping can mean the need for nutrients and energy rises, so candy bars make a very convenient option for fueling.
Food Safety Basics
From packing food to plating food, food safety is important. Sickness can ruin a trip and spoil outdoor outings. Keep camping fun by following these tips for storing and serving food safely.
Make enough room for food as well as cooking or serving accessories. When planning a trip, consider what is needed to produce a nutritious meal. 
Cleaners, Disinfectants, and Filters
Disposable wipes, hand sanitizer, or biodegradable soap are all options for keeping things clean. Do not forget to clean the cooler and cleanse the cooking utensils and surfaces. Wash hands before and after eating, or use hand sanitizer with at least 60% alcohol to reduce the risk of bacteria and germs. 
Portable water filters or water purification tablets can help create clean drinking water.
Bowls & Plates
Sharing bowls and plates is an easy way to spread disease. Disposable items are often the best option, but camping bowls and plates can be used. Be sure to bring the proper dish-cleaning solutions.
Pack extra plates when camping, as they are easy to use when preparing food to protect it against other surfaces. For example, place raw meat and sliced vegetables on separate plates when preparing to grill. 
Cooking & Eating Utensils
While hand-held s'mores are delicious, not everything is meant to be eaten with the hands. Be sure to bring needed forks, knives, spoons, and cooking utensils so that safe and healthy meals can be easily created. Multi-use utensils, like sporks, are great for saving space when camping. 
Trash Bags
Do not forget disposal! Trash left out, especially food, can attract pests, bugs, or even bigger creatures. Keep everyone safe by understanding how and where to dispose of food. 
Food Storage
Food should not be kept out at 90°F or higher, for over an hour. In milder temperatures, food can be kept out for a maximum of two hours. Letting foods sit out longer than this can make them unsafe to eat and should be disposed of. 
Perishable foods should be kept below 40°F whenever possible. The following options are great ways to keep food cold, which keeps food safe for eating:
Ice or ice packs: Ice packs are portable and small sources of cooling. Ice functions similarly, but melts and can be easily disposed of. It is important not to eat ice that has been chilling uncooked or unrinsed food because it could be contaminated. 
Cooler: When refrigerators or ice packs are not available, coolers can keep cold foods cold. Leftovers can be contained in small, clean packaging over plenty of ice. 
Insulated options: Insulated cans, containers, or coolers can keep items of food cold. This option works well when transporting small amounts of food or drink.
Food Thermometer
Especially for meats, food thermometers can help determine if items and ingredients are staying at a safe temperature. Thermometers provide an accurate indicator of whether meat is safe to eat. 
Aluminum Foil Packs
Using foil packets over the fire or another heating source is camp cooking at its finest. Foil makes a great vessel to reheat prepared foods like breakfast burritos or fully cook raw chicken breasts and veggies. Just remember to store any raw meat appropriately!
Low-Salt Seasonings
Small, pre-packaged or prepared portions of versatile herbs are useful for camping meals. Make food more flavorful by adding dried herbs like parsley, rosemary, thyme, or oregano. 
Freezer-Prep
Foods like casseroles, omelets, muffins, and breakfast sandwiches that will be consumed during the first day of camping can easily be made ahead of time. Freeze food in pre-portioned sizes for easy serving once they safely thaw.
Recapping Healthy Camping Food
Campfire cooking can be both healthy and easy. Portable, affordable options make for the best camping staples.
Also when camping, prepare food in safe and sustainable ways. This includes avoiding cross-contamination by cooking meat to the correct temperature and storing all foods appropriately.
Whether amateur adventure-seeker or long-time happy camper, understanding food safety and storage basics come in handy!
References:
Newgent J. 5 Food Tips for Camping and Hiking. Eat Right. Published February 25, 2020. https://www.eatright.org/food/planning-and-prep/snack-and-meal-ideas/food-tips-for-camping-and-hiking. 
Wolfram T. Hiking and Camping with Food Safety in Mind. Eat Right. Published July 3, 2018. https://www.eatright.org/homefoodsafety/safety-tips/outdoor-dining/hiking-and-camping-with-food-safety-in-mind.