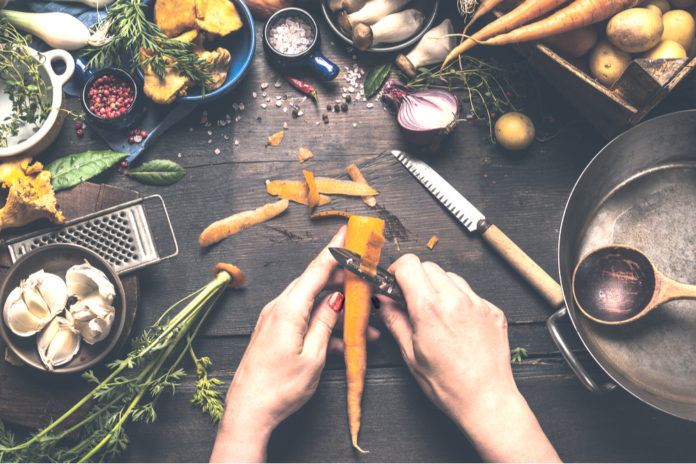 Food delivery services continue to thrive and gain in popularity and for good reason. The benefits of a meal delivery service undoubted, especially when selecting the best program for you and your lifestyle.
But these services are not all created the same. Meal kits require assembly while others, such as Balance by bistroMD, come fully prepared. Some services also assist to meet weight loss goals and accommodate dietary needs.
What Sets Balance Apart From Meal Kits?
Find out what makes Balance by bistroMD different from meal kit delivery and how you can benefit from such a service!
Healthy Meals Prepared
Healthy meal delivery offers balanced meals straight to doorsteps. This takes out the need for meal planning and trips to the grocery store.
Both meal kit companies and Balance by bistroMD are meal delivery programs, that serve in their own unique ways.
What Are Meal Kits?
Meal kit services send a box of recipes and corresponding ingredients. Recipe cards instruct how to use the pre-measured ingredients into a meal, which is often dinner. Serving sizes commonly range from 2 servings to feeding a family.
Many meal kit delivery services exist, including Blue Apron, Freshly, Gobble, Green Chef, Home Chef, and Sun Basket. These services often run as a subscription, delivering about three meals' worth of ingredients on a recurring basis.
Each service company is unique, offering various time commitments, plans, and price points.
• Time commitment: With Gobble, gourmet 3-step dinner recipes are ready in just 15 minutes using a single pan. Other services require an average of 30 minutes for meal prep time.
• Plans: Some companies offer more standard plans with simple ingredients. Others pride themselves on the ingredients they use, including grass-fed beef and all organic produce. Some plans consider dietary needs and preferences, including plant-based and low-carb options.
• Price points: Purple Carrot's 2-serving plan with 3 meals averages $11.99 per serving. Hello Fresh, with a similar plan, costs about $8.99 per serving. However, these prices can vary based on the amount of food ordered and promotional codes offered.
What Is Balance by bistroMD?
Balance by bistroMD truly is diet food delivery offering the ultimate convenience. It is an extension of bistroMD, the leading diet meal delivery service, and the first to offer non-subscription, á la carte meals.
The á la carte meals give customers the autonomy and flexibility to order whatever and whenever they would like and need. The meals are conveniently delivered right to doorsteps and are a hassle-free way to enjoy great-tasting, healthy meals.
"Eating well does take more time than many of us have to shop for, prepare, and cook meals when tired and strapped for time," said Dr. Caroline Cederquist, founder of bistroMD. "Balance by bistroMD is a better way to eat for people who do not have time, want, or know how to cook."
Compared to meal delivery kits, Balance by bistroMD may have the upper hand in regards to flexibility, convenience, and storage.
• Flexibility: With meal delivery kits, Order as many meals as desired when they are needed from the comfort of home. Meals start at $5.99 each with the convenience of front door delivery!
• Time: Meal kits vary in time needed to prepare each meal. All Balance meals are ready in less than six minutes, which reduces extra time in the kitchen. Ed Cederquist, co-founder, CEO and resident foodie states, "Unlike recurring ingredient delivery services, Balance's fresh-frozen meals can be used anytime to fill the gaps on nights that you do not have time to prepare a healthy meal but want to avoid unhealthy options such as fast food or highly processed meals sold in grocery stores."
• Resourcefulness: A common critic of meal kits is their excess packaging, as each ingredient is packed and labeled individually. While most of the packaging is recyclable, there is still a large amount and bulk to deal with. Balance meals come in a single recyclable sleeve that is slender to store.
• Storage time: The ingredients in meal delivery kits require use within the week. Flash-frozen meals from Balance, on the other hand, retain their freshness in the freezer for months at a time.
• Ready-prepared: While cooking is certainly invaluable and encouraged, spending that much time each day can be quite the time commitment. With Balance by bistroMD, all meals are ready-prepared and assembled. This means no need to create a shopping list nor visit the grocery store. They also are ready in less than 6 minutes, which reduces extra time in the kitchen.
Meals Catered to Your Diet
Nutritionally balanced meals are created by bistroMD's chefs, utilizing the freshest ingredients possible. All meals are prepared in bistroMD's kitchen without cheap fillers, unnecessary ingredients, nor food waste.
BistroMD works with a team of doctors and dietitians to create and deliver balanced meal plans to meet individual needs. Users can likewise choose from specialty diets to cater to their needs. Offered options include:
• Heart-healthy: Meals fall at or below the American Heart Association's (AHA) recommendations for calories, sodium, and total and saturated fat.
• Gluten-free: All meals are tested to the Food and Drug Administration (FDA) gluten-free standard of 20 ppm or less. They are free of wheat, rye, and barley.
• Diabetic: Meals contain 25 grams or less of net carb to maintain blood glucose levels.
• Low-sodium: Each meal contains 600 milligrams or less of sodium per meal. This falls below the Dietary Guidelines for Americans recommendation of 2,300 milligrams per day.
• Low-carb: All meals follow a low carbohydrate diet, containing 2 grams or less of NET carb per meal.
• Menopause: Meals provide balanced nutrition during menopause, focusing on lean proteins and reduced carbohydrates to support hormone regulation.
• Dairy-free: All meals with this claim are free of dairy products.
• Mediterranean: Mediterranean diet meals are inspired by the vibrant ingredients and ancient eating habits of the Mediterranean.
• Vegetarian: All vegetarian meals are inspired by popular plant-based and seafood recipes.
Balance by bistroMD stands for much more than so-called "diet food." It focuses on people who want to eat healthy in a convenient way, making balanced eating and lifestyle easy. And with over 100 seasonal meal options to choose from, healthy eating will never feel confined to the same meals.
Have the itch to cook? No problem! Balance provides healthy, balanced recipes for when the urge to cook strikes. However you choose to use Balance, it is a simpler way to eat healthy while gifting more time for yourself.