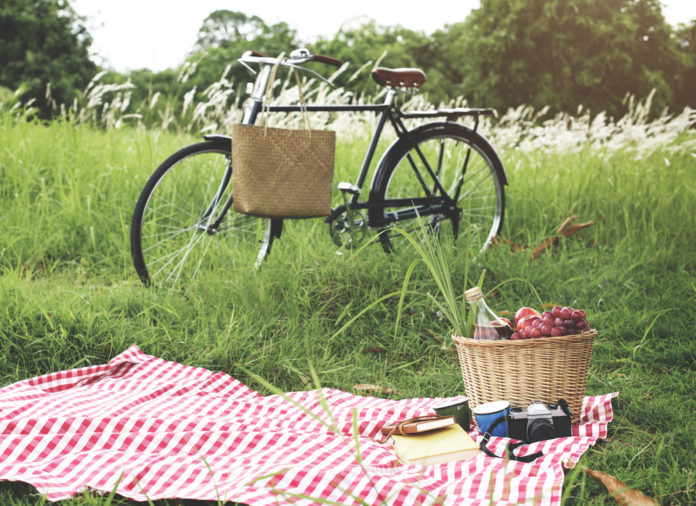 Dips and Snacks
1. Edamole
Swapping out avocado with edamame, this edamole is rich in protein and flavor. Serve with raw vegetables of choice or warm pita bread slices.
2. Roasted Garlic Hummus in Cucumber Cups
These cucumber cups nest flavorful roasted garlic hummus for a convenient finger food. Feel free use hummus as a dip, pairing with cucumber slices, carrot sticks, and bell pepper wedges.
3. Peanut Butter Yogurt Dip
For a simple, protein-packed dip, mix a cup of nonfat plain Greek yogurt, two tablespoons of peanut butter, a dash of cinnamon, and a drizzle of honey. Serve with apple slices or banana chunks.
4. Energy Bites
These no-bake energy bites are the perfect picnic snacks, especially when hiking trails or running through playgrounds. The ingredients are highly adaptable and can be swapped out with others, including dried fruits and assorted nuts.
5. Mint and Melon Kabobs
Melon and mint kabobs are a cool and refreshing summer picnic snack. Prepare as described or solely utilize favorite melon types.
Salads
6. Greek Yogurt Coleslaw
While traditional coleslaws drench nutritious cabbage and carrots with mayo, this Greek yogurt coleslaw namely uses protein-packed Greek yogurt for a lighter variation.
7. Dill Cucumber Salad
With the refreshing flavors of cucumber, lemon juice, and yogurt, stay cool as a cucumber with this bistroMD original salad recipe at your next picnic!
8. Asian Quinoa Salad
Salad is not confined to those green, leafy greens… Explore the diversity of salad with this Asian quinoa salad, packed with protein and nutrients!
9. Chicken Salad
The benefits of lean chicken and nutrient-packed apples and celery are usually overshadowed once doused with mayonnaise in traditional chicken salad recipes. Lighten up chicken salad with the secret ingredient found here and eat alone, on a sprouted sandwich roll, in a lettuce wrap, or paired with sliced veggies and grained crackers.
10. Mason Jar Salads
The use of mason jars is a convenient mean to pack and carry salads. Find 15 delicious and healthy mason jar salad recipes here.
11. Fruit Salad
Swap those lettuce greens with naturally-sweetened fruits in these unique fruit salad recipes. Enjoy as is or pair with Greek yogurt for a heartier picnic food option.
Sandwiches and Wraps
12. Chicken Lettuce Wraps
These chicken lettuce wraps may be low in carb, but they do not fall short in flavor! When on-the-go, separate the chicken and lettuce leaves to avoid a drab, soggy lettuce wrap. Spoon chicken mixture into lettuce leaves when ready to enjoy during your next picnic!
13. Kale Turkey Wraps
Like lettuce, the use of kale can harness various fillings without amplifying the carb content. These kale turkey wraps features cranberry sauce, pear, and turkey slices all wrapped into one!
14. Pinwheels
Pinwheels are a perfect on-the-go picnic food, being highly convenient and adaptable to personal preferences. The simple steps include spreading desired dressing atop a tortilla, layering with a protein source, dressing with veggies, rolling up tightly, and cutting into bite sized pieces. Find 16 pinwheel recipe variations here.
15. Veggie Wraps
Although dismissing animal meats, these 20 vegetarian wrap recipes do not fall short of flavor. From Jamaican jerk tempeh to nori veggie, there is a wrap variation for all! Now that's a wrap…
16. BLAT
Sometimes a traditional BLT is just hard to pass up. But with the addition of avocado, this BLAT is sure to excite the taste buds even more!
Desserts
17. Key Lime Pie
These mini key lime pies are a refreshing, portioned picnic treat! Lime can be swapped with strawberry and cherry as desired.
18. Maple Cranberry Orange Yogurt Parfait
The flavors of maple, cranberry, and orange are nothing short of refreshing and delectable on a warm summer day. These maple cranberry orange yogurt parfaits are conveniently portioned in mason jars, much like the mason jar salads described above. Swap out yogurt toppings and mix-ins as preferred, including varying fruits, nuts and seeds.
19. S'mores Bars
This picnic dessert idea will have you begging for s'more! Rather than the needed heat source for traditional s'mores, prepare this s'mores bar recipe before your next picnic!
20. Lemony Yogurt Pound Cake
Worried about melting chocolate making a mess? Ditch that concern with this lemony yogurt pound cake. The combination of lemon and yogurt is sure to satisfy that sweet tooth without additional worry of guilt.