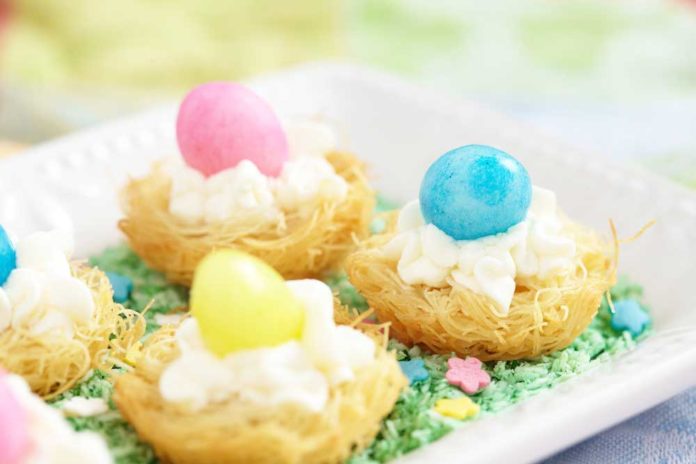 10 Easter Treats for Kids
1. Bunny Trail Mix
Shake up traditional trail mix with this fun Easter trail mix treat. Despite the desirable flavors present already in, trail mix can be completely adaptable, including the use of different chocolate types and various grained cereals. Serve in a large bowl or pour in individual plastic eggs for portion division.
2. Peanut Butter Eggs
The combination of chocolate and peanut butter is desirable throughout all seasons and holidays, Easter included. Get festive by first starting with the ingredients indicated in this recipe. But rather than using a muffin tin, press peanut butter mix into an egg mold, place onto a baking sheet, and refrigerate for at least an hour. Once firm, pop out the peanut butter from the egg mold and dip eggs in the chocolate. Place dipped eggs back onto cookie sheet and refrigerate until the chocolate has hardened.
3. Lemon Bars
The color and scent of lemon screams fresh air and spring. But rather than taking a bite out of a tart lemon slice, prepare these lightly-sweetened, healthy lemon bars for an Easter treat that is anything but sour!
4. Egg Fruit Pizza
Fruit adds natural sweetness and color to an egg fruit pizza like detailed here. The large cookie can also be portioned into smaller ones, which can allow a group of kids to offer their own creative spin to individual cookies.
5. Chocolate Bird Nests
With just four ingredients needed for these Easter treats, they are simple and fun to make. In fact, the chocolate bird nest recipe features a fairly unconventional dessert ingredient – chow mien noodles! Their use can hatch kids' curiosity.
6. Easter Yogurt Bark
Yogurt bark is a simple, fun and healthy treat to make across all seasons, Easter included. First address just how much bark is desired (it can be kept in the freezer, so leftovers is encouraged for a healthful treat). You will then mix equal numbers of Greek yogurt (in cups) to honey (in tablespoons) – one cup of yogurt to one tablespoon honey, two cups of yogurt to 2 tablespoons of honey, and so on. (Feel free to swap with preferred sweetener.) Spread the yogurt mixture atop a baking sheet lined with foil, dispersing until you have reached desired thickness. Add colorful mix-ins including fresh berries and pastel sprinkles along with crunchy pretzels, nuts, and crushed cookie pieces as desired. Fridge or freeze until hardened, crack into pieces, and enjoy!
7. Strawberry Yogurt Carrots
Strawberries are not only entitled to chocolate-covered for Valentines Day… In fact, these strawberry yogurt carrots are not only nutritious, but a simple and fun Easter treat to get kids hoppy over! To be extra festive, serve carrots in a pot or dish with crushed Oreo cookies acting as dirt.
8. Fruit Snacks
Ditch those nothing-but-sugar "fruit" snacks and divert to these healthy fruit snacks recipes, including cherry, apple pie, and berry variations. Kids will love the flavor, while you will love the nutritious ingredients used in their creation!
9. Easter Dirt Cakes
Kids will love playing (and eating) in the dirt with this fun Easter treat recipe… Easter dirt cakes! Allow them to have fun decorating and getting their fingers dirty. The recipe can also be distributed in individual, small planting pots to keep portions more in check.
10. Almond Joys
Although Almond Joys may be simple to quickly snag at the store's checkout, making them at home is, too. Get the delicious homemade Almond Joy Candy Bars recipe here. You can also add a drop of green food coloring in the coconut to resemble green grass!