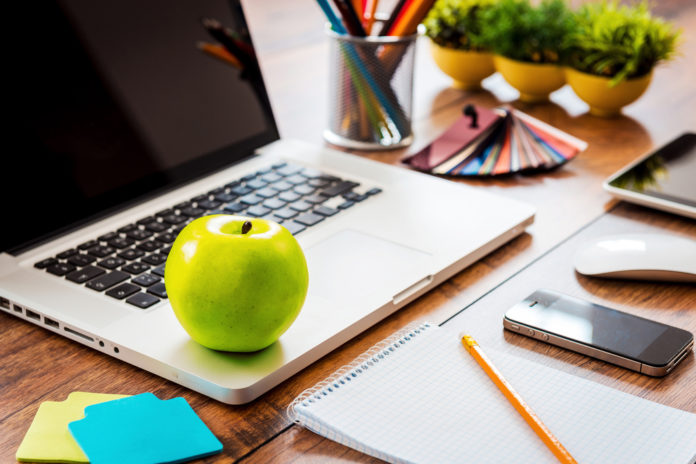 Although you may be abiding to health goals at home, their adherence at work may be a different story. You may be wondering, "How can I avoid those midafternoon munchies?" "How can I stay active at my desk?" or "How am I supposed to think about managing stress when I don't have time to even think about a well-balanced lunch?" Addressing and stressing the importance of contributing factors can help shape a healthy workplace environment and turn them into applicable practices.
Creating a Healthy Workplace Environment
Healthy Meals and Snacks
Healthy eating follows everywhere, including in the workplace. Ditch the lavish work lunches and repeated trips past the candy dish with these nourishing workplace tips:
Include Breakfast
Especially if trying to save time, consuming breakfast may be the first task to get the boot. But including that morning meal is encouraged not only to have a clearer focus when stepping into the office, but to pave a healthful path for the rest of the day. If in a time crunch, sip on a glass of milk with a piece of fruit, prepare overnight oats, mix up a chocolate banana or peach, raspberry and basil protein smoothie, or these easy and healthy breakfast recipes for rushed mornings.
Lunch Prepping
While going out to lunch with fellow coworkers is a way to decompress and reset in the middle of the workday, continually doing so can start tapping into both your wallet and health goals. The practice of meal prepping allows individuals to consume healthful meals throughout the week, serving quite valuable when busy schedules lead to you the drive thru. Learn how to meal prep with recipes and ideas here.
Snacks
Whether catching up with emails or sitting in a meeting, the habit of snacking may be embedded throughout the workday. But rather than pushing the button at the vending machine, pack one of these healthy snacks to take to work, including popcorn, Greek yogurt and berries, and hummus and veggies.
"Balance" those Meals
If desiring meal prep assistance, find balance with bistroMD's newest extension. Balance by bistroMD's a la cart service delivers well-balanced meals straight to your doorstep, offering you portability and convenience whenever you may need it. Pack a nutritious meal, keep chilled at work, then pop into the microwave for a few short minutes whenever you are ready for it! Find more information on Balance by bistroMD and nutritious and delicious meal options here.
Exercise
The importance of exercise is well-known and new research suggests it be valuable to reduce the risk of workplace spillover. Data implies exercise can help counterbalance the effects of stress that tend to follow at home, which may hinder relationships with others outside of work despite their disconnection to the work situation.
Walk During Lunch Hours
Though simply sitting and relaxing during lunch break hours may seem tempting, it is also a valuable time to increase steps. But lunchtime is not the only time to be active and walk, as any step counts throughout the day, and can include parking far away from the entrance door or taking a longer route to the restroom.
Create Workplace Challenges
Workplace challenges is opportune in promoting a healthy work climate, as a cohesion of efforts can spark great recurring success. Additionally, friendly competition can accelerate increased motivation to achieve goals on a personal and competing level. Create walk challenges for purposeful prizes, including a new water bottle or gift basket filled with healthy workplace snacks, along with other activities you see fit for your own workplace.
Adequate Sleep
While sleeping on the job is discouraged, achieving adequate sleep each night can be significantly beneficial in regards to productivity, work relationships, and telomere health. In addition to exercise, sleep is also key to abate the risk of bringing home work frustrations, primarily by reducing agitation and maximizing appropriate stress responses. Build a conducive sleep environment by shutting off the lights, disconnecting from electronics, sipping on a warm glass of tea, and other sleep factors you find as comforting.
Stress Management
Workplace stress is variable dependent on the environment and reaction to situations. Practicing stress management techniques can lessen anxiety and conduce both work quality and quantity. Try flowing into yoga positions at your desk, taking a "you" break, and simply focus on the thing at a time. Research has shown individuals who focus at the task at hand not only lessens stress, but can benefit telomeres.