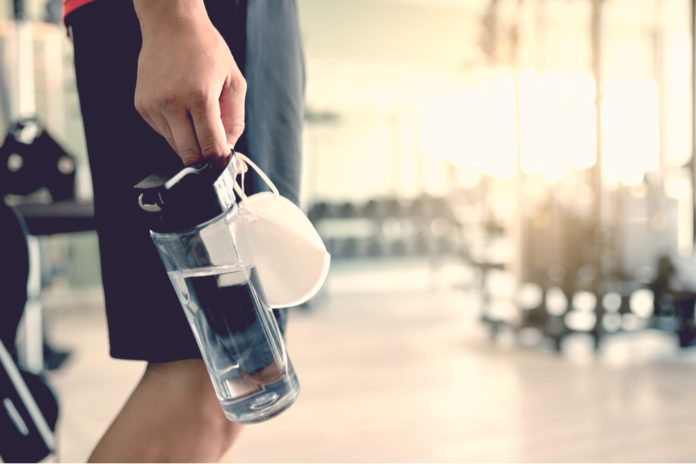 With fitness centers starting to reopen, you might be getting the urge to enter those gym doors again.
However, local COVID-19 pandemic guidelines, closures, and reopenings can be hard to keep up with. And not to mention, the worry of staying cautious of yourself and others when hitting the weights.
If unsure if gyms are open, first check the International Health, Racquet & Sportsclub Association (IHRSA) website for up to date gym closures and openings. Also, be sure to come fully prepared and protected with COVID workout hygiene tips!
COVID Workout Hygiene
The CDC has safety protocols for gym and fitness center employers to have in place during COVID. The main way COVID spreads is through respiratory droplets, so safety protocols are implemented to limit exposure of these droplets spreading between people. This can be more challenging in a workout environment when people's breathing is heavier while working out.
Another practice in place at gyms and fitness centers is a higher detail to sanitizing workout equipment and limiting the use of common spaces like locker rooms. Therefore, be prepared and know using showers or towels at fitness centers might not be available like once before.
Before going back to a local gym, call to see what specific safety measures they are implementing to ensure being adequately prepared. Keep in mind access to drinking fountains may be limited and you might need to bring a water bottle.
Social Distance
Come prepared to exercise safely at the gym by maintaining at least 6 feet apart from other people while working out. Gyms and fitness centers will have workout areas re-arranged with either equipment spread out or certain machines blocked off.
Clean Machines Before & After Use
Either staff or patrons should clean equipment between use. This was a common guideline already in place at most gyms, but the urgency of doing this during COVID is increased.
Plenty of cleaning/disinfecting sprays and wipes should be available to clean machines and signage for instructions. In addition cleaning machines, wash hands before and after exercise.
Wear a Mask
Many types of masks exist, but the CDC recommends wearing a cloth face mask or covering for both employees and people working out at gyms. It is important to try and limit touching your mask as much as possible and cleaning the mask after each use at the gym.
If having trouble breathing or wearing a mask causes heat-related issues, you may need to have a mask adaptation. Specific workout mask tips and info:
Cloth or surgical masks are recommended for going to the gym, not N-95 masks. It is recommended these be saved for healthcare workers.
Cloth masks are meant to protect others from respiratory droplets more than protecting yourself. Cloth masks are not considered personal protective equipment.
Avoid touching the mask as much as possible when it is on.
If managing a pre-existing medical condition or have questions about if exercising with a mask on will be best for you, consult a doctor first.
If worried about wearing a face covering while workout out and raising heart rate, stay at home. Besides, the gyms are not the only place to be active! Keep active with an at-home workout.
How Masks Impact Your Workout
Be prepared: Exercising with a mask may limit workout performance. The University of Maryland Medical System notes you may get winded more easily when wearing a mask.
While some masks may claim to be more breathable, even these masks may still hamper breathing or exercise performance to some extent.
The good news is you can become more used to exercising with a mask. Give yourself some extra grace at first; you may need to take more breaks or go at a lower intensity than you are used to. Over time, you may be able to build back up.
If not wanting to wear a mask while exercising, workout from the comfort of home. Or, work out in an area outside that is not heavily trafficked.
The Best Masks for Working Out
While there is no "one" specific mask currently advised for wearing for exercise, consider these mask tips for choosing the best mask for working out.
Breathability
Choose cloth masks that are considered breathable fabrics such as 100 percent cotton. CNN has a list of top breathable masks for working out, including ones with adjustable ear loops and that wick away moisture.
Comfortability
Wear a mask that fits your face without the constant need to adjust or alter. If ordering face masks online, look for masks that have adjustable ear loops or nose pieces to get the best fit for your face.
Reusability
Wearing one-time use or disposable masks during exercise is generally not recommended because these can be more affected by sweat. They are also not designed to be used more than one time. Use cloth masks that are designed to be cleaned after each use.
Bring Multiple
If your face gets sweaty or wet from breathing hard while exercising with a mask, consider bringing additional masks to swap out. As masks get damp with sweat, they may lose their effectiveness.
Therefore, it may be best to change into another mask the mask gets too damp.
Reference:
COVID-19: Considerations for Wearing Masks. Centers for Disease Control and Prevention. https://www.cdc.gov/coronavirus/2019-ncov/prevent-getting-sick/cloth-face-cover-guidance.html.